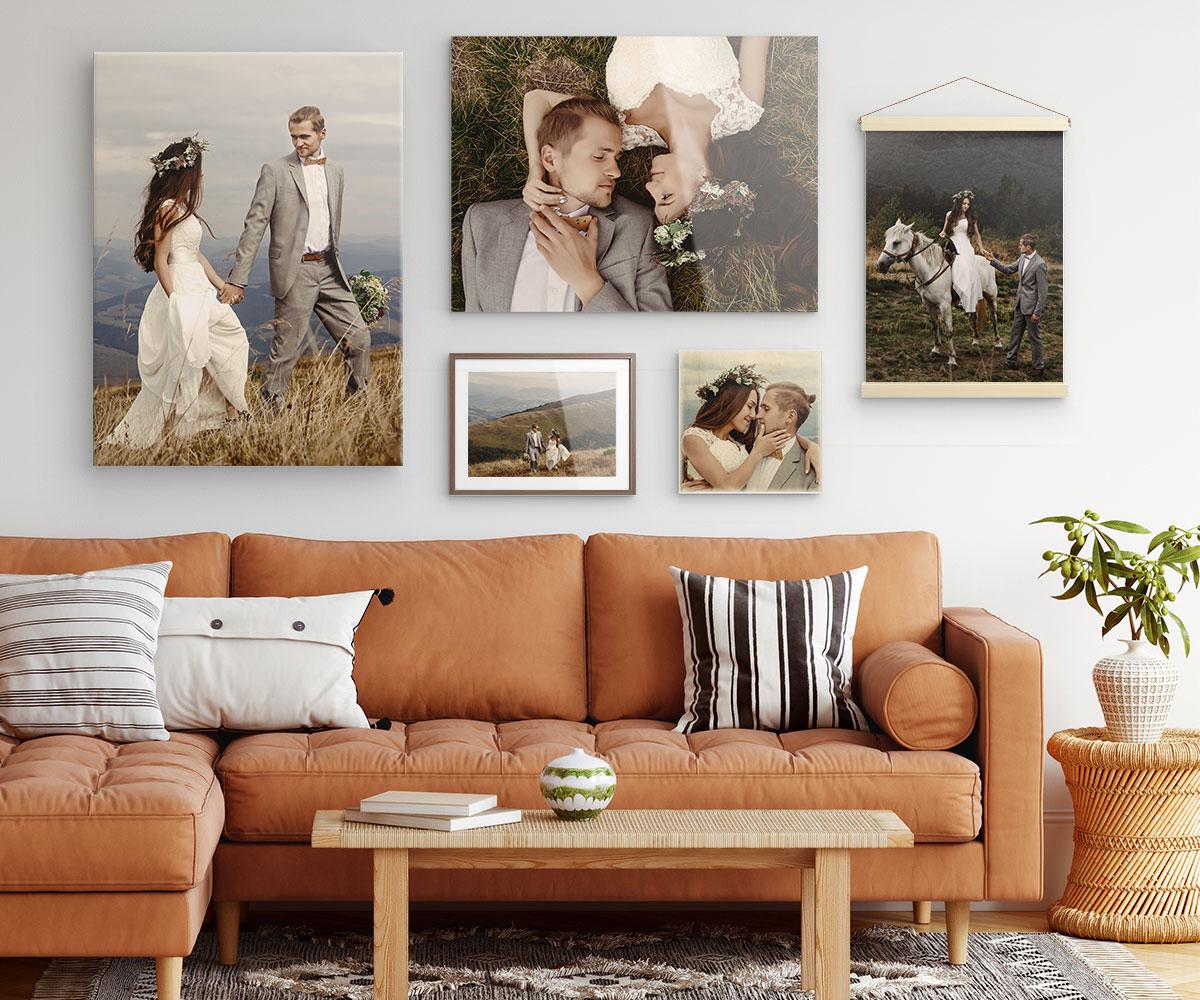 Wedding day memories are some of the most significant and cherished events in a couple's life, so it's important to find creative ways to keep those memories alive. While photo books and albums are classic options to arrange and showcase wedding photos, there are numerous creative ideas available to display them in a unique and refreshing way.
I will take a closer look at several creative alternatives, so whether you'd like something stylish and modern or classic and homey, you will find the perfect way to remember your special day with the help of these methods.
Creative Display Options
When it comes to displaying wedding photos, there are so many options beyond simply getting them framed. Whether you want lots of colorful prints or an artistic mix of black-and-white and color photographs, a custom gallery wall gives you the opportunity to curate your own visual experience in a very special way. On top of that, there are tons of print formats available for wedding photos, such as converting them onto canvas for an ethereal look, having them printed on metal for a modern touch, and printing on acrylic glass for something unique and eye-catching.
Tabletop Décor
Tabletop décor is an excellent way to commemorate a special event such as a wedding, and there are plenty of ways to incorporate your wedding photos into the design. To create a personalized touch for entertaining, consider designs like photo coasters or placemats. Not only will they help to protect your surfaces from water rings and other damage, but you can showcase your favorite images from the wedding day or even group together photos from the honeymoon that complement each other. If you're not sure where to start, look at the existing décor in your room and choose photos that coordinate well with those colors or themes.
Functional Displays
If you are looking for a creative way to commemorate your special day, using wedding photos to create customized and functional items could be the perfect way to immortalize your memories in a unique way. Companies like CANVASDISCOUNT offer excellent services that can help you turn one of your favorite photos into a stunning piece of art that is suitable for various applications such as canvas prints or accessories. All you need is just one click and you will be able to create something truly unique and personal!
Tips for Choosing Photos
Finding the best photos to display can be daunting, especially if you're not sure how to achieve the desired look. The most important step is opting for a mix of posed and candid shots, which creates a certain level of variation in the photos on display. Choosing key photos that capture special moments or memories will make your home feel warm and inviting with a personal touch. Aside from selecting the right pictures, it's also important to consider the color scheme of your room when selecting photos, as this is part of curating the overall aesthetic. When you edit your photos, ensure that they don't lose their charm and stay true-to-life while still looking aesthetically pleasing.
As a newly married couple, it's important to cherish special memories of your wedding day and share them with family, friends and guests. The most effective way of doing this is by turning those moments into physical displays around the home. Canvas prints are an excellent way to make sure that these precious memories last, as they offer a unique spin on classic ways of displaying photos. Your wedding memories deserve more than just being saved away in a digital folder; celebrate them instead with canvas prints, bringing back happy memories every day.