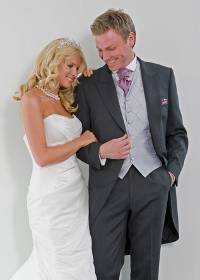 You're about to change your life forever and it's perfectly natural to feel all kinds of things right now:
Fear
Excitement
Euphoria
Happiness
If you're like almost every other bride-to-be, you'll probably have cried at least twice just from the excitement and stress of it all!
It's totally normal to be stressed out right now, but the sooner you get in control of your wedding, the faster you'll be able to get over the fear and worry, and the smoother your wedding will go.
The most critical component of making your wedding run smoothly is knowing what you're doing. You need to know what to expect from vendors, venues, and in-laws. You need to be minimizing all the things that could go wrong, while maximizing the fun things that go along with it – like being the "star attraction" of a beautiful ceremony!
With that in mind, here are some of the most common questions brides-to-be ask themselves…
He asked me to marry him yesterday, and I'm the happiest person on earth, but I know I need to get going if I want the perfect wedding! What do I do?
Oh, enjoy the feeling first; he'll only ask you to marry him once. In fact, be selfish; keep it private first for a while, your little secret. It won't last, but savor the intimacy of having that knowledge just between you and him.
But do go out with him or by yourself and enjoy the fun of looking at wedding things and dreaming. Check out wedding bands, think together about what you'd like, and dream about your perfect wedding. This period is not only tons of fun, but also gives you most of your best ideas, the ones that will shape your wedding, and in many ways your marriage.
So when do I tell everyone? And how? Should I just flash the ring?
Tell your parents first. If you tend to be emotional, tell them one at a time. You can even ask your fiance to do it for you. And do everything you can to tell them in person. Sometimes distance and finances precludes this; if you really can't get back to tell them (for instance, if you're stationed overseas in the military or you're chained to a rock somewhere), you can call them and tell them. Never do it by email.
The bride should get the opportunity to tell her parents and family first, but forgive your fiance if he gets so excited he can't help calling his parents first. It's understandable; he's marrying you! After telling your parents, inviting all your friends to lunch and casually flashing the ring is acceptable, and lots of fun when they scramble over chairs and wrestle over your finger.
What kind of wedding should I consider?
There's a fantasy wedding in every woman's, and even every little girl's, head. After all, weddings and beauty pageants are the only time non-princesses have a legitimate reason to wear a tiara (though I never let that stop me).
Don't worry about money or practicality right now. What kind of wedding have you always wanted? Do you dream of marrying in the cathedral in your home town? On the beach in Hawaii? In a hot air balloon? With huskies on the frozen tundra's of Alaska? It's your wedding, and you can be as creative or traditional as you want.
After the wedding you want, you should think about intimacy. Lots of guests, or just your parents? Should it be formal, should it be religious? Will you have to blend two religions in your ceremony? If you have a question you're afraid to ask your fiance, ask it now.
Your wedding is personal, and yours. It should reflect the two of you, not anyone else.
Okay, I want to marry my dream guy with my whole family and eighty friends in Hawaii. How do I pay for it?
This, alas, is where fantasy meets reality. You won't be able to afford the elaborate perfect wedding unless you're independently wealthy.
But that doesn't mean you can't have something really close to it. Work out a preliminary budget. It'll help you prioritize your wants. You really want to marry on the beach, but you don't care if Aunt Millie is there? Maybe you can just marry on the North Carolina shore two hundred miles away. You don't have to put everyone up in a hotel, only the wedding party. And carpools and roommates can be wonderful things.
What you should NOT do is go into heavy debt. Light debt is okay. A little debt can be paid off quickly after the wedding. But you don't want to be paying for your perfect wedding years into the future!
When should I start planning for my perfect wedding?
Once you have a date set and a venue chosen, book the reception hall and church immediately. Some venues book fast. But the rest of your wedding can probably wait a little while. If you're having a large wedding, allow at least a year. For smaller weddings, six months should be adequate. Allowing plenty of time to plan is in your best interests; a well-planned wedding is a non-stressful wedding.
However you do things, my Free Wedding Planning Newsletter can be your best friend while you're planning your wedding. Subscribe to it now, it only takes a second, and it may turn out to be the most critical tool in your wedding budget… plus, save you thousands of dollars into the bargain!
As always, happy planning!