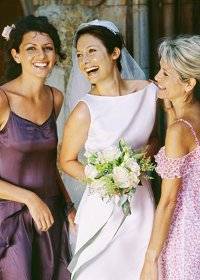 Remember the lovely young ladies who you hope will look beautifully generic at your wedding, but at the same time not upstage you? Of course, your bridesmaids will also want to look their best on your special day, so you should help them along by giving them beautiful, matching wedding accessories.
You've probably already got them kitted out in gowns with matching colors, maybe even matching styles. Adding matching accessories will complete their ensemble and help them look even more like bridesmaids. These can also be your gift to them as well for playing their part in your very special day.
For example, if you have a beach themed wedding you would probably dress your attendants in beautiful form fitting dresses in bold colors, much like they would wear in Hawaii. Maybe you'd have them wear sarongs. Add to the elegance with carefully chosen shell necklaces. There are many to choose from. Find sets that will really set off the beauty of your friends and are unique so that they can serve as keepsakes for them long after your nuptials are done.
Every woman loves pearls
Want to get more classy? Pearls are always a good choice. Every woman loves pearls. There is something about the luster and radiance of pearls that has captured the imagination and hearts of many individuals. Pearls are elegant and a truly feminine gift. A string of pearls is something that no female should be without. As a wedding gift from you, to your bridesmaids, they are priceless.

Pearls too expensive? Not to worry. How about seed pearls or rice pearls instead. They have the luster of their more expensive counterparts yet are not too expensive. As an added bonus, they can be found in many, many colors from the familiar pearly white, to champagne, lilac, turquoise, blue and pink, just to name a few. You can get them ready made or acquire them as beads and make your own accessories.
If you decided to give your ladies Roman styled gowns, how about giving them beautiful armbands to go with it? There are quite a number of elegantly shaped pieces that may match your theme perfectly. You might want to check if there are any that have your chosen flower as their design too. Of course if there isn't, you could always have them commissioned. It may not even cost you much to do that.
Hair accessories are important
Don't forget to think about hair accessories as well. A simple wreath may be all you need to make your ladies look even more maidenly. With the right pieces, your bridesmaids will look the epitome of spring or summer. Of course you may prefer to give them the jeweled look for their hair as well. How about some jeweled hair pins? They are easy to make if you can't find any and are an old favorite. Their beautiful tresses will be a foil for the beautiful jewels gleaming in their hair, the mark of your special favor.
Accessories complete your own and your wedding party's outfits. They add that finishing touch to your ensemble, but shouldn't be overdone. Keep in mind here that less is usually always more 🙂
And don't forget your wedding cake

The wedding cake is one of the most beautiful accessories at a wedding. It is an elegant representation of wedded bliss in an edible form and (hopefully) a work of art that is enjoyed by the bride and groom together.
It can get a bit overwhelming to choose a cake nowadays, which is why wedding planners suggest getting this item settled at least four months before. If you go with tradition, you get a wedding cake that is white, layered and has a "bride and groom" figurine on top. It's always nice to have options though. Nowadays, cakes may come in any number of colors, usually matching the theme of the wedding, and as long as it doesn't look sickly that can be a nice touch too.
Instead of using figurines, a bouquet of flowers may be used to top and decorate the cake. While fresh flowers are pretty, candy flowers are a more common sight on the cake. A really talented cake designer can even create some that match the flowers the bride is carrying and the wedding theme too.
Not only can the cake match the theme of your wedding, it no longer needs to be layered either. Are you worried that the flower girl and ring bearer will be using their fingers on the cake? Then make the icing a fondant. It coats the cake like cloth and can't be swept off by a kid with a sweet tooth.
Of course, no matter what style you choose for the look of your wedding cake, the most important
thing to remember about it is the taste. Remember that you, your groom and your wedding guests will
all be having a slice, so it's best to have a flavor that everyone will love 🙂
As always, happy planning!