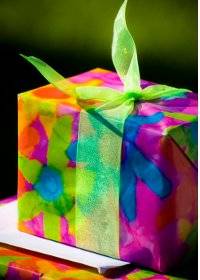 You have to admit, though weddings are of course for the bride and groom (the stars of the day), your wedding guests are also a
big consideration when planning them. Think about it, we usually only invite the people we really want to be there. The first people we normally think about are members of our family, our best and oldest friends, colleagues who are close to us, and the like.
So more than organizing a wedding that is meant to be memorable just for ourselves, we also need to take into consideration the fact that we want the whole occassion to be beautiful and memorable for the most important people in both of our lives. The ones we have invited to bear witness to our union in marriage.
Leaving a lasting impression
One aspect of weddings that you cannot overlook is the giving
away of wedding favors. I honestly can't remember a single wedding that I've gone to where the couple did not give away wedding favors.
Aside from the precious memories of your wedding, you want to give your guests something that will remind them of your wonderful day. On top of this, you'll also want to show them your appreciation for taking part in this momentous occasion in your lives. So you do need to put a little thought into it 🙂
One very important consideration would be your wedding theme. You'll probably have put a lot of time
and effort into deciding what your wedding theme should be. As such, it would be silly not to keep with the theme when choosing your wedding favors. In fact, it would be outright illogical. Keeping to your theme with your wedding favors is something like icing on the cake – it just makes things better.
Wedding favors to delight your wedding guests

There are countless little trinkets that you can give away to your guests as wedding favors. My opinion, though, would be to choose something that is 'practical' for your guests. Though it would be easy to give away any little trinket, it would mean so much more to your guests if they were useful to them as well. Not many people think about, or do this, but if you want your wedding day to be memorable, you should!
Here are a few ideas for delightful wedding favors that you could give to your guests:
(1) A great favorite for wedding favors come from the Italians. They call them bombonniers. Traditionally they gave five sugar coated almonds placed in colored netting or boxes which are said to represent health, wealth, happiness, fertility and long life. They are given to family and friends as a token of the bride and groom's love and friendship. Some couples add a bottle of champagne to complete the memento.
(2) A piece of your wedding cake is always a great choice for a wedding favor. Your baker will decorate each piece beautifully and place it in boxes for your guests to enjoy. Single ladies may wish to put it under their pillow on the off chance that it is true that doing so will allow them to dream of their true love.
(3) You can never go wrong with candleholders. Almost every household makes use of them. Why not pick out candleholders that go with your wedding theme? You could have your names engraved on them. That way, rest assured that you are not giving away an item that will merely collect dust on the shelves.
(4) Picture frames are also a favorite choice. They can be stylish and elegant and really keep the memory of your wedding alive for your guests. Each guest gets to put a favorite picture in it; and when they look at the picture, they also see the frame you gave them and remember. Pretty cool!
(5) How about symbolic suncatchers? These things are quite useful for decorations and are generally always in style. You also have a lot of options which you can choose from so as to match your theme.
(6) Another favorite choice as a souvenir is the CD. You can give your guests the wonderful gift of music, songs that you yourself have loved and have played a part in your relationship. Just don't forget about the copyright laws… you don't want to risk a law suit when you arrive home from your honeymoon!
Remember, when picking out wedding favors for your guests, always bear two things in mind: practicality and your chosen wedding theme. That way, you can never go wrong 🙂
As always, happy planning!