For the toasts, or during dinner, you can utilize these gorgeous sparkling wedding glasses. They're easy to make and you can get the glasses for as cheap as a dollar each. You'll need a lot of glitter in the color you want, modge podge, and glasses for each guest.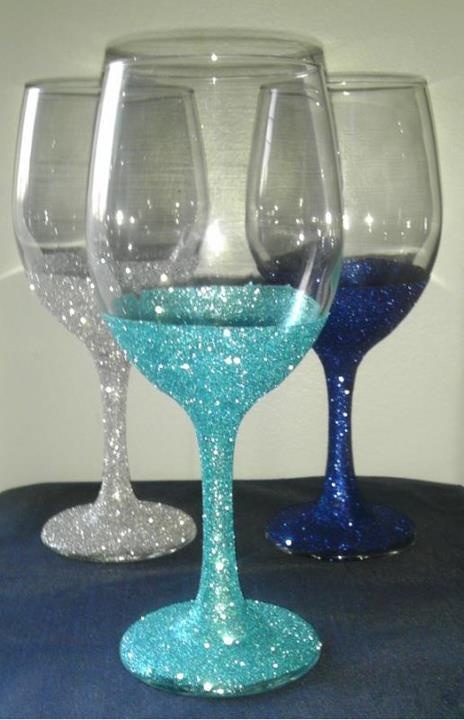 How to Create Them
Simply use some masking tape to tape the glass just above the stem. See the picture to know where the line of glitter will end:
Then, you'll use the modge podge to paint the glass around the stem and bottom of the goblet area. Try to get a nice, even coat using a sponge or paint brush. Next, using a paper plate or newspaper to catch the excess, sprinkle your glitter around the entire area that has been coated the in modge podge.
These will need to dry for several hours, so you should start working on them well in advance. If you don't want to do anything too bright, you can use white or gold glitter to just give the glasses a bit of a sparkle.
If you want to re-use the glasses and don't want to modge podge the glasses, you can use double-sided tape. Simply roll it around the edge of the glass and you'll have a pretty glitter stripe. It's easy and fun, and you can make it go faster by getting a group of the girls together to help!