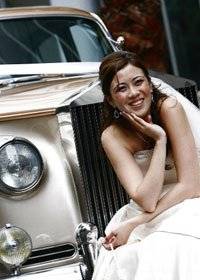 Boy meets girl, they fall in love, the boy proposes, the girl says yes, and then the girl goes crazy planning the wedding.
That's usually how the story goes, notwithstanding the fact that it is the golden age of wedding planners. Even with the most seasoned wedding coordinator on your speed dial, you, the bride-to-be, are probably on pins and needles about the wedding details.
The little things become big things and the big things become gargantuan tasks that tax your strength and take away all the fun you're supposed to be having. I don't blame you for going a little nuts. After all, it is the most beautiful day of your life and every bride wants everything to be just right on their wedding day.
< Talk about PRESSURE! >
Some people start compiling and collecting the things or ideas they want to have in their own special day very early on in life. Not all brides-to-be are gifted with that kind of foresight though; and if you're one of those brides-to-be, don't start hyperventilating yet.
Relieve Wedding Tension — Get Organized!
The key to ensuring your wedding day goes smoothly and without a hitch is good organization well in advance of your wedding day. Yes, the old-fashioned concept of organization can stand you in good stead. Writing everything down. Keeping detailed records with lists of caterers, musicians, guests, tasks, things to pick up on shopping expeditions. Making sure you know what needs to be done and when.
Organization can be better for you than a purple-haired, Miss-Manners-reading great aunt. When you get organized, you'll find yourself in control again. You'll know what's going on, and you'll know you haven't forgotten anything in the shuffle – like the ring, or the table and chair rental.
Here's what you need to do…
(1) Start with a Wedding Planning list
First things first, you need a list and your list should contain every last thing you can think of that needs
to be done in time for your wedding. That includes the big things, like working out who will be paying for what, to the little things like deciding what the men will wear (OK, not 'that' little, but you know :))
To make this easier for you, I've prepared a 12 Month Wedding Countdown Checklist that you can use as the foundation for your own list. You can add to it, delete the items you don't need, print it off and keep it handy. It will be helpful to you, for sure, but if you want to get super-organized, you should…
(2) Compile your tasks into a Wedding Organizer
The easiest way to do this, by far, is to use your computer to manage everything for you and there are some great wedding software programs you can get now for organizing your wedding; with guest tracking, gift tracking, menu selections, table assignments, budget planning tools, and countdown checklists.
One of the best I've used is the My Wedding Companion software from Five Star Software, because it
does everything you need, and more. In fact, many professional wedding planners I know use it, but you don't need to be a professional for this, because it walks you through the whole process with ease.
(3) Make sure your Wedding Party know their job, too!
This is something that's regularly overlooked, simply because most brides-to-be are too busy organizing themselves to think about anyone else's duties, but listen to me here; if you want your wedding day to go to plan, you absolutely MUST ensure that your wedding party know exactly what they need to do, too.
On my website you'll find guides for you, the Bride, plus your Groom, the Best Man, the Mother of the Bride, the Father of the Bride and even your Maid Of Honor. You should give a copy to each member of your wedding party, so that they know what to say and what to do on the biggest day of your life!
(4) Turn Bargain Hunter and Save BIG Money on your wedding!
Your wedding is one of the most important days of your life, and of course you want to splurge a little to make it special. But sticking to your budget is important too, especially if you don't want to start your life together neck-deep in debt, so cutting costs and saving money wherever possible is the thing to do.
There are two fantastic guides I recommend every bride-to-be reads. These are:
Firstly, the true story of how Tim and Lisa Spooner, from Fort Wayne, Ohio, USA, arranged the wedding of their dreams, the type of wedding that would usually cost upwards of $20,000, for less than $2,000. A massive saving of 90%, or $18,000 in real money terms! You can read it here…
Secondly, if you want to cut costs at every corner and get the best of everything at a fraction of the price, then you simply have to read Erica Yoon's Amazing Wedding Planning. It doesn't matter where you live in the world, the info in her guide is universal, so go here to read it now…
Remember, it isn't what you spend on your wedding that makes it special. That's by the by. If you can save thousands of dollars on the cost of your wedding dress, your wedding reception, or honeymoon, without it impacting on the quality of the occassion – at all – then GO girl, you should get out there and do it 😉
(5) Hire me – for FREE – to help keep you on track!
Of course we know that there will be times when you'll need a helping hand to stay on track and I'd strongly recommend subscribing to my popular wedding planning newsletter too! It gets sent to your very own email address, absolutely free, so no matter where you are, you can keep preparing for your dream wedding (and even share my wedding planning tips with your friends too).
This is an absolute must for all brides. Get those nail nibbling moments out of the way. My free wedding planning newsletter is invaluable for getting you on the right path. Once you know what you're doing, you'll be less stressed and can concentrate on being the most beautiful, blushing bride ever seen.
So instead of looking for a brown paper bag to breathe into, stop for a moment. There's so much help available to ease the load of bringing your dream wedding to life. Remember, the important thing about your wedding is you, celebrating the start of your new life with the man you love. The rest is clutter.
Keep that in mind and you'll do just fine 🙂
As always, best of wishes!