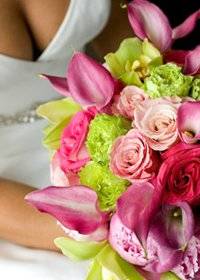 Flowers are an important part of any wedding ceremony. Flowers add beauty and freshness – even elegance – to any event, more so to a wedding. That is why wedding planners or couples who are coming up with their dream wedding take great pains to make sure that the flowers for their wedding are perfect. When taking flowers into consideration during your wedding planning stage, it is not enough to just pick out flowers out of the blue.
One of the foremost considerations that wedding planners or a couple should bear in mind is the time of the year the wedding is going to take place. It is not an unbreakable rule, but it is practical to choose flowers that are in season at the time of the wedding. That is, unless you have a lot money and the finances are not part of the equation. However, if you are like a lot of people, you will want to be practical when it comes to your wedding expenses.
Practicality does not have to mean less beauty and quality, though. Choosing the flowers in season during your wedding ceremony is one way to be practical and at the same time make the most out of what is available. Let's start with spring, because this is one of the best seasons to get married when it comes to seasonal flowers. Most everything is in bloom and you can have a wide range of choices.
Spring Wedding Flowers

If you have chosen spring for your wedding, the chances are that you want a fresh and radiant atmosphere for your wedding. The perfect spring flowers include roses, tulips, anemones, daffodils, and Lily of the Valley. Roses and tulips are big favorites, Anemones look a bit like peonies and come in a variety of light and lively colors. Lily of the Valley adds a twist to your floral decoration with its intoxicating fragrance.
Summer Wedding Flowers

For a summer wedding, the best flowers to use would be Calla Lilies, Dendrobium orchids, dahlias, daisies, chrysanthemums, and baby's breath. As you can see, you also have a lot to choose from in the summer. More so, flowers are quite cheap at this time of the year as well, so if you plan your wedding for the height of summer there's a fair chance you can save on the cost of your wedding flowers too.
Autumn Wedding Flowers

For a fall wedding, you still have quite a range to choose from, though perhaps not the same as summer and spring. You should add more texture and bright dark colors. Make use of grasses, berries, leaves and branches, because these will compliment the season very well. Just use your imagination and you should easily come up with a unique and exciting floral theme for your Autumn wedding!
Winter Wedding Flowers

Winter may be the hardest time to find fresh flowers at an affordable price. Yet there is no reason to despair. A lot of people choose to get married during wintertime and flower shops usually have lots of choices all year round. You cannot escape the fact that flowers will probably be more expensive at this time of year, but it doesn't mean that you won't find something to suit your personal taste and budget.
Other Things To Consider When Choosing Wedding Flowers
Here are some other things you should think about when planning your flower arrangements:
(1) Durability. You don't want wilted flowers, so consider the weather and temperature conditions. This is also something to think of when sending flowers by post. For example, fragile flowers won't do well in the heat of summer, or will rumple in the strong breeze of a seaside ceremony and reception. Delicate blooms include gardenias, tulips, and lily of the valley.
(2) Creativity. Roses and carnations are practically wedding staples, which isn't a bad thing. But for a unique look, consider mixing them with other blooms, or asking for a unique flower arrangement or bouquet style. Some florists will incorporate crystals, sinamay cloth, ribbons or lace.
(3) Meaning. Some flowers are known to symbolize certain things. For example, tulips mean passion and gardenias mean joy, and orange blossoms mean purity. While this doesn't have to influence your choice, some like to create a "poem bouquet" where the flowers tell the story of their relationship.
As always, happy planning!