Finding what is in with swimwear trends is crucial to look your best no matter if you're by the pool or at the beach!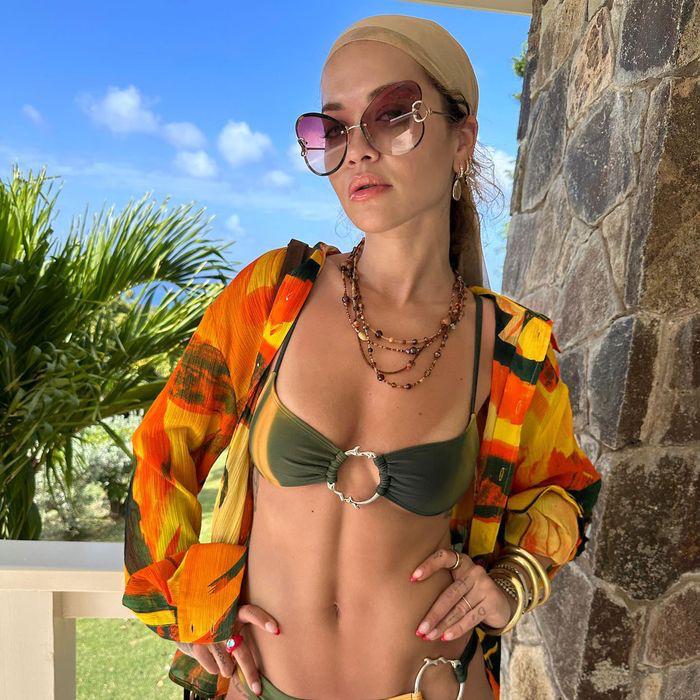 Main image courtesy of Who What Wear.
There is nothing more exciting than when summertime is approaching and the weather is getting warm because it usually means that the pools are opening and that the beaches are about to be packed with people. When the weather tends to get nicer, we want to indulge in the latest swimwear trends so we can look our best in the latest bikinis or one-piece suits.
Finding the best swim trends can be fun and exciting and there are plenty for 2023 that are worth checking out and getting!
Swimwear Brands That Are Worth Checking Out
Before we get into the best swimwear trends of 2023, it's important to note some of the best brands to purchase from!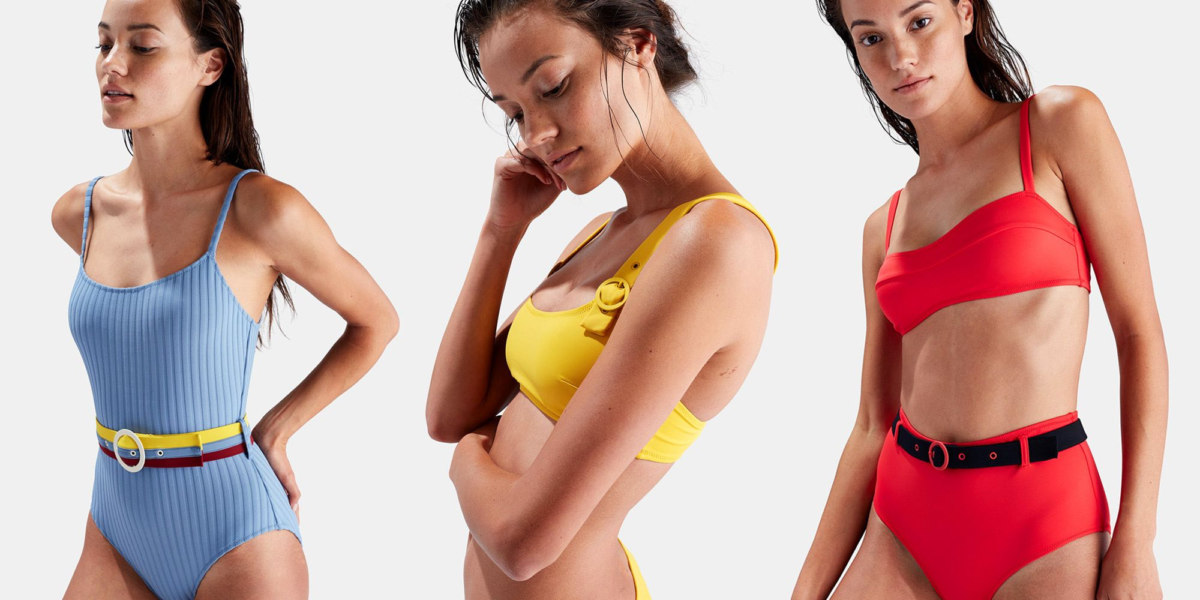 With many swimwear brands out there, it can be difficult to choose the one with the best styles that will fit your body the way you like. Image courtesy of Elle.
There are many different styles of swimsuits and whether you like bikinis, high-waisted bikinis, or one-piece suits, they also come in all kinds of patterns, cuts, styles, and bright, bold summer colors too.
There are a ton of notable brands to mention when it comes to finding the best swimsuit, especially one for your summer 2023!
Madewell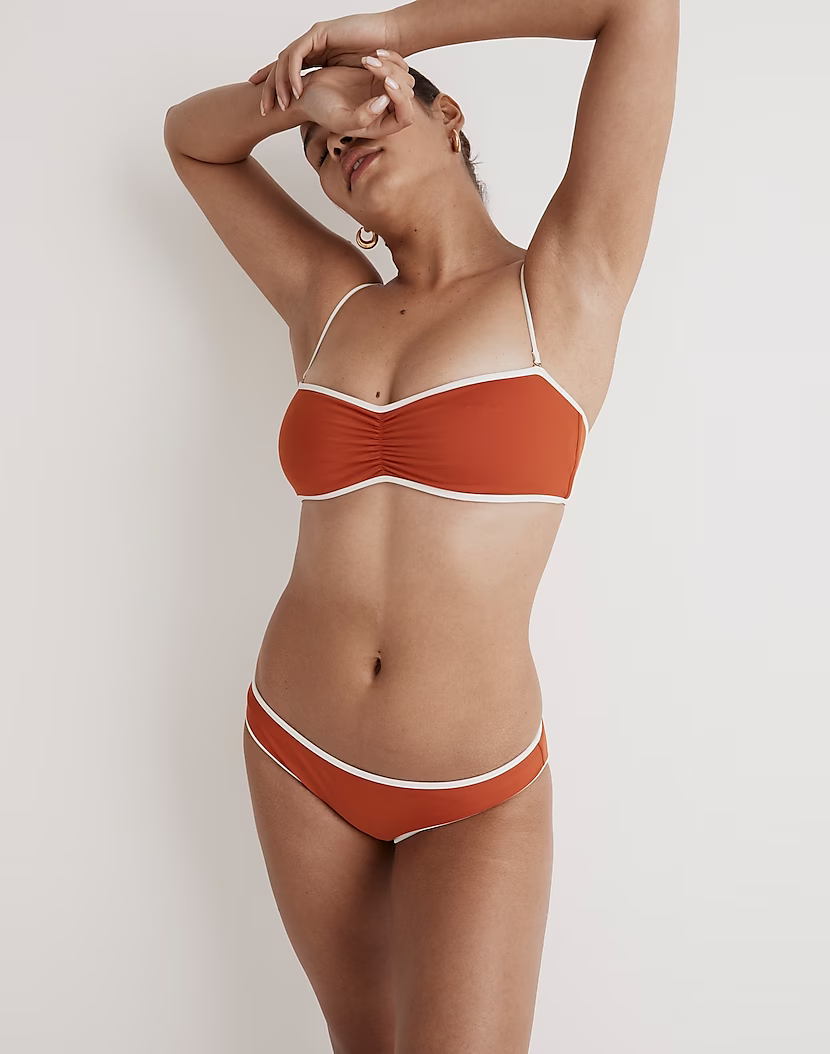 Madewell offers an extensive swimwear collection made out of high-quality materials and reasonably low prices. Image courtesy of Madewell.
If you are looking for a swimsuit brand that offers comfort and quality for a reasonable price, then Madewell may be one of the best brands to check out. While this brand is mainly known for their denim jeans, dresses, jackets, and handbags, you can also enjoy some of the best swimsuits. With everything from full bikini sets, board shorts for women, and even square necklines, Madewell is a reputable brand selling some of the best swimwear on the market.
Andie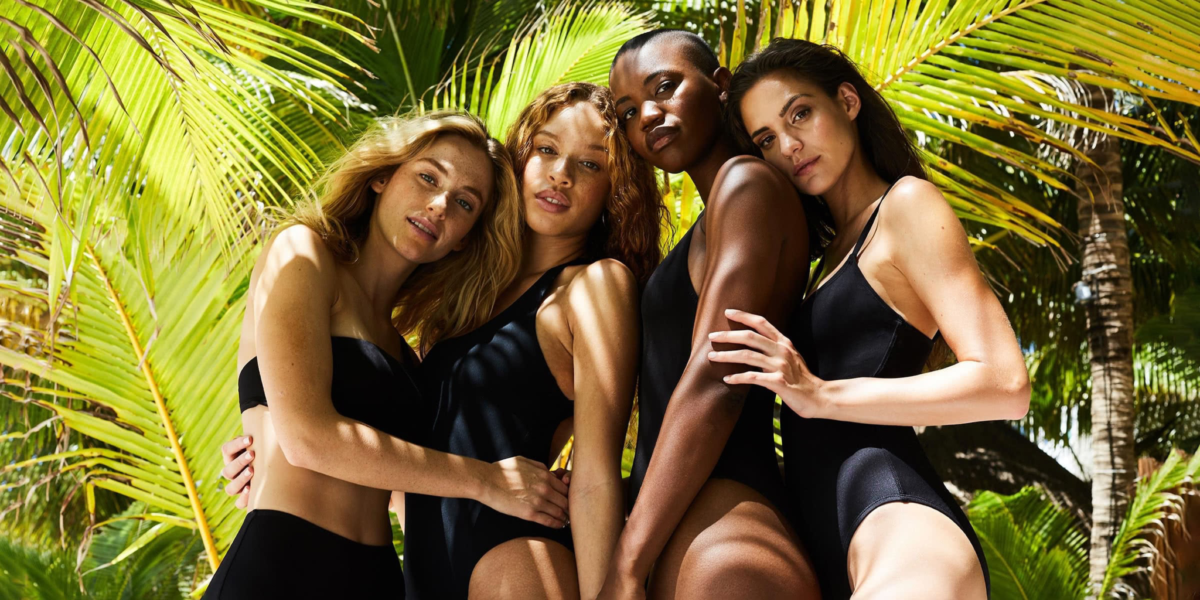 Andie offers personalization when finding your own perfect swimwear set depending on your height, bra size, and the amount of coverage you prefer. Image courtesy of Luxe Digital.
If you are looking for a swimwear brand that also provides a fit finder quiz to help you find the best swimsuit that fits you just right, then you should consider looking into Andie. This quiz helps to personalize your swimsuit and find the right look for you based on your height, features on your body, and also how much coverage you like with both your top and bottoms. Andie helps you figure out your personal preferences with swimsuits and give you a ton of options for a great price.
Aerie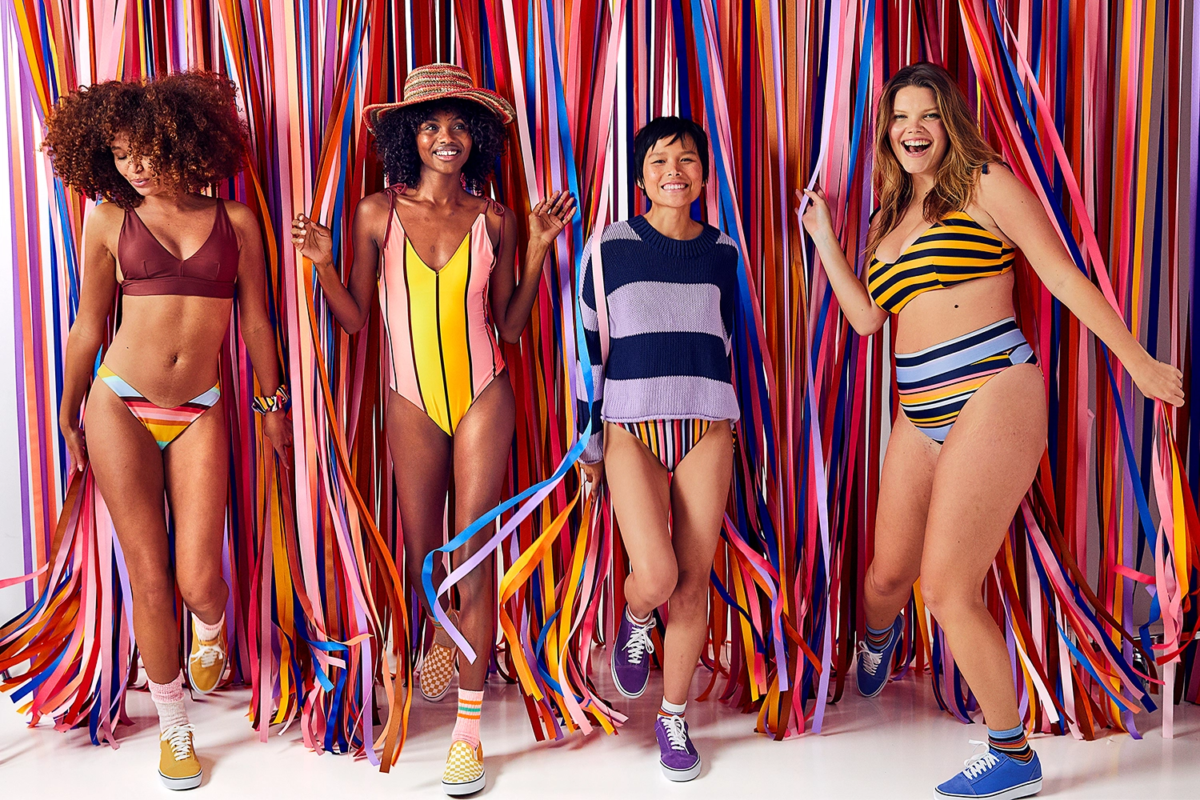 Finding the perfect swimsuit for an affordable price can be difficult, but Aerie offers some of the best swimwear that is budget-friendly and cute too. Image courtesy of Aerie.
Everyone for the most part probably knows of Aerie because of their super comfortable bras and underwear, but did you know that they have one of the best swimsuits lines in the industry? No matter what aesthetic that you're going for, Aerie probably has it! They feature flattering designs of their swimsuits, one-piece and bikinis, and they also have a ton of patterns and color options as well. This is one of the most budget-friendly brands available as well.
Most Expensive Swimwear Brands
Sometimes the more expensive swimwear brands offer better quality suits compared to its competitors!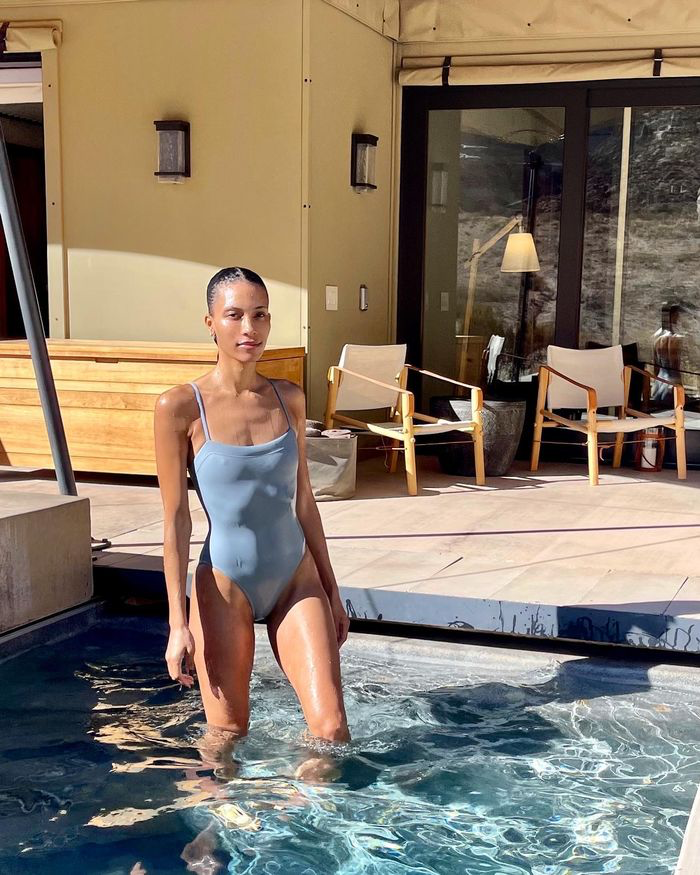 There are a ton of swimwear brands to check out, including expensive ones that can offer more than meets the eye. Image courtesy of Who What Wear.
Sometimes splurging on yourself and spending a little bit more money is just what you need. If you are looking to get some of the best swimsuits out there, purchasing one from a more expensive brand might appeal to you more in terms of what they sell, what each piece is made out of material-wise, and the message behind the brand.
Let's discover some of the more high-end and expensive swimwear brands to treat yourself to!
Jade Swim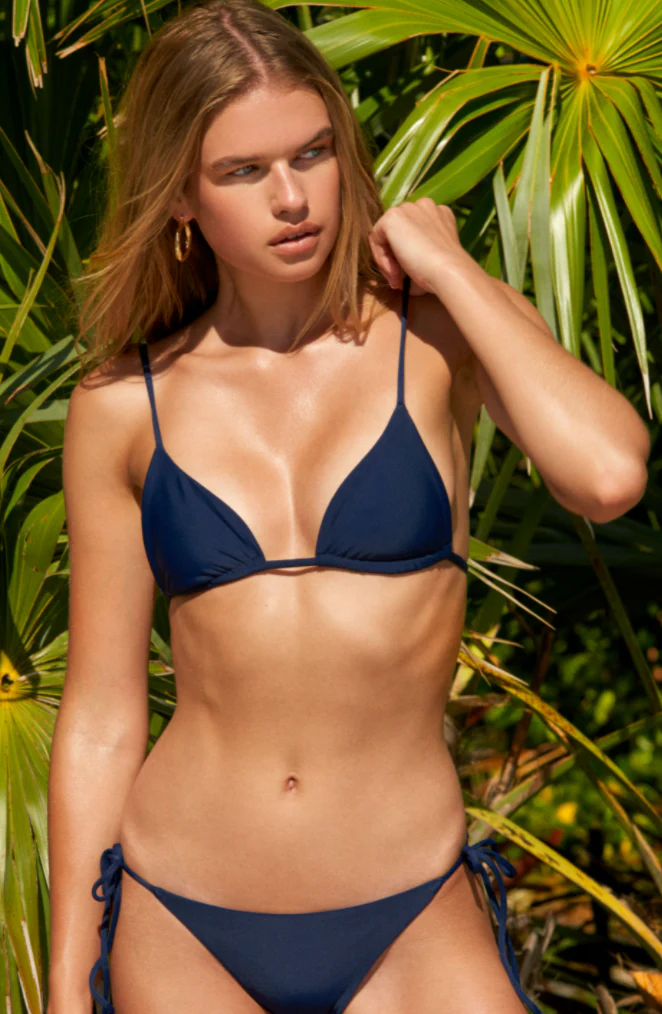 Sometimes a more simplistic swimwear look is all you need and Jade Swim has some of the best options to choose from. Image courtesy of Jade Swim.
If you enjoy more minimalistic swimsuits when it comes to style, colors, or patterns, then the perfect brand to check out is Jade Swim. They make their swimsuits using a modern look with all of the classic styles, such as triangle bikini tops, high-waisted bottoms, and strapless suits as well. While Jade Swim's swimwear seems to be more on the pricier side, you will also enjoy how sustainable this brand is.
Vitamin A Swim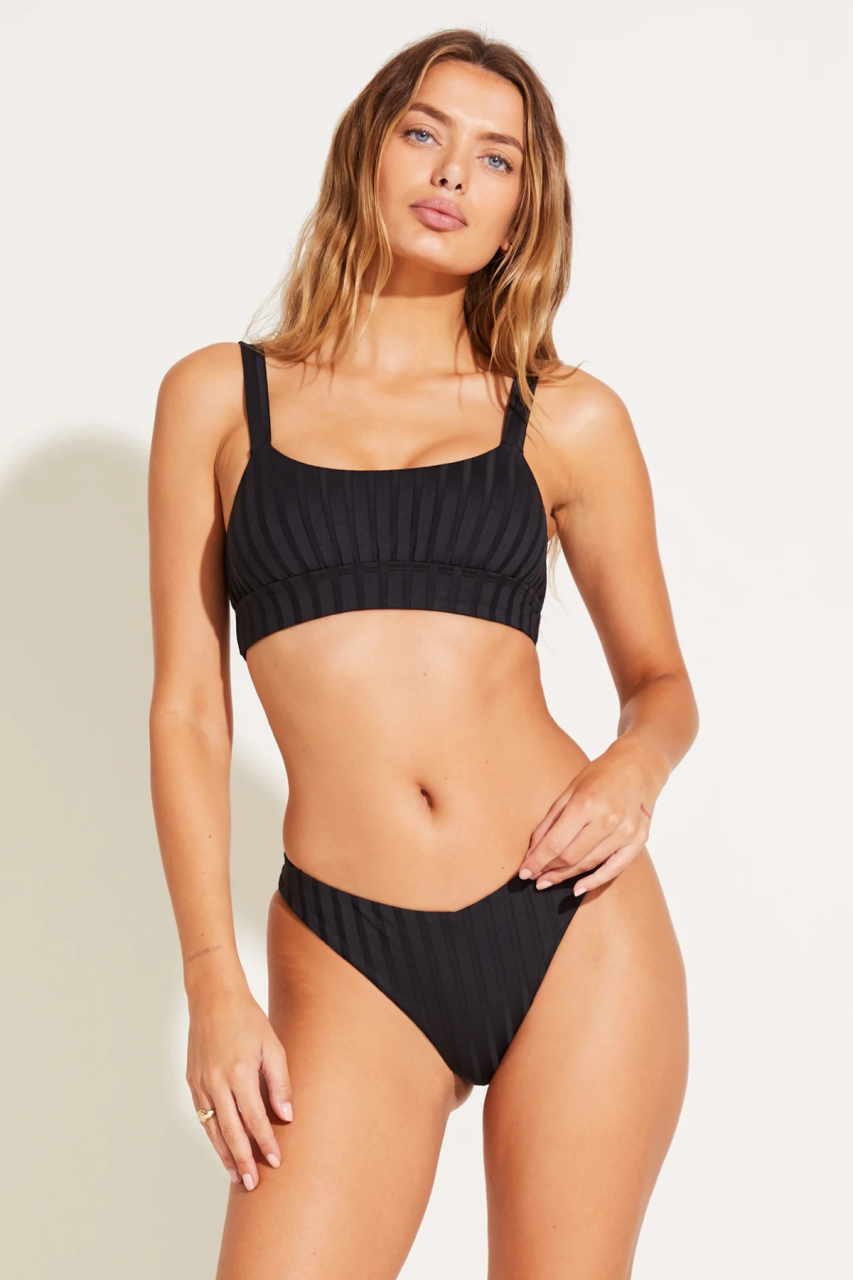 Vitamin A Swim offers a ton of different options when it comes to swimwear such as customizing tops and bottoms to get your perfect set. Image courtesy of Vitamin A Swim.
Sometimes looking into a swimsuit brand that provides a bunch of looks such as strapless bikinis, one-piece suits, and even long-sleeve swimsuits is what you need. Vitamin A Swim offers a ton that you are bound to like, even if they are on the pricier side. You can also get athleisure sets, cover-ups for the beach, and other swim gear.
The Best Swimwear Trends of 2023
Want to know how to feel good this beach season? Check out some of the best swimwear trends of 2023!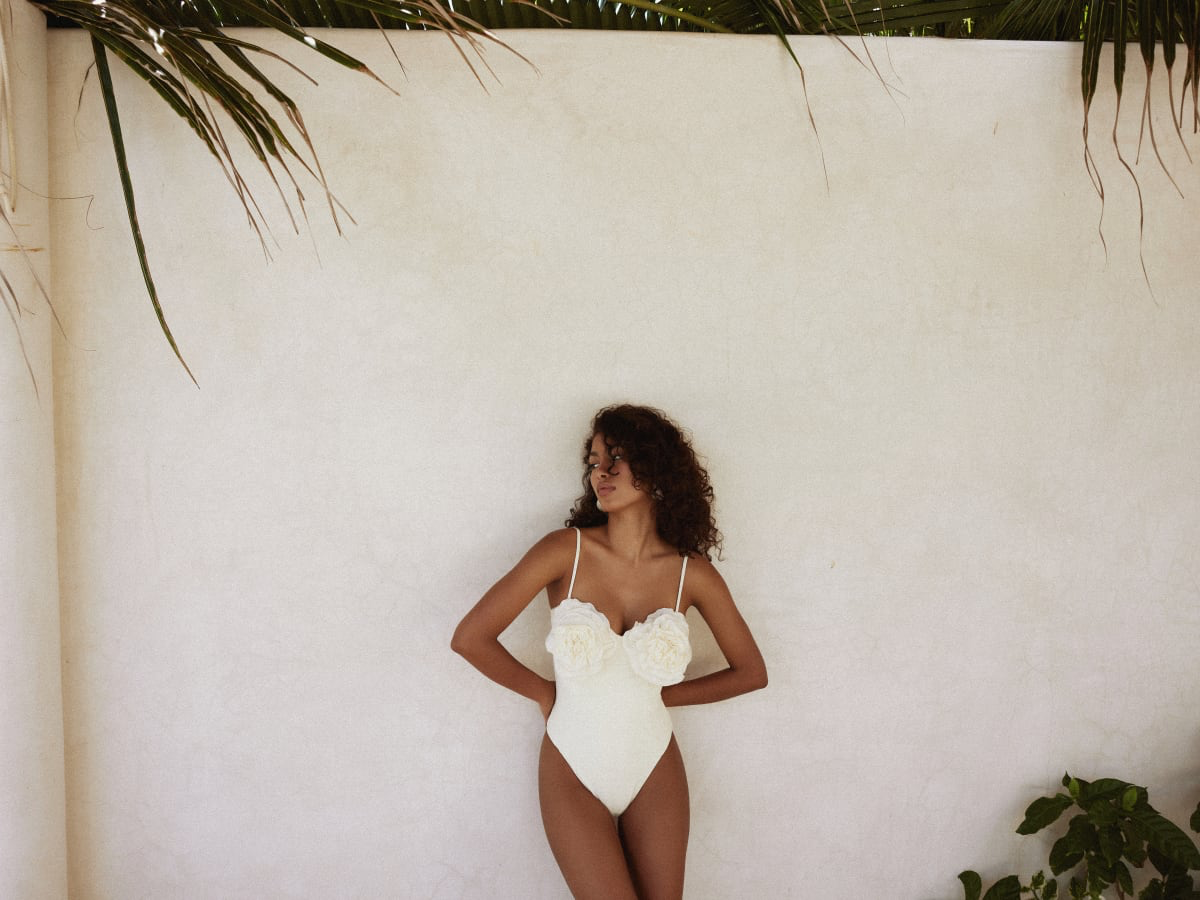 With so many swimwear trends out there, narrowing down the best of 2023 can help you feel more beautiful and confident by the pool or beach. Image courtesy of Fashionista.
Discovering some of the newest and latest trends for the upcoming summer of 2023 for swimwear is exciting. With so many different trends to try out, it can be hard to narrow down which ones to try first.
Here are some of the best swim trends of 2023 to try out during the warm summer months!
High-Waisted Bikinis
One of the biggest trends to start off the swimwear trends of 2023 is high-waisted bikinis because of how popular they are. While they have been a trend for the past couple of years, they still tend to be one of the most popular types of bikinis to wear because the high-waisted bottoms can help to flatten your stomach, while also smoothing out any love handles you may have.
Off-Shoulder Bikini Tops
Another trend that has been taking over popularity compared to other swimsuit tops the last few years is off-shoulder tops. If you love wearing crop tops in the summertime and are looking for something more fashionable and even want to feel sexy, off-the shoulder tops can be a great option. You can often get off-shoulder tops in many colors, patterns, and styles, including a ruffled cut to look even more stylish on the beach or by the pool.
Animal Prints
A style that is coming back from your days in middle school is animal prints. For example, leopard print bikinis tend to sell out because of how popular they are. It's a great opportunity to dress up (in a way!) as a confident animal and have heads turning no matter if it's a one-piece or bikini.
A Simple Bikini
Sometimes reverting back to the basics is one of the best options that you can choose, and you can do this with a simple bikini. For many reasons, the simple bikini look is coming back in 2023 with just a basic color, triangle-cut bikini top, and low-waisted bottoms to look and feel your best lounging by the pool or beach.
Asymmetrical Bikini Tops
Over the past few years, have you been eyeing up one of those asymmetrical bikini tops that look good in any color? If you want to have something more adventurous to wear that helps you feel sexy too, then this is a great option to choose. A lot of asymmetrical bikini tops consist of an off-shoulder look where both straps are going to one side, and can come in many colors or patterns.
Golden-Colored Swimwear
Who doesn't like a good bikini, or a one-piece suit that has a bold color to back it up while you're outside listening to the waves of the ocean? One of the best swimwear trends of 2023 is getting golden-colored swimwear because it can help you feel beautiful with a bold color. Whether you wear a bikini, bandeau, or a one-piece style suit, you will be feeling bold and confident no matter where you wear it.
The trends for swimwear change every single year, and it's important to get to know what the latest trends are for summer in 2023. From high-waisted bikinis, animal prints, to asymmetrical tops for a new high-fashion look, you'll love the different options to choose from to look and feel beautiful in your own skin.
Consider checking out some of the best swimwear trends of 2023 to feel beautiful and confident at the beach or by the pool!