Everyone wants to get the best style of jeans to wear that fit them like a glove. Good American is an incredible brand, but finding the perfect fit is crucial!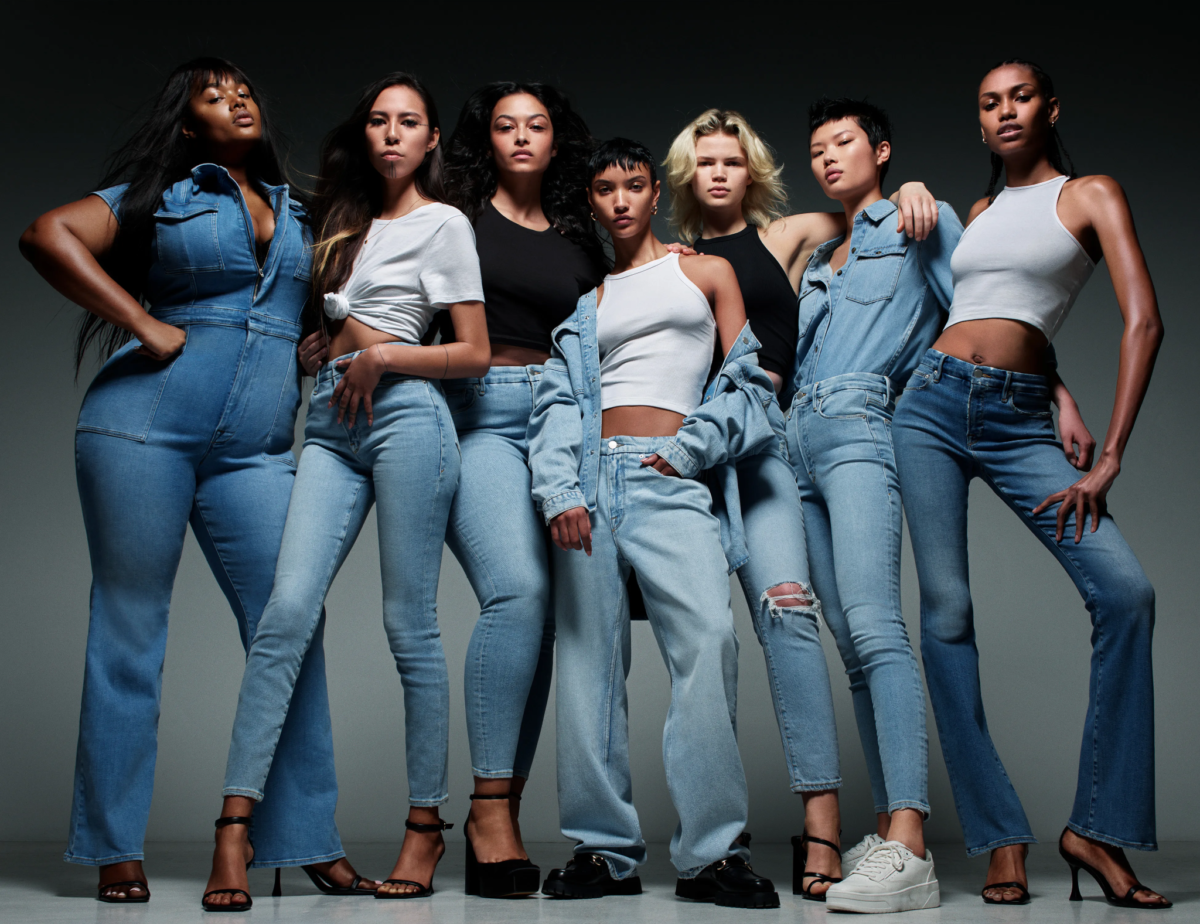 Main image courtesy of Glamour.
Everyone wants to look and feel good no matter what they're wearing, but there is nothing quite like finding your favorite pair of jeans that fit you just the way you like them. Jeans come in many shapes, sizes, colors, and styles and finding the pair (or pairs) that complement your fashion sense and fit you just right is important.
Good American is a high-end fashion brand that is owned by Emma Grede and Khloe Kardashian who work together to empower women and celebrate all aspects of females and the lifestyles that they live.
If you're interested in Good American jeans, the first step to purchasing a pair is to know how they fit, so let's take a deeper dive into how to shop for these high fashion jeans!
Good American Jeans: Your Essential Fit Guide
Finding out how Good American jeans fit can help you style them appropriately and to get your perfect match too!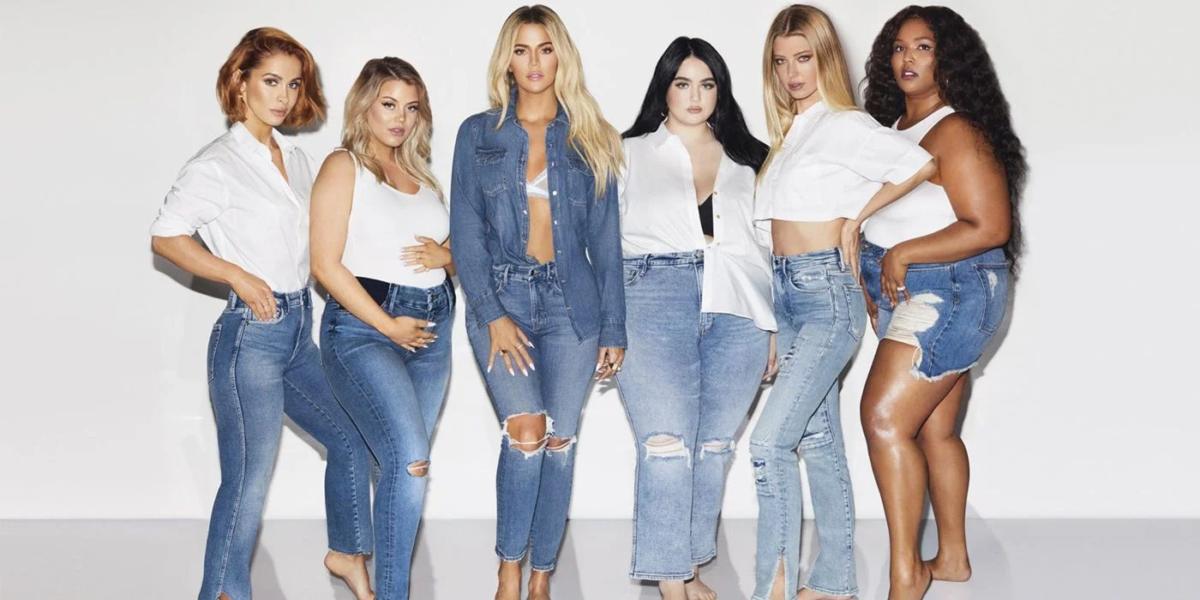 Good American jeans are some of the best jeans to wear because of the shapes, styles, and many sizes they come in. Image courtesy of Entertainment Tonight.
A big selling point with Good American jeans is that Khloe Kardashian herself is one of the owners of the company, and who doesn't want to wear a pair of jeans from her? She aims to empower women through feeling good in their own skin and finding a good pair of jeans to help do so.
It's important to find out how Good American jeans fit, so let's look into how to find the right pair for you with how they fit!
How Do Good American Jeans Fit?
You may be wondering about how Good American jeans fit, and it's crucial to know that they are some of the stretchiest jeans you'll ever own, but they never loosen up and they keep their shape no matter how many times you wear them. 
Good American has found the best fits for sizes 00 to 24 and there are a few different things to think about before diving in and purchasing a pair. If you're looking for the best fit jeans for you, Good American creates the best styles of jeans including the skinny, straight, and boyfriend jean. 
You can also shop for their jeans based on how you want them to fit certain parts of your body. If you have long, beautiful legs, you can shop for the perfect jean for this, or if you want something that fits your waist, or curves, you will find what you need with their style guide.
It's important to note that Good American jeans tend to run true to size, so your best bet is to purchase the size that you normally wear, but they do have a size guide so you can ensure that you're getting the right measurements to find your favorite pair of jeans.
What is a Size 2 in Good American Jeans?
It's important to get an idea of how Good American jeans fit no matter what size you wear, but what if you're a size two? If you normally wear a size two, for Good American jeans, the average is a 26.5 inch waist, a 37 inch hip, and the leg opening and front rise will differ based on the type of jeans that you wish to get.
What is a Size 14 in Good American Jeans?
Now that you know a little bit about a size two in Good American jeans, it's essential to get to know what a size fourteen may look like. If you are someone who wears a size fourteen, then you should have a 32.5 inch waist, a 45 inch hip, and depending on the style of jeans that you want, the front rise and the leg opening will differ as well.
What Size is Khloe Kardashian in Good American Jeans?
Since Khloe Kardashian is one of the owners of Good American jeans, you may be curious about what size jean she actually wears. To put it into perspective, Khloe Kardashian is 5'10" and she wears a size four in jeans, and her favorite pair of jeans to wear is Good American Good Legs to show off her long and elegant legs.
Where Can You Try Good American Jeans On?
If you are someone who prefers to try on a pair of Good American jeans in stores, there are many ways that you can do so. You may not want to take the gamble and order a pair online, so you can find Good American jeans at these select stores to try on the pair and style that you like best:
Nordstrom
Neiman Marcus
Bloomingdale's
Saks Fifth Avenue
Evereve
Anthropologie
How to Style Good American Jeans
Getting to know the styles of jeans offered through Good American and how you can go about styling them is crucial!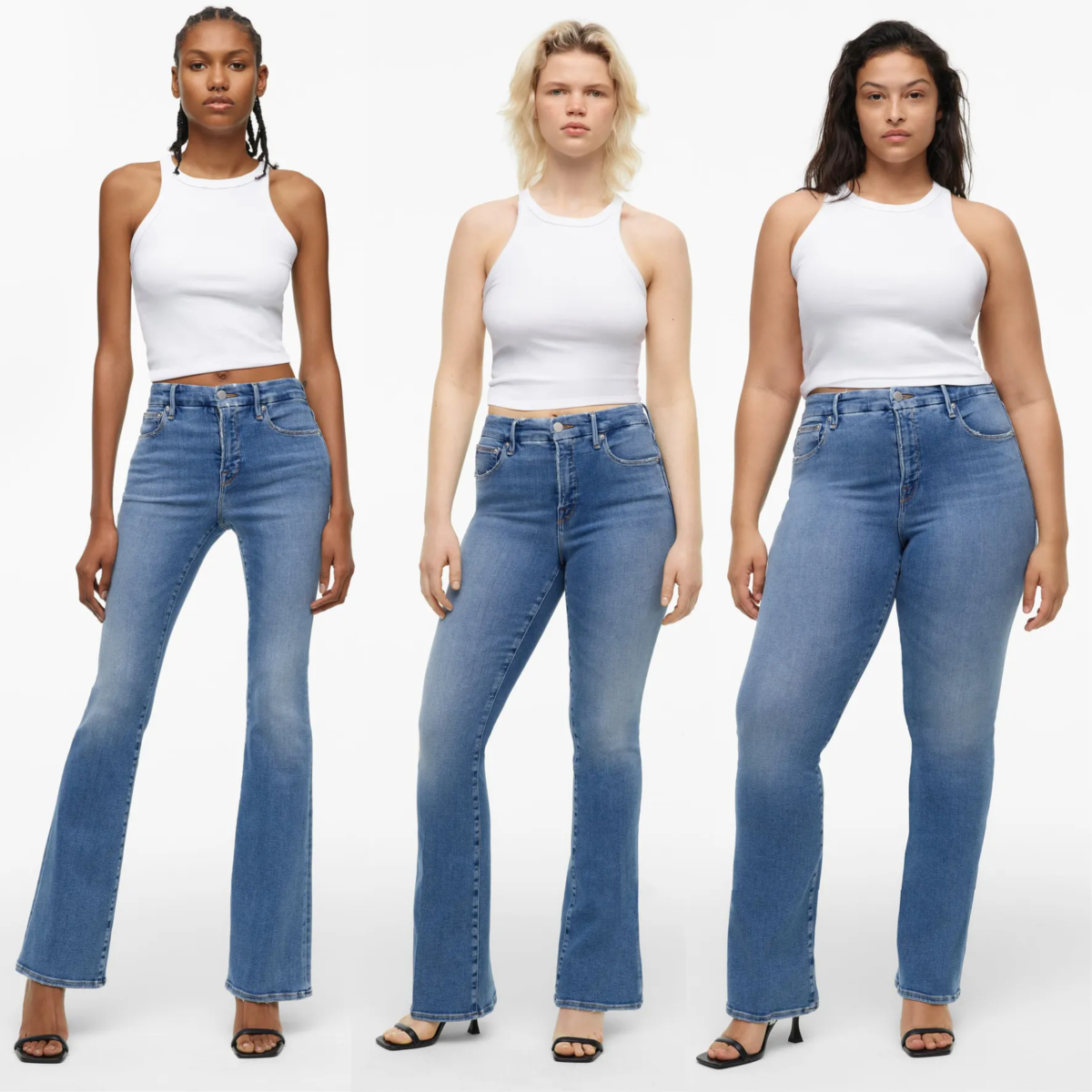 Good American jeans are the best to wear no matter what style you're going for, and they have a ton of cuts, shapes, sizes, and colors to offer. Image courtesy of Teen Vogue.
We think that before buying any pair of jeans, it's important to find a brand that will fit you like a glove no matter the styles that they offer. Good American jeans offer some of the best styles out there, but knowing how to style them is something that we think we can help out with.
If you are thinking about getting a pair of Good American jeans, check out some of the options that they offer and how you should style them!
Good American Skinny Jeans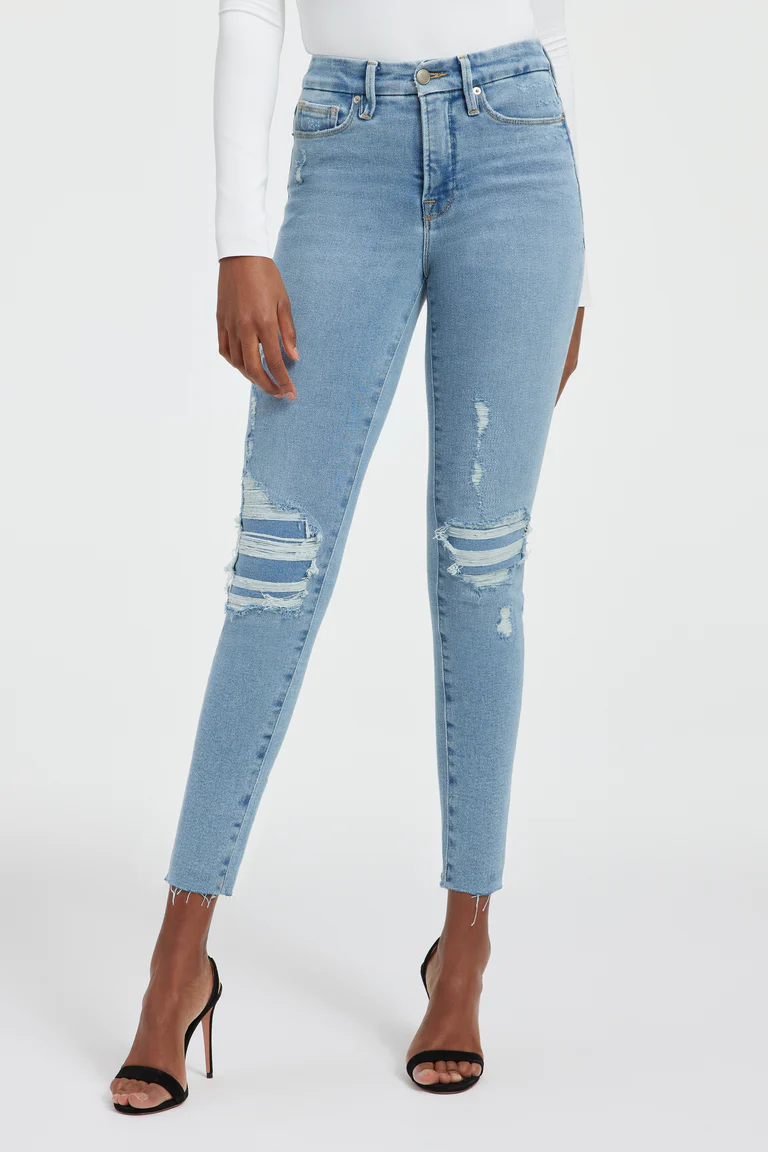 Good American skinny jeans are known to be their best-seller and you can style them however you want. Image courtesy of Good American.
Known as America's best-selling skinny jeans, Good American has a ton of styles for their skinnys including distresses, or no distresses, a cropped cut, and even a body hugging and booty shaping look to show off your curves.
You can style these skinny jeans however you please with either heels or a pair of sneakers, or you could also wear a tight, form-fitting top for those nights out with the girls, or go for a baggy t-shirt for a more relaxed feel.
Good American Relaxed Jeans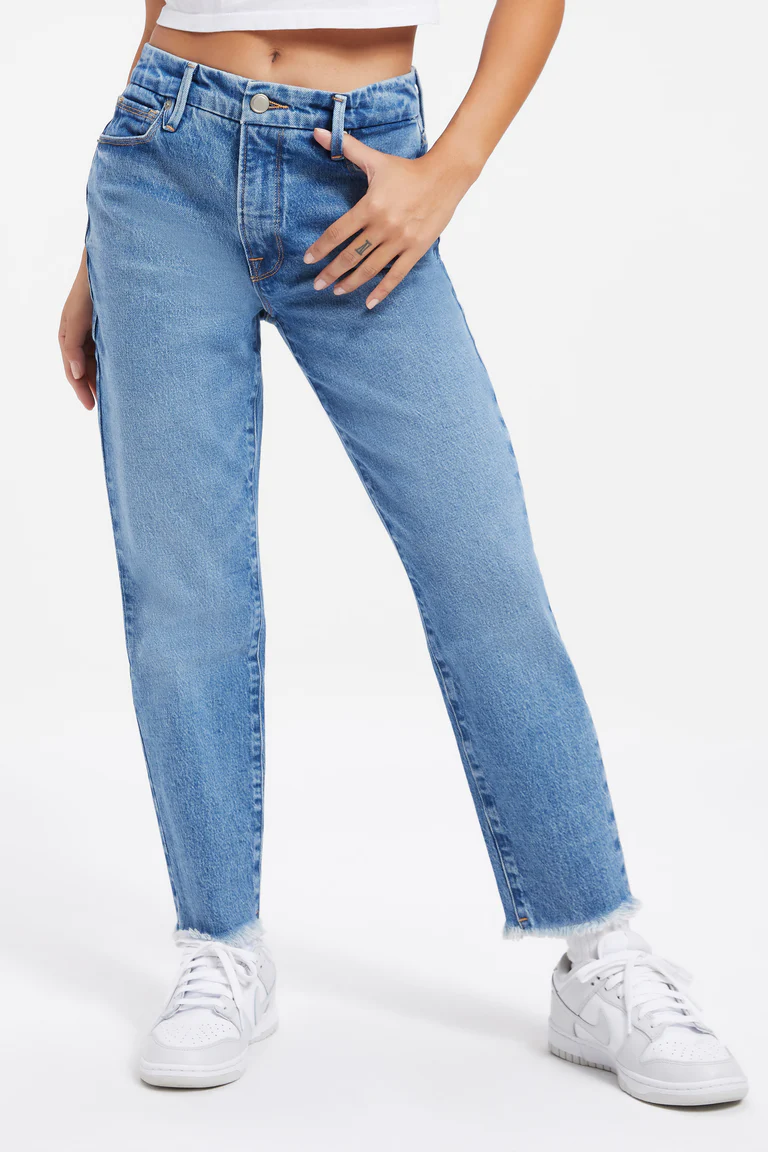 Good American's Relaxed jeans are the best kind to wear whenever you're running errands, or want something less form-fitting. Image courtesy of Good American.
If you are someone who doesn't want to wear skin-tight jeans 24/7, then one of the best pairs that you can get from Good American are their Relaxed jeans. These jeans are lower-rise and laid-back on the hips, and they also feature a loose leg for all day comfort.
These jeans are super stylish because a lot of them can be styled however you like. Whether you want to incorporate a baggy t-shirt along with the Relaxed Jeans from Good American, or a crop top and some sneakers, then these are the best pairs of jeans you could get.
Bootcut and Flare Jeans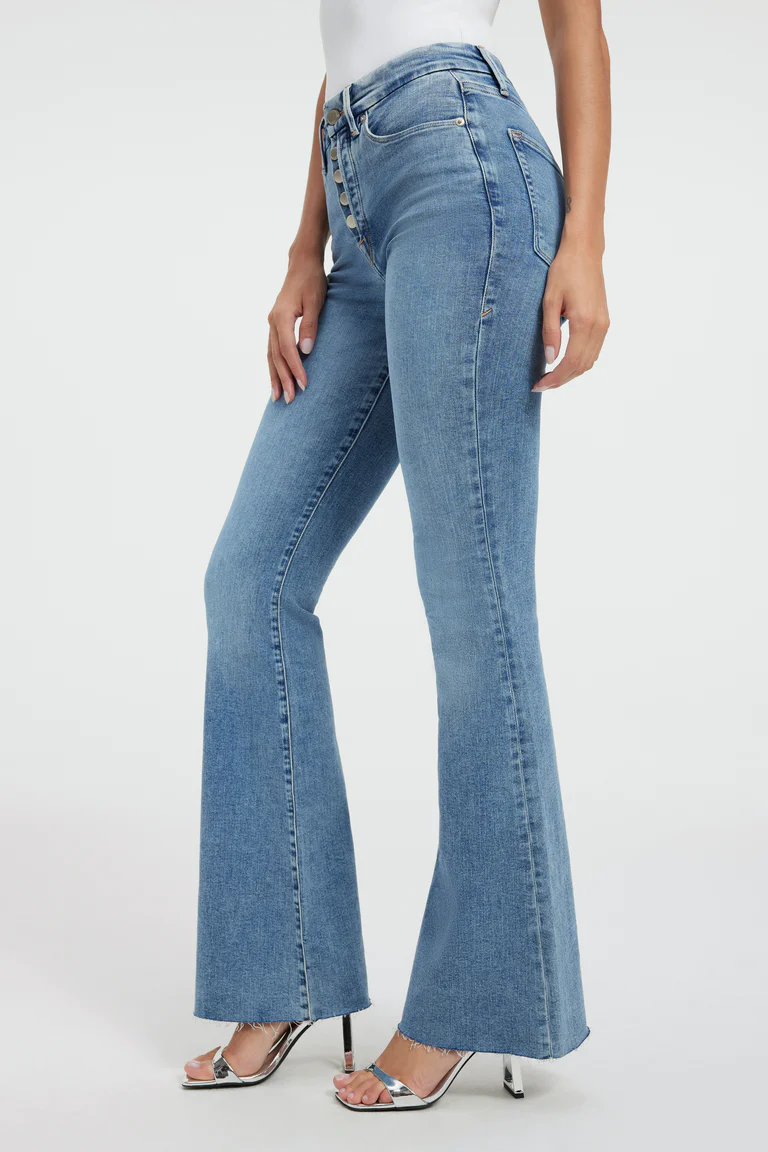 There is nothing better than a bootcut or flare jean from Good American to help you feel your best, while also being trendy. Image courtesy of Good American.
Every girl needs a good pair of boots and what you need alongside those boots are some bootcut or flare jeans to help you feel fashion forward and trendy. Good American's bootcut or flare cut jeans are the best to get if you want the vintage look, elongating leg length, and a flat-tummy look.
Bootcut or flare jeans can be styled in many different ways, but go perfectly with a pair of boots or heels, and a tucked in shirt, tanktop, or even a crop top to show off your long legs. See how these jeans can help you look even slimmer!
Good American Straight Jeans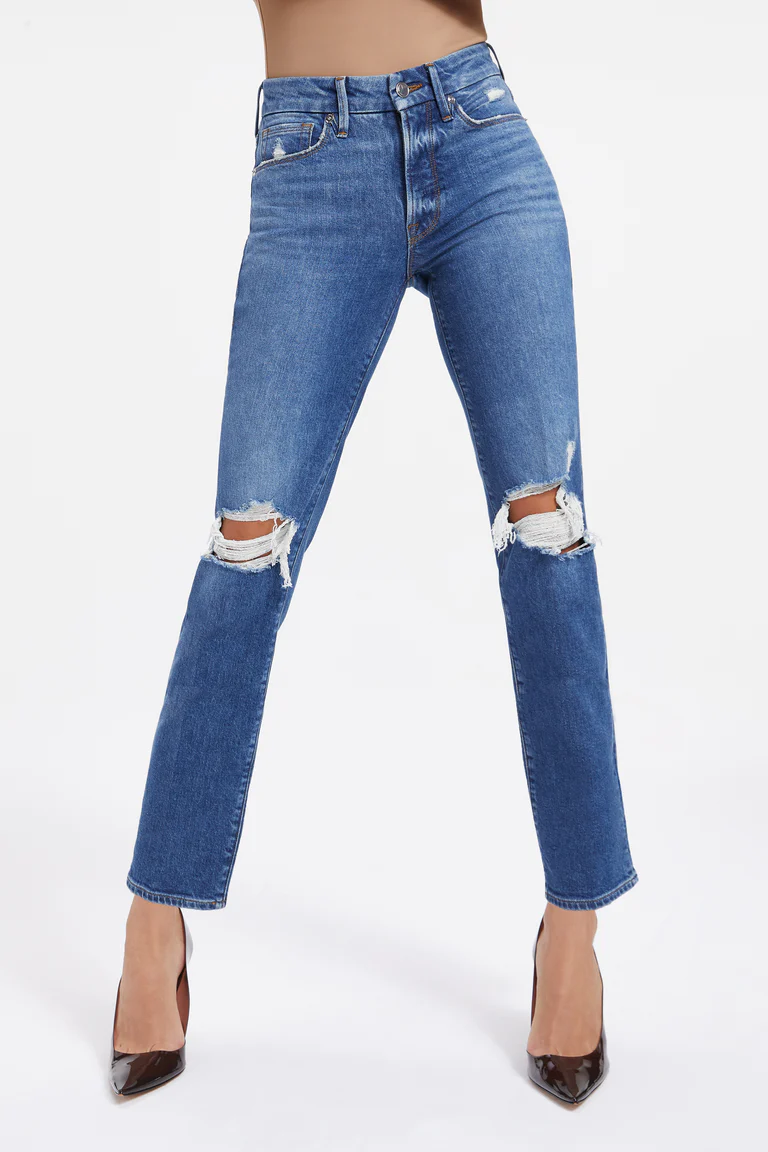 If you're in need of a good straight jean, Good American's version is a style offering a gap-proof waistband, and a more relaxed leg. Image courtesy of Good American.
Sometimes a good straight leg jean is truly all you need and Good American makes one of the best in the country. Straight leg jeans can give you a vintage look with its soothing denim, and it also has tummy technology to make you look super thin.
Straight jeans can be styled in a ton of ways and they can make the best going-out jeans, or even casual ones. You can easily style them with heels, low-cut boots, or even sneakers, and even pair with a t-shirt of your choosing, a crop top, or tucked in shirt.
Good American jeans are some of the best around because of all of the incredible ways that you can wear their different styles. They offer so many options that can fit in different ways, so make sure to find the pair that fit you with their guide today!