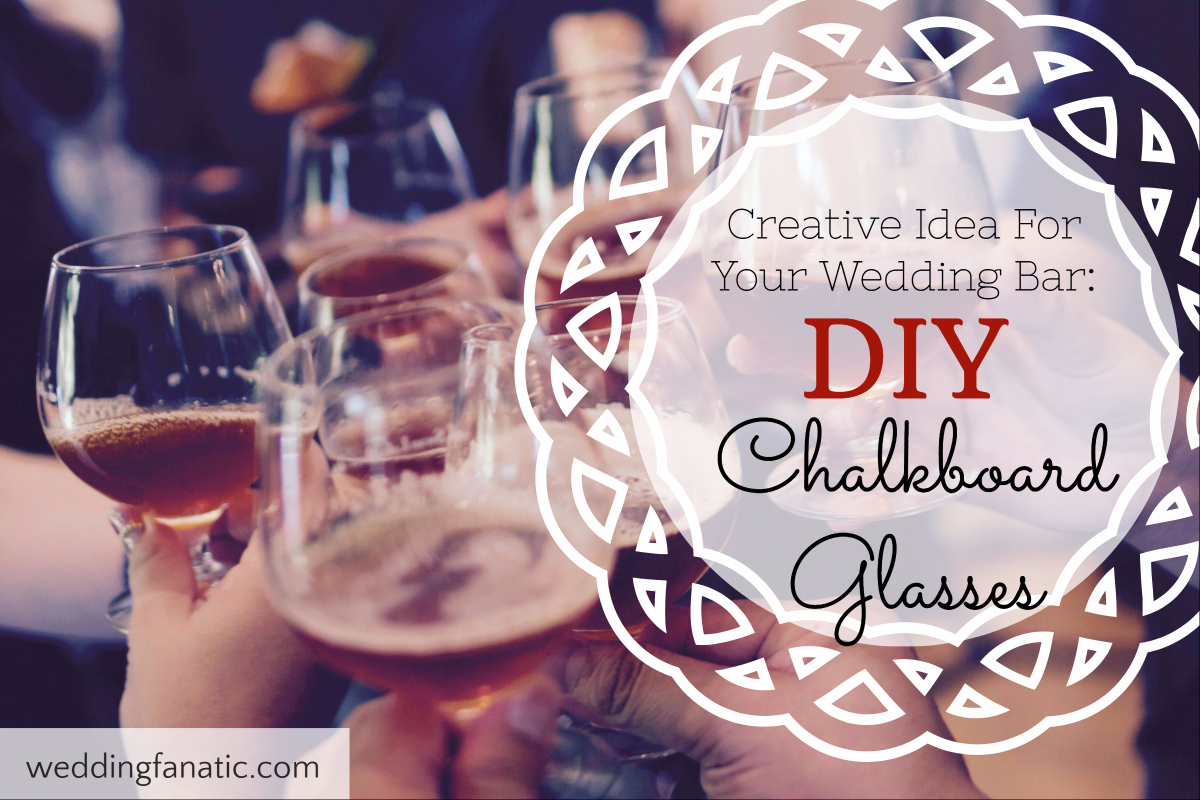 With this creative idea, your guests will know which glass is theirs all night long! Use chalkboard paint and chalkboard labels on top of regular old glasses to get this specialized and super cute look.  This extra touch will make your wedding bar one to remember! You could also use the wine glass idea for your wine and cheese wedding shower. Here are the steps.
1. Get Your Supplies Together
Gather the right amount of pint and wine glasses according to your guest list. In addition to the plain glassware you will need: chalkboard paint, a foam brush, a small disposable bucket or container, painter's tape, wax paper and chalk.


2. Prep Your Wine Glasses
For your wineglasses, you are going to start by putting a ring of painter's tape around the stem of your glass. Place the tape at the base of the stem, at the point where the glass starts to widen into the base.
3. Apply Paint To Wine Glasses
Pour some of your chalkboard paint into the disposable container. It needs to be at least deep enough to submerge the base of the wineglass up to the place where the paint is.  Dip your wineglass in, base first, up to the paint. Pull it out, and spin it a little bit to get rid of excess paint. Use a foam brush to wipe the bottom once or twice so that it is even. Place it on a piece of wax paper to dry, because the wax surface will separate from the painted base easily.
4. Apply Labels Or Paint Your Pint Glasses
Next create your pint glasses with a chalkboard label look. You can do this with pre-made labels, or with paint.
If you choose to use paint, you will paint a stripe across the front of each pint glass. It is best to use a foam brush with the same width as the label size that you would like, so that you can rely on the brush to give you nice straight parallel edges. Estimate the length of each label so that all of the pint glasses look roughly the same.
You can also use painter's tape and create windows around a cut out rectangle, if you want a more exact and uniform look. This will take more time, and I think that the imperfections that come along with eyeballing it are actually quite charming!
The last thing to do is make a fun sign to go next to your glasses. I like this one: "Your glass for the night, for whatever tastes right".
When you set up your bar, include a bucket of chalk so that guests can write their names on the glassware. You can also tell people that they are free to take their glass home at the end of the night! This D.I.Y. wedding look is rustic, artistic, and also serves a very practical purpose. Do you like the idea of using chalkboard glasses for your wedding bar? Leave a comment below!