Nearlyweds is a professional wedding service which includes a wedding website and all the trimmings. Sure, there are quite a few wedding websites out there, but this one is different. It includes a whole host of tools and resources designed to make everything easier on the bride who is planning her wedding, and the guests who are attending. We've chosen some of our favorite Nearlyweds features to share with you, and show you exactly how they're making the dreaded Bridezilla extinct!

1. Matching Themes and Stationery
Forget about trying to find invitations that somewhat match the theme of your wedding website; with Nearlyweds, the themes all have perfectly matching stationery, making it easy to present a uniform and beautiful theme to your family and friends.
2. Blog
With the blog option, you can easily update friends and family members with every little tidbit of news and happening in your wedding planning world. Post about the beautiful venue you've chosen, provide directions to the ceremony and reception venues, discuss the theme of your wedding, or dish about the gorgeous honeymoon you've got planned. It's a wonderful way to keep friends and family in the loop, especially those you don't have the chance to interact with on a day-to-day basis.
3. Gift Registry
The gift registry has always been a tricky thing; do you share the registry with your wedding guests or is that too tacky? Are you supposed to include it with your invitations or is that frowned-upon? With Nearlyweds, your guests have the option of clicking on your gift registry whenever they visit your wedding website, so it's a non-intrusive way to provide the information they want. This gives them the option of purchasing items you will really need and makes things much easier for them and for you.
4. RSVP
One of the most frustrating aspects of wedding planning is the RSVP; guests often never reply, making it very hard to plan for menus, favors, etc. With Nearlyweds, your guests can RSVP with the click of a button, making it much more likely that they will within a timely manner. Of course, this reduces the stress on you as you have an accurate guest count earlier than those brides waiting for snail-mail RSVPs.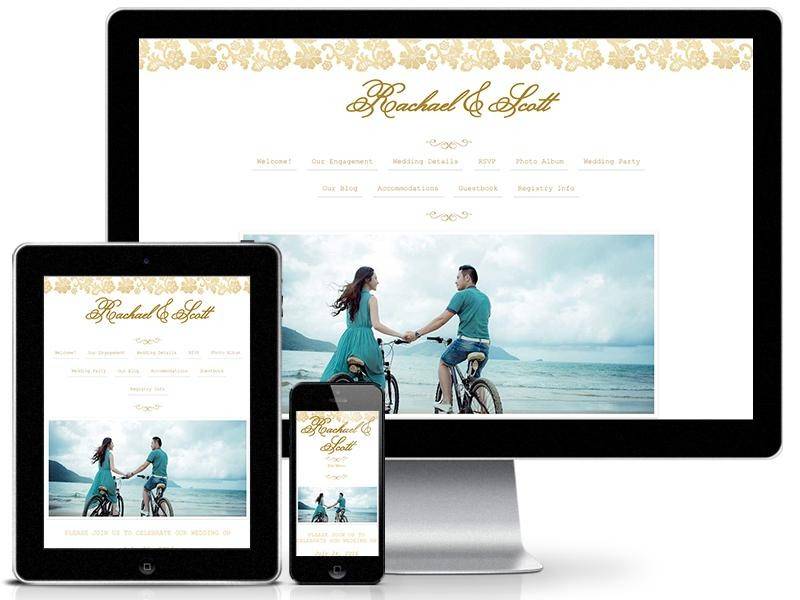 5. Variety of Themes
Another excellent benefit is the ability to choose a wedding theme that best matches your style and personality. Whether you prefer traditional and classic or edgy and bold, there's something for every bride available!
6. Accommodations
With the accommodations tab, you can inform your guests of nearby accommodations and the information they need. This is especially helpful for out-of-town guests who will need hotel accommodations and may need information on amenities nearby, from restaurants to shopping options.
7. Add Your Own Custom Page
You also have the option to add your own custom page to your wedding website, and can choose from the landing page, a tiled content page (great for text lists, videos or even maps), a map page, and a photo album. This allows you to customize your website however you'd like – making Nearlyweds versatile and very convenient.
When it comes to staying organized, no other service can prevent a Bridezilla quite like Nearlyweds. They make it super easy to manage RSVPs, provide essential information in a central location, and more. It's the information hub every bride needs to keep the wedding planning organized and to prevent that overwhelming, sinking feeling that accompanies chaotic wedding planning!