If you've always dreamed of having a sweet ice cream sundae bar at your wedding, but you're worried about affording catering, then you've come to the right place. Here is a great way to create that fun ice cream bar inexpensively and completely by yourself!
Start by placing ice cream in small Mason jars. Remember to leave plenty of room at the top of the jar for your guests to add their own toppings. Place the lids on the jars and keep them in the freezer until it's time to transport them to the reception area. You'll need a large container with plenty of ice so you can keep the Mason jars in the ice until guests are ready to get one out! This will keep the ice cream frozen and ready to eat.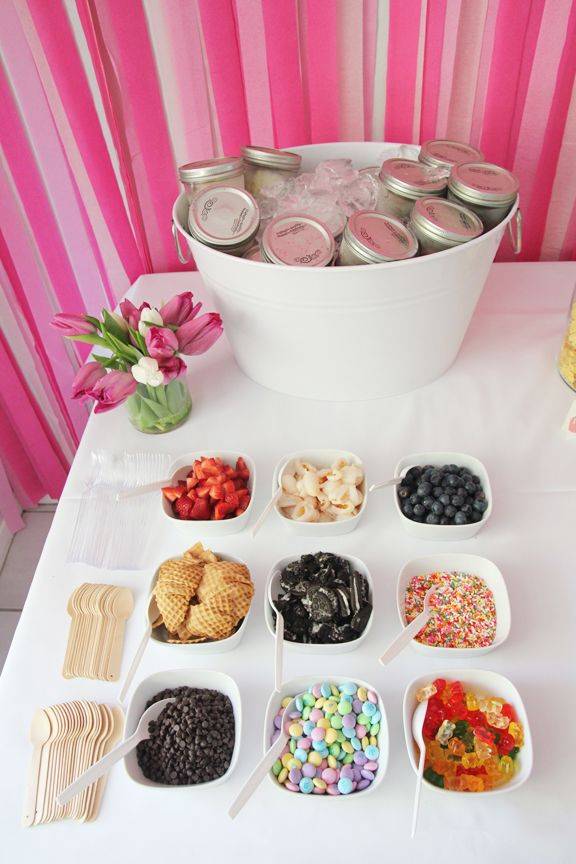 The Toppings
Create a beautiful assortment of toppings that guests can place on their ice cream sundaes. Some great ideas include chopped nuts, cherries, sprinkles, chocolate chips, fruit purees, caramel, hot fudge, etc. Provide spoons for each of the toppings and don't forget whipped cream. The canned kind is best for a function like this, as it will not melt easily.
The Extras
Finally, place napkins and spoons out for guests to use as they enjoy their delicious sundaes. This option makes it super easy to create a DIY sundae bar without the need for catering. As an alternative, you can purchase pints of ice cream and allow each guest to have one. If the venue you're using has a freezer, you can keep the ice cream there until it's time to put it out for guests!