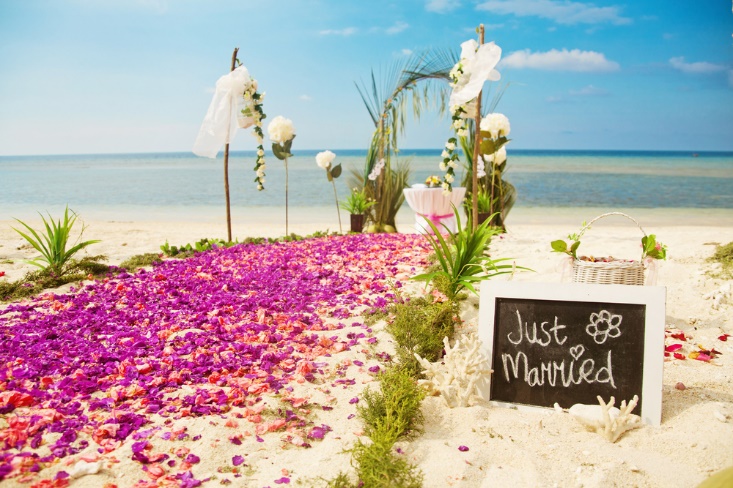 If you're like many brides around the country, when you think of your perfect wedding you may very well imagine saying your "I Do's" at the beach while you hear the sound of the waves lapping, smell the salt in the air, and enjoy a fresh breeze on your face.
If you and your partner have decided to get married at the beach though, it is important to think carefully about every element of your outfit to ensure that it matches the location and the laid-back theme. Read on for some tips you can follow to ensure you create the perfect look for your ceremony.
Choose a Casual Style That Suits the Location
First up, if you plan to get married at the beach, there is no point in opting for a formal ball gown with a full skirt, bodice, and long train. Beach weddings are usually much more casual than other types of nuptials, and your outfit needs to reflect this. The best fit is typically something that flows softly over the lines of your body to give you a smooth silhouette and relaxed vibe.
When shopping for beach wedding dresses, you might want to be on the lookout for a shorter dress, too, so that you don't end up with something that is trailing down in the sand and hard to walk in. Getting sand trapped in your dress and/or train can also damage the garments and make them look dirty and less-than-their-best in your wedding photos. Popular choices for beachside ceremonies are cocktail or tea length dresses.
It also pays to consider lighter, breezier fabrics when dress shopping. These are not only easier to move about in, but will also help you cope better in the likely hot, and potentially humid, weather. After all, no bride wants to look back on her wedding photos and see buckets of sweat poring off her face or staining the arms of her dress. Some of the fabrics that typically fare well in the sunshine are chiffon and charmeuse.
Other things to consider when choosing your outfit are the bright sunlight (colors can look very different in natural light than they do in the artificial lighting of a shop) and the portability of your dress. If you will be travelling to a destination wedding, make sure the fabric of your outfit won't wrinkle too much in transit if it can't be hung up.
Plan Your Hairstyle and Makeup Around the Weather
Choosing the right hairstyle and makeup is also another big element of getting the right look. For an outdoor, beachside wedding, it pays to think about wearing your hair casually, to match your dress and the style of the day. Many brides leave their hair loose and curly, or put it up in a chignon or braid to keep their locks from being blown about by the ocean winds. A simple up-do can also help you to feel cooler.
For your makeup, less is also best. Caked-on makeup is a no-no for any bride, but is a particular disaster for ladies who are getting married in tropical weather. Heavy foundation and other makeup can spell disaster if the heat starts to melt it and you end up with it running down your face, looking like you have been up all night rather than boasting the dewy complexion of your dreams.
On the day, start with sunscreen and a lightweight primer, followed by a matte, light-to-medium coverage foundation. You can add concealer to cover dark circles or spots, plus some highlighter to brighten up and contour specific parts of your face. When it comes to blush, a coral shade tends to work nicely for ocean-side ceremonies; while your lipstick should also be suited to the location and veer to the softer shades rather than anything too full on. Again, eye makeup should accentuate your features but not make you look like you're ready to go clubbing.
Pick Sensible Shoes or Forget Footwear All Together
Lastly, if you will be walking down an aisle of sand, which is the most likely option for a wedding by the ocean, you don't want to fall over and hurt yourself, your dress, or your dignity because you're wearing inappropriate footwear.
Many brides choose to go barefoot at their ceremony so that they can walk with ease, exude a chilled-out, beachy aura, and feel more grounded as they make their way towards their partner. If you aren't keen to banish shoes all together, and/or want to protect your feet from the burn of the sand, then at least select a pair of sensible flats such as flip flops, ballet shoes, or small-heeled pumps or sandals.