"Love…
exciting and new
Come aboard
we're expecting you"
This was the first verse of the theme song for the TV show The Love Boat. For many couples, it inspired romance. What was there not to enjoy? The adventure of going on a cruise, stopping at new places and enjoying a tour of the Carribean or Mediterranean while you were at it was extremely tempting to many.
If you've been inspired by this show and have decided to have your destination wedding on a cruise, there are a couple of things you should keep in mind so that your wedding matches your dreams. The last thing you want is to be on the ship but not having any fun. Nor would you want to be on board but unable to get married because something got left undone.
For example, the actual wedding is held at a port on one of the stops of the cruise. This means you need to check that you have the necessary papers so that you can get married there. This therefore means that you need to know the route that your cruise will take before you start on your paperwork.
That being said, you only have two things to do. The first is choose your cruise line or ship. The second is to find out the requirements to get married in the port or country of your choice.
If you want to be on The Love Boat, you'll want to choose the Pacific Princess. This was the original ship used for the the TV show and it truly is a beautiful choice. If you're open to suggestions there are many other options, but that's the original love boat, so if you want the REAL DEAL this is it…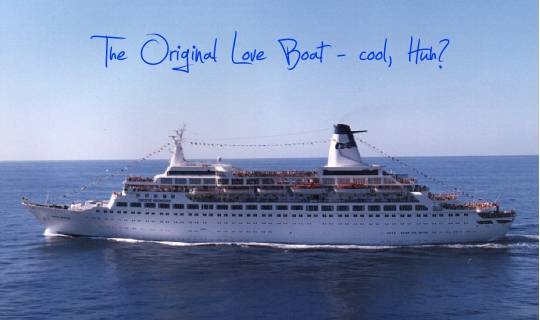 Something to note is that not all ships will allow you to get married on board. They may have wedding packages but their set-up for your wedding will most likely be done on the beach, which really isn't a bad alternative. Those couples and guests who aren't particularly good travelers by sea will surely thank you for the opportunity to have solid ground beneath them as you get married.
These cruise lines will allow you to get married on board:
Carnival Cruise Line
Norwegian Cruise Line
Holland America Line
Princess Cruise
Royal Carribean Line
These two will not:
Crystal Cruises
Cunard Line
Since this is a destination wedding of a very special kind, this means that your guests are either all on board or flying to the port where your nuptials will be held. It is best to make sure that the ship will allow your guests to board if they won't be sailing with you. Again, there is an advantage to the fact that you are getting married at the beach instead of on the ship.
If you do hold it on the ship, don't expect the captain to perform the ceremony. Unless he is also a judge, a priest, a minister, a justice of the peace or a notary public, he is unlikely to be your officiant. The cruise lines will usually provide one though if you tell them ahead of time and it is part of their services.
Oh, and don't expect "your captain" to be Captain Merrill Stubing either! The Love Boat's captain (aka. actor Gavin MacLeod) is now 79 years old, but he's still going strong and for the last 23 years he's served as a representative, and MC, for Princess Cruises when new ships are launched. Funnily enough 🙂