Humor is always a good way to get a girl's attention. That is how Haley and James' relationship started — by James' silly jokes. The two got along really well and knew they were meant to be together. It's the instant click you feel — a gut feeling so strong you see a future together. Today, we share with you the next journey of their lives together becoming Mr. & Mrs. DiStefano! It was a dream wedding for Haley. They had an Alice in Wonderland theme — whimsical and magical with wise choices of decors and motif. Congratulations, James & Haley!
The Story:
Haley and James are the type of couple that you just can't help but want to be around all the time. From their corny jokes to their non-stop laughter, both exuberate an incredible and warm aura. The two met online, both searching for love, but not having found it quite yet. James was the first to contact Haley and sent her a message, well more of a novel, about how he loved telling corny jokes and ended his email with "How do paleontologists' form relationships? – by carbon dating!" Yes cheesy, I know, but it is what capture Haley's heart. She loved his sense of humor and that he was willing to put himself out there. The two hit it off right off the bat when they were finally able to meet in person. Both knew that it was true love. Their personalities just 'clicked' like no other relationship. They were each other's yin to their yang, salt to pepper, Alice to her Wonderland.
The Proposal:
James' engagement was so true and genuine. Haley had been napping after a long day at work. James came home waking her up saying that they have to leave right away to her favorite Japanese restaurant, Sakura. Haley agreed and asked James to put in the laundry so she could get ready. As she was coming out of her room, she noticed that James did not turn the laundry on and called to him multiple times to remind him. She walked around the house, in the den, the bedroom, and still no answer. Then, there he was, on one knee in the living room looking at the ground.
Haley was worried that something was wrong, and she asked him if he was okay. He looked up at her with the sweetest little black box. Right there, in their home together, James asked Haley if she would marry him. Haley was in shock, I mean she did think he was sick only a moment ago, but of course as soon as the realization hit she started to cry with joy. She screamed yes over and over and followed it with "but I wish I could see it, but my tears are in the way." James slipped her ring on, and the two began their journey to planning their big day.
The Wedding:
Their wedding took place in The Villages at Big Cypress Recreation Center. The day was perfect and true to Florida the blue sky was radiating, and the clouds were as pure white as sugar. James' mom, Angela, knew that she wanted to give one of the sweetest gifts to her son. She surprised the two by booking my to capture their special day so that they could look back on all of their treasured memories. Upon entering the sitting area of the venue, you are greeted by hot pinks, soft yellows, and vibrant greens. From the ballroom to the lobby, the décor is nothing but magical. It was the perfect pick for Haley, a huge lover of Alice in Wonderland and everything whimsical.
The two wed underneath an adorable white pagoda right outside the main building. Guests sat on picnic benches, which set the stage for the idea of togetherness. They watched as Haley and James said their 'I do's' and shared their first kiss. Some of my favorite details ranged for Haley's enchanting bouquet filled with peacock feathers, the tabletop cupcake assortments in the shape of a bouquet, and Haley's Alice in Wonderland flats that she wore during the reception. Wishing the two an incredible life together!
The Theme:
Alice in Wonderland
Wedding Day Outfit Inspiration:
Alice in Wonderland – whimsical and fairy-tale like. My bouquet was filled with tropical flowers and teal peacock feathers that captured the whimsy of my theme.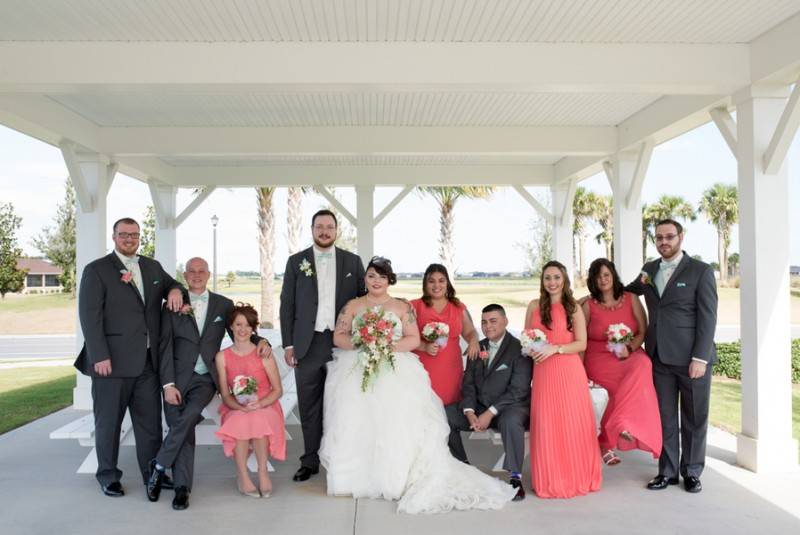 Favorite Part of the Day:
My favorite part of the day was our first look and being able to have our own time together before the ceremony.
The Do-It-Yourself (DIY) Projects:
Yes, makeup. Haley is an exceptional makeup artist, and it was very important for her to showcase not only her beauty but her work.
The Highlights From the Ceremony and Reception:
My favorite part of the ceremony was James quoting Boyz II Men in his wedding vows lol and my favorite part of the ceremony was our pictures while the sun was setting.
Most Memorable Moment:
The first moment James-Michael saw Haley walking up with her dad was just incredible. His eyes began to water, his heart began to pound, and he realized that the love of his life was about to marry him. It was an incredible moment.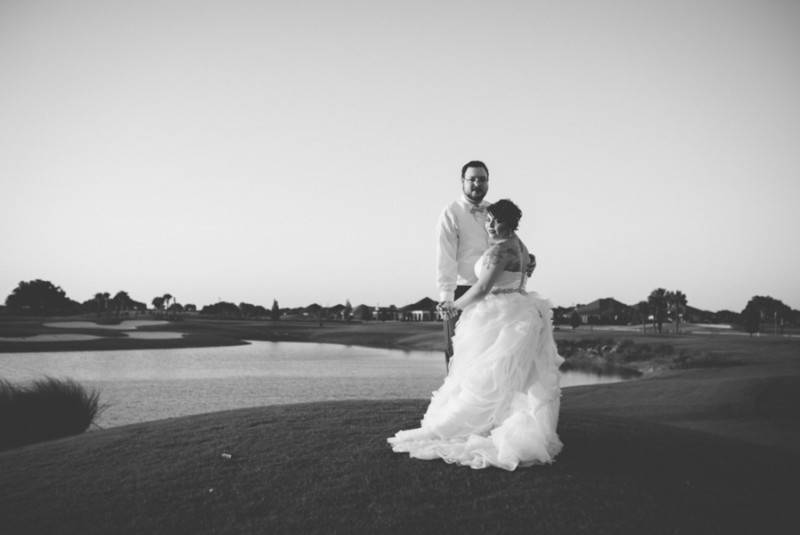 VENDORS
Photographer: Corner House Photography
Apparel: Albert Griffin Bridal
Dress Store: Alterations Unlimited
Reception Venue: Big Cypress Recreation Center
DJ: David's DJ Service
Dress Designer: Mia Solano
Beauty: Salon St T