A wedding shower is all about girl time. Celebrating the bride's upcoming wedding is only half the fun! Check out some of these fun, feminine wedding shower favor ideas.
A wedding shower celebration calls for great wedding shower favor ideas for the girls. Your wedding shower is one of the few times you can go crazy with all-things-girly, with everything from the cake and decorations to the games and the favors for your guests.
If you want to embrace your inner-girl and show the women at your shower how thankful you are for their attendance, we have some fun wedding shower favor ideas that are simple, stylish, and affordable for a memorable occasion, and they can all be found at WeddingFavors.org.
"It's a Girl Thing!" Purse-Size Photo Albums—These photo albums just reek of fun time with the girls. They feature a black high heel, diamond ring, and flirty dress design atop a pink and black album design. Black ribbons close over the album and open to reveal the clean pages for your cherished photos. Even better, they can be personalized with a special message on the side of the album, so you can customize them with the date of your shower and your name.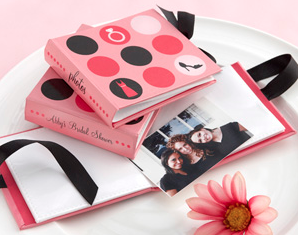 Pretty in Pink Collection Handbag Design Bookmarks—These bookmarks are sweet, pink, and practical, too. They are great wedding shower favor ideas for the girls at your shower who love to read, or they can be used as simple keepsakes as well. They feature three different purse designs with silver bookmark clips and they're presented in matching pink boxes with "for you" tags and ribbons.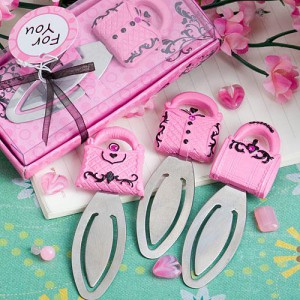 Chic Compact Mirror Favors—These mirror favors are practical for the girls, too, but that doesn't mean they compromise on style. The tops of these compacts are pretty hot pink, complete with a rose design and silver lining. You can combine these mirrors with other cosmetic favors, like lipstick, gloss, or nail polish, and place them in gift bags or boxes so every guest can have their own little cosmetic kit. These are only a few of the many wedding shower favor ideas you can try for a day of fun with the girls at your wedding shower celebration.