From the guest list to catering, every planning couple wants their wedding to be absolutely perfect. They are hoping everything goes well and there will be no one around to stir up trouble. Especially since they have invested so much time on the special day and probably have had mini breakdowns here and there, anyone posing to be a nuisance on their wedding day would absolutely put him or her over the edge. However, what would happen if the bride and groom themselves, were the ones causing chaos at their very own wedding? Sit back, and get ready, for a playful, mischievous ride through this hilarious, and joy filled wedding day styled shoot!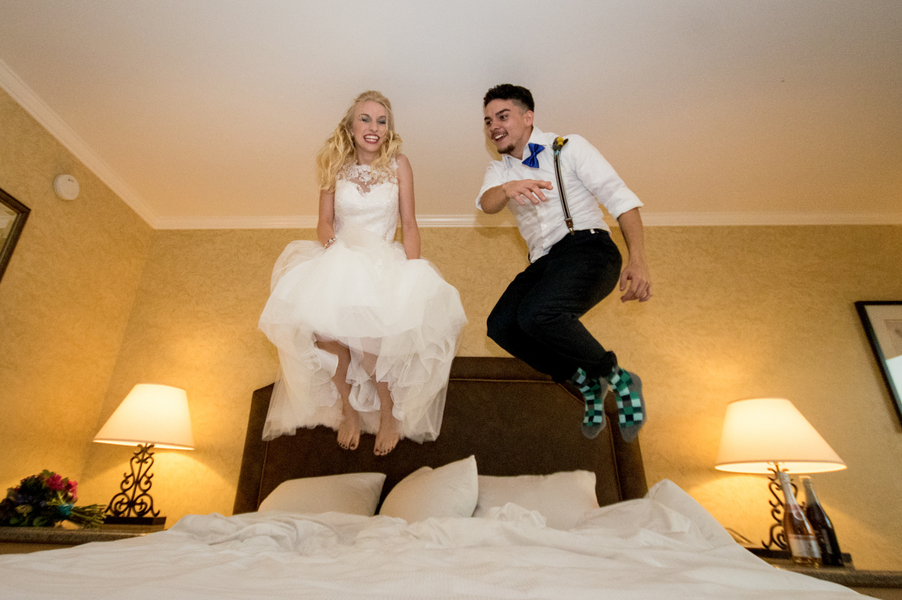 The theme. Mischief, prankishness, and good ole fashioned fun was the inspiration behind this styled wedding shoot. This bride and groom refused to let anything wedding-related get them down, instead they brought a bit of their own craziness to have what most would call a very not so traditional wedding.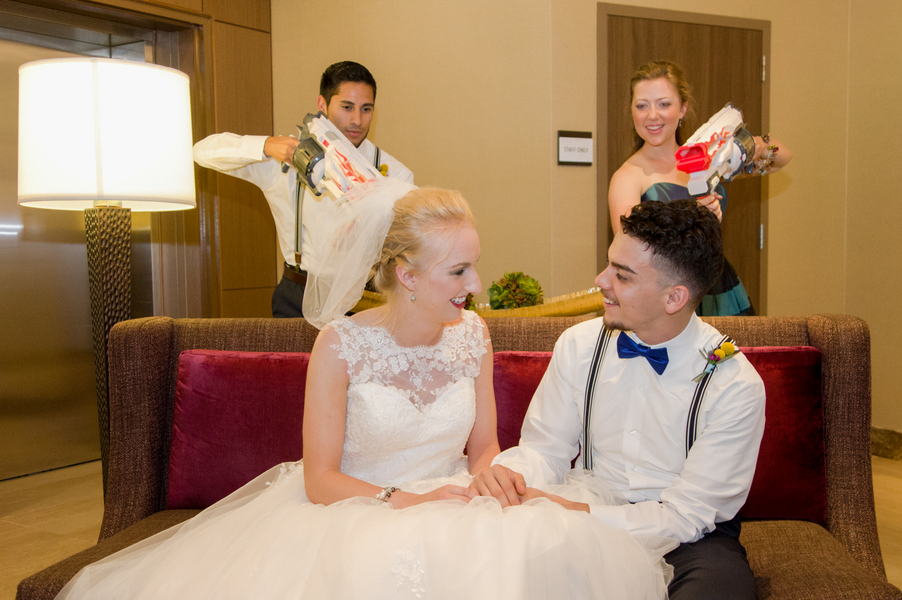 The venue. The Double Tree by Hilton was the perfect choice for this unique shoot as it conveniently located in the heart of Orange County, California, and had everything to offer for this whimsy styled wedding day! From the guest rooms, to the pool area, this hotel delivered! The Groom and Groomsmen got into the swing, with the attention drawn to their accessories; perfectly patterned sock wear and the brightest of suit, bowties, and suspenders. It's all about the pop when navigating your way through the antics of the day!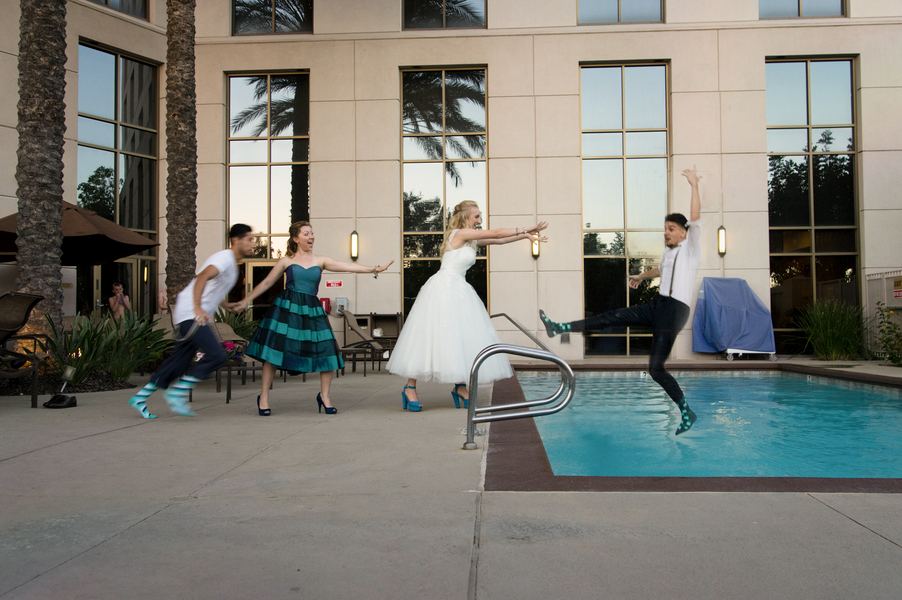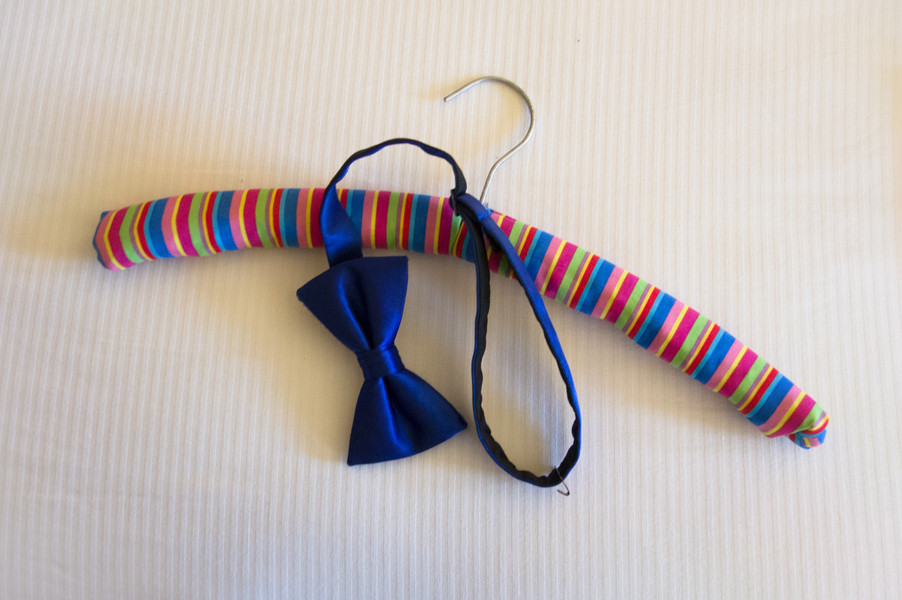 The fun. Shenanigans. The trickery was evident in every crazy detail! Rather than have a bridal gown that requires an extra set of hands just to get down the aisle, this bride, along with her maid of honor, went with dresses much more short and sassy.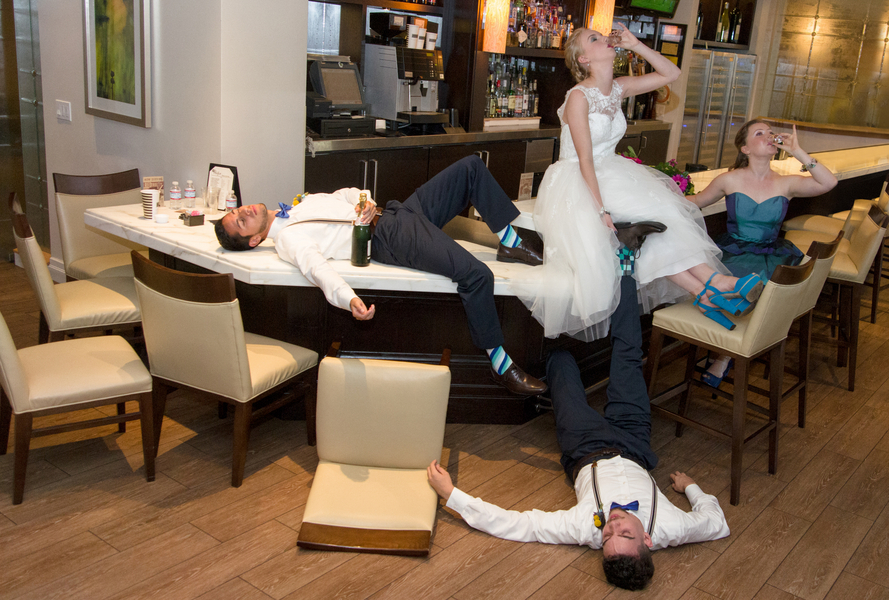 The color palette. The bride strut those turquoise/teal pumps and have everyone asking why she thought those shoes were a good idea. Hot pinks, corn yellows, and deep purple hues added just the right amount of snap found in the bouquets, reception table pieces, and the after party! The electrifying color palette may have been better suited for another occasion, but for these gals, anything shy from over the top color, was unacceptable.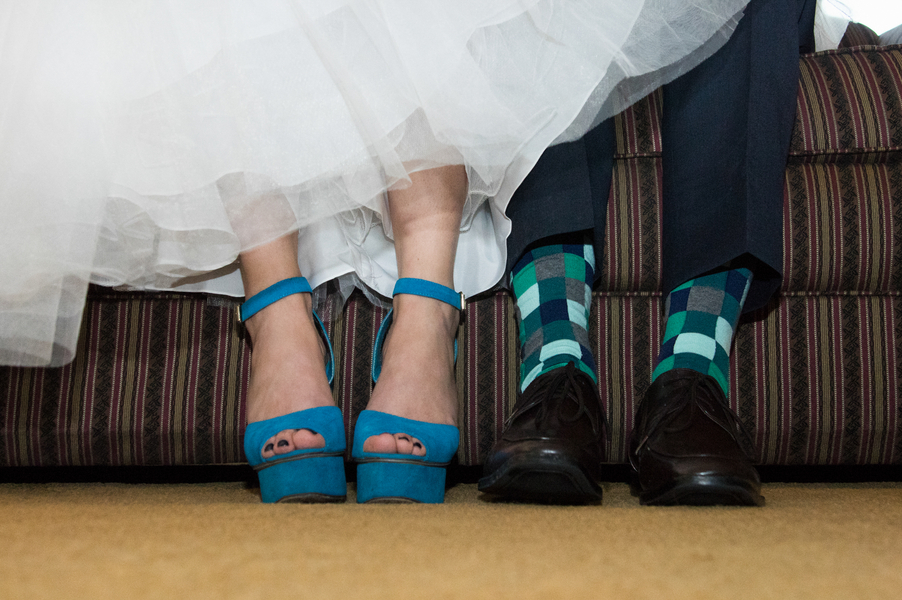 The DIY Projects. Grass room dividers adorned with photo frames, made a fanciful backdrop for the head table! The floral was absolutely on point. The blooms were unique, vibrant, and fun! From billy balls to coffee bean, the flowers were seasonally timeless. Simplicity reinvented. Centerpieces just single stems planted in vases.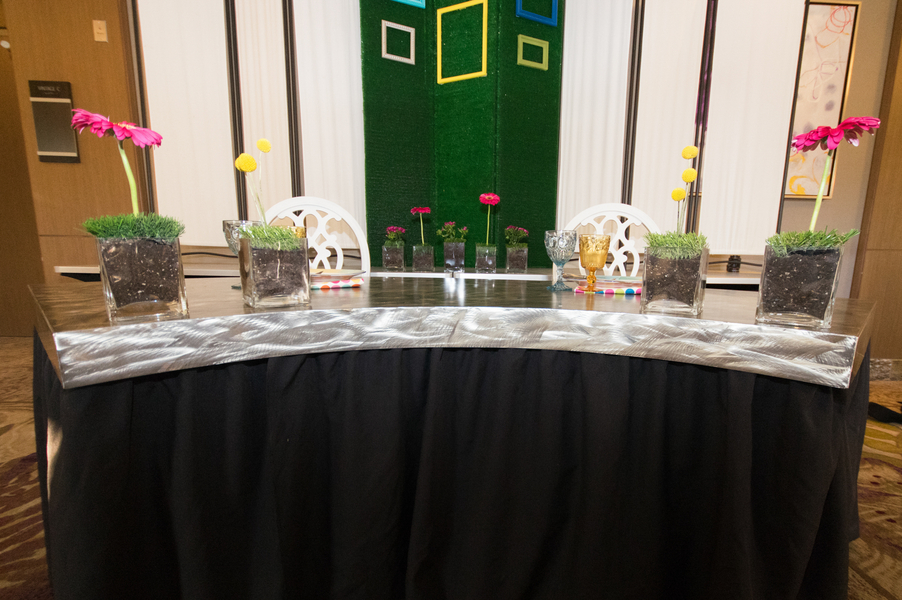 Vendors
Photographer: Walter Gonzalez Photography
Event Planner: A Little Bit of Glitter
Makeup Artist: BreLuxe Beauty
Apparel: Cocorose Boutique
Reception Venue: DoubleTree by Hilton Irvine Spectrum
Dress Store: Ferndales Bridal
Tuxedo and Mens Attire: Friar Tux Shop
Caterer: In Good Taste Catered Cuisine
Jewelry: Patricia Robitaille jewelry
Cinema and Video: Sonrise Media
Equipment Rentals: Sweet Pea Vintage Rentals
Floral Designer: The Dizzy Daisy