If you're looking for a unique and wonderful wedding gift for the bride and groom, this one will be a big hit. It's a flower covered initial that can hang from the bride and groom's front door, wreath-style.
Here's what you'll need to create it:
A large initial, wooden or Styrofoam.
Several colors of fabric that coordinate (organza, satin, nylon, etc.)
Hot glue gun.
Needle and thread
Small piece (8 inches) of coordinating ribbon.
How to Create It:
Start by creating a ton of fabric flowers. You can do this by rolling small pieces of the fabric (about 1 inch in width and a foot in length) and then gluing it down. Or, you can cut graduated circles from about 2 inches in diameter to about 5 inches in diameter. Hold the edges to the flame of a candle very carefully until they curl and seal. Sew the fabric together with the largest piece on the bottom and the smallest on top to create a flower.
Once you've created the fabric flowers, you're going to want to hot-glue them down to the surface of the initial. Make sure you do the sides of the initial as well. Near the top, glue the ribbon after folding it in half, so you have a loop at the top of the letter to hang from a wreath-hanger.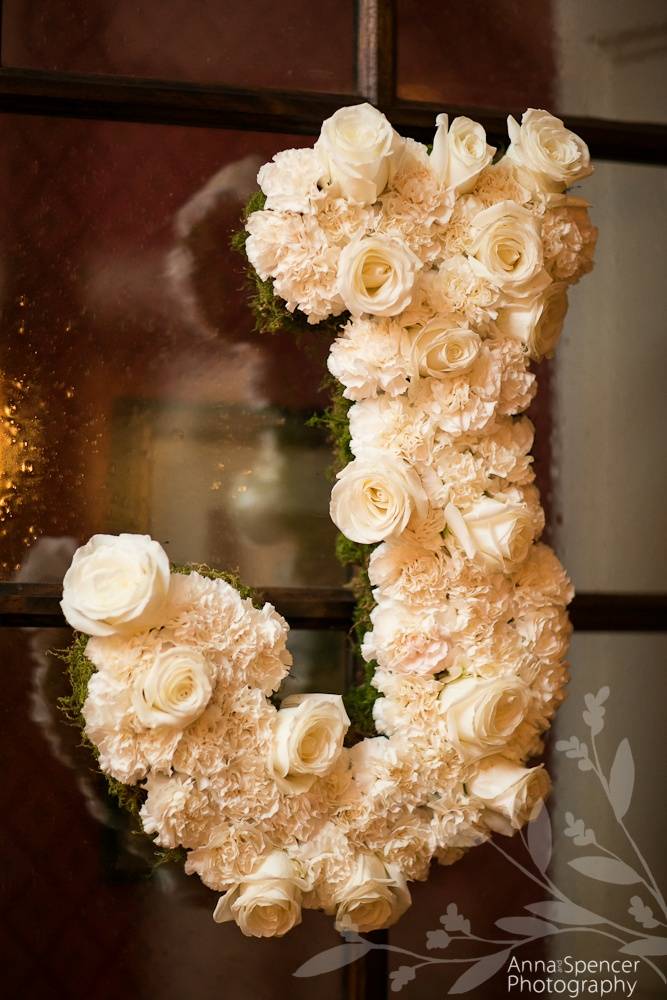 The overall effect is lovely and it's a wonderful gift that celebrates the bride and groom becoming a couple with the same last name! These are often created from real flowers for photography sessions or for the big day, but this one will last forever.