Hello to all wedding fanatics! It's a brand new day which means a new featured couple. And just one more day we will be welcoming September. Indeed, time flies by so fast, and we know you are excited about Fall wedding posts because we are too.
Today's featured couple got hitched last year 31st of August, and yes tomorrow they will be a year married. This post will definitely serve as a look back for them and an inspiration for those who are about to get married. Scroll down below to see Toni walk down the black & white chevron carpet together with her bridesmaids dressed in neutrals. In behalf of the team behind Wedding Fanatic, happy anniversary Mr. & Mrs. Connor!
Our Story:
It is so terrible to admit but…We met at Michigan State University. He was in a frat, and I was in a sorority. Me
and my sorority sister had forgotten to do an accounting homework assignment and her friend from high school
was also in the class. She called him over to our house, and he (Matt, my husband) let us copy the assignment.
He asked her for my number, and he called me that weekend and we have been together ever since. I work for a
professional sports team, and he moved with me from Detroit to Chicago to now Tampa! I'm not proud that I
cheated on my homework that night, but I sure am glad he was there to let me steal his answers, and he stole
my heart.
We Are A Perfect Match:
We are truly opposites when it comes to personalities! He is quiet and reserved, and I am loud and direct. When it
comes to family, morals, and beliefs…we come from different religions, but both grew up with close families
where that was a priority while loyalty and integrity are both a huge deal to both of us.
The Proposal:
The poor guy….I work about 80 hours a week at all sorts of random hours, and he was waiting for a day off to
plan a special day but in the middle of hockey season (I work for the Tampa Bay Lightning) days off are hard to
come by. He finally gave up trying to find a perfect day so I came home late one night from work, and he had
rose petals and candles all over our apartment and had spelled out WILL YOU MARRY ME in petals at the end of
our hallway where he was down on one knee. It was perfect and the best way to end a really long work day!
Wedding Day Outfit Inspiration:
I am all about making people feel comfortable. I knew I wanted all of the girls to be in long gold dresses but
beyond that, I wanted them to feel beautiful and comfortable. Everyone picking their dresses (many from
renttherunway.com) gave a fresh, unique look to the party. I was over thrilled with how it turned out.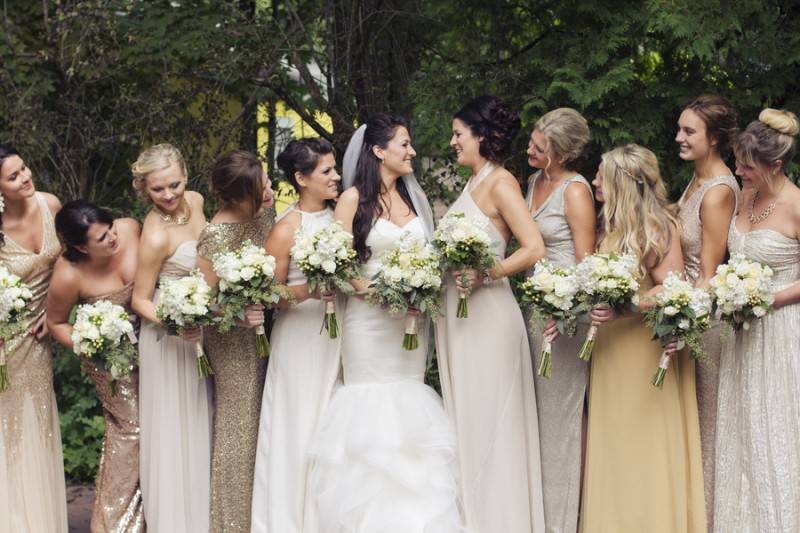 Album Story:
Capturing our love in a city that is so much a part of who I am using local landmarks as the backdrop to our
special day. I am a Yooper first and foremost so showing the love of my hometown with the love of my life was
complete and utter perfection to me.
Wedding Décor Inspiration:
There is a lot of pride where I come from in the area that we live. I wanted my wedding to reflect the place that I
came from and loved so much so I really wanted to incorporate as much from the area as I could. Especially
because most people had never been to Marquette before.
The Do-It-Yourself (DIY) Projects:
Pretty much everything was DIY. We used a lot of hodge-podge frames we found at thrift stores and used
chalkboard paint for signs and table numbers. My dad built our chuppah. Our centerpieces were painted branches
from our neighbors trees that live in an orchard that we dangled little crystals and candles from. My mom and
her friends sewed chevron table runners and our wedding aisle.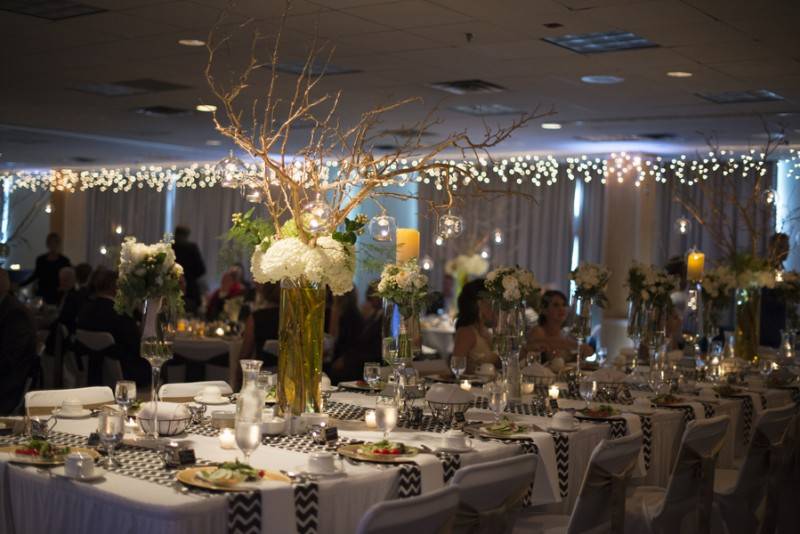 The Planning Process:
We had about ten months to plan. We had been together for so long that neither of us wanted a long
engagement, so timing worked out great. My mom did all of the planning. A big part of my job is planning
parties for clients and the last thing I wanted to do at the end of the day is to plan more, so my mom took the
whole thing on. She was made to plan events! Plus I was the third daughter to get married at this point, so she
had it down to a science.
The Best Advice We Received:
Enjoy every minute of it..even the stressful parts because you only get married once (hopefully)! Everything you
do is about celebrating your love and that's a pretty great thing to celebrate!
Tips & Tricks For Future Brides:
For your showers, have your guests fill out envelopes with their addresses for you to use for thank you notes.
You do A LOT of thank yous so any bit of help…helps! Buy lots of stamps! You will always need more!
The Challenges We Faced:
I live in Florida, and the wedding was in Marquette, MI across the country. It was hard to be so far away, but
my mom stepped up. She knew the vision I was looking for and went all out researching on websites
for different ideas to complete my look. We did a lot of face timing to keep me in the loop. I also knew it was
going to be tough to be far away so I looked at is as a positive that I wanted to be surprised! For the most part,
everything for the wedding I saw for the first time on the day of as it was happening. The good part about being
surprised is that you never knew when something was going wrong or wasn't what you had ordered exactly. To
me, everything looked fantastic and went flawlessly. I recommend this outlook if you can't be there for
all of the planning. Being surprised just made the day all that much more magical to me!

Money Matter:
$25,000 was the budget
Probably saved most on flowers. A close family friend, Barb Kelly, did all of my arrangements, bouquets, and
centerpieces at the ceremony and reception. She runs our city's beautification committee and is really into that
kind of thing. We talked early what I wanted, and she grew a lot of the flowers over the year to be ready for my
wedding. A lot of locals also allowed us to cut their hydrangeas that were used in everything. It was nice to
be able to use flowers that were local to reduce cost.
Food and bar were for sure the biggest expense. Open bar with premium alcohol.
The Guest List:
300 invited, 240 attended
Plus ones were only given to people that were in long term relationships or living together. This helped set
a guideline for us and narrowed our list.
The Songs:
Our Honeymoon:
We actually live in Tampa, FL now because of my job and are just a short drive to some of the most incredible
beaches, so we wanted to do something that we missed and we didn't get enough of. I am extremely into
snowboarding from being from up north, so we went to Vancouver/Whistler for a romantic getaway in the
mountains! The most fantastic time!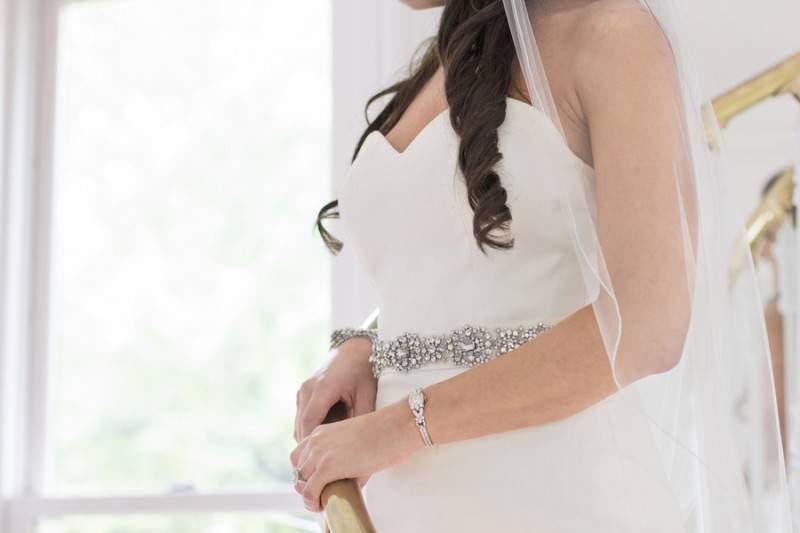 Excited About:
I know that everyone hates growing up and getting old, but the way I see it, growing up just means growing old
with Matt. Each year older is another year together. More memories and more love. He truly is the best part of
me. I never thought I would love a man as much as I love my dad until I met Matt. He is the kind of guy you pray
your children will be exactly like. If our kids take after him 100%, I will be a very lucky wife and mother.
Planning Advice For Couples:
Just remember at the end of the day, this day is about you. The most important thing is at the end of the day you
are married and that's the thing to celebrate!
Favorite Part Of The Day:
My favorite part of the day was our ceremony. Matt is Catholic, and I am Jewish. I come from a town where there
aren't many Jewish people and he didn't really have any Jewish friends so being able to get married with a mix of
our religions and traditions was really special to me. We had an officiant from each faith that traded off talking
and doing religious rituals that were symbolic to each of us and our families, so everyone felt represented. It
really was a beautiful thing to be a part of.
The Highlights From The Ceremony & Reception:
See favorite part of the day. Also, going around taking pictures of my favorite spots in town was really
memorable! A local restaurant even put "Congrats Matt & Toni" on their marquee downtown. Those are really
cherished photos for us.
The Theme:
No theme just chic Yooper type of feel. Colors were gold, black, and white.
Most Memorable Moment:
Just combining both of our religions into one ceremony but still making it personable to us. Both officiants we
used I have known my entire life so they were able to add a lot of personal touches knowing me and my family
so well. Being surrounded by our friends and family in the community that I love just meant the world to me. It is
the one day where everyone in attendance means something to you and is there to celebrate your love. Its a
beautiful memory and time to look back on.
VENDORS
Photographer: Daniele Carol Photography
Event Venue: NMU Great Lakes Room