The vintage rustic vibe this wedding gave is on point. The beautiful ranch venue set the bars high on this one. The greenery matched very well the motif and theme. I love how they carpeted the green grassy aisle with white petals. The big barn and the pine trees made for a breathtaking backdrop. A tip to those who wants to save on their reception: go with nature, it has never been a letdown.
There's a link of their wedding video below, but before you watch it get your tissues ready because you might shed a tear or two.
Our Story:
Josh and I met through e-harmony. It may sound a bit crazy, but I fell in love with Josh over our emails and phone conversations before we physically met. We emailed each other multiple times daily, and our first phone conversation lasted 8 hours! Josh knew he was in love with me about two months into our relationship when every decision he had to make started with thinking about how it would affect me and my two daughters. Josh and I have lived 4.5 hours away from each other and in separate countries our entire relationship and still currently live apart.
We Are A Perfect Match:
The many things that Josh and I have in common make us a great couple. But the one thing that makes us a perfect match and will ensure that our relationship and marriage will last a lifetime and grow stronger over the years is we are each other's best friend.
The Proposal:
How Josh proposed in his words: The journey to our engagement began for me, as it does for all guys, long before the big day. I had found Rya's ring two months after we met and a full year of before our engagement. In November of 2012, I arranged a meeting with Rya's parents to ask for their blessing. After a two hour conversation over breakfast, I walked away from our meeting with their blessing. My original plan was to ask Rya to marry me at my parent's cabin in Montana. The ring would be hung inside a custom made blown glass ornament strung from a tree by the lake lit with white lights. On my trip to Canada to spend Christmas with Rya and her family, my engagement plans took a detour. I arrived at the border, and when asked to declare what I was leaving in Canada I did not mention the engagement ring because it would be returning to the US in my possession four days later. Murphy must have been smiling when the border guards then searched my vehicle, took possession of the ring, and charged me a small fortune to get it back. Once back on the road with the ring in hand and $10 left to my name I, for several reasons, decided to ask Rya to marry me that night. When I arrived at Rya's house, there was over 3 feet of snow on the ground and no possible way to light a tree and hang the ring the way I had intended before Rya arrived back at home. I raced in the house, quickly threw on my dad's Ramsay tartan tie and began stringing lights from the entrance into the living room where I decided to suspend the ornament from the ceiling. To reach the ceiling, I pulled a big rocking chair away from the wall and promptly drove the base of the chair into my foot and essentially tore my big toenail clean off. With a slight limp and a bloody sock, I finished the setup and then went looking through Rya's cupboards for something to calm my nerves. All that I found was a dusty bottle of vanilla vodka…really? I was standing in the kitchen when Rya arrived home and heard her gasp as she walked through the door to the scene before her. I then walked out to meet her in the living room where she turned the worst day in recent memory into the best day of my life when she said yes.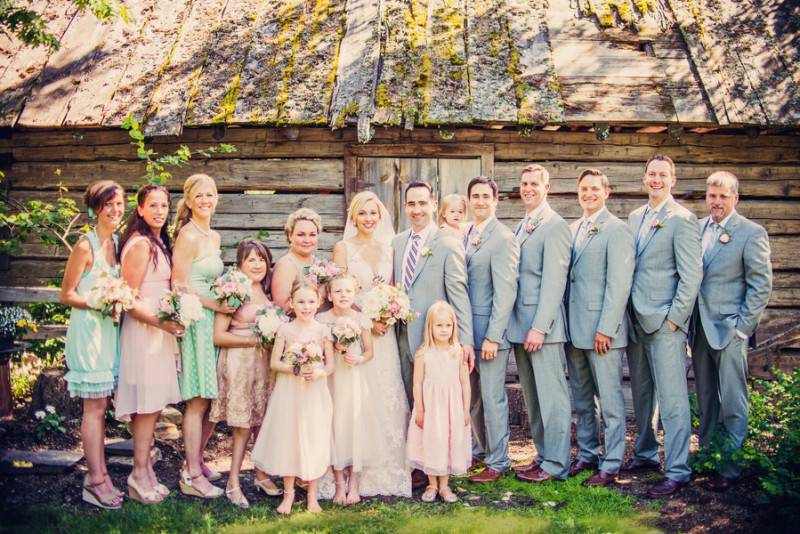 The Planning:
We were engaged on December 22nd, 2012 and were married on June 21st, 2014. We decided to get married in Montana in March/April of 2012-I found 14/15 months a perfect amount of time for the planning process.
The Best Advice We Received:
Hands down the best advice we received was to hire wedding planners and day of coordinators. What were some challenges you faced while planning your wedding & what did you do to address them? The biggest challenge was planning a wedding in Montana from B.C Canada. Things didn't get any easier until we booked our venue, and the owner of the venue recommended we hire wedding planners and day of coordinators. Once we did, things started to go more smoothly.
Wedding Decor Inspiration:
My great grandmother's tea cups, which filled with flora and used as centerpieces on the tables and my desire to have a lace wedding dress were my décor inspirations. I wanted a vintage feel, so we decided on pastel, incorporated lace were we could. We also used antique furniture and accented with vintage white objects such as white table numbers, milk glass vases. We had three white doors as a backdrop for our Polaroid picture guest book and another door that displayed our seating chart. Every detail had a vintage flare, from our gorgeous etched glass dishes and stemware to the Louis Vuitton trunk dating back to 1912 to the types of desserts we offered our guests.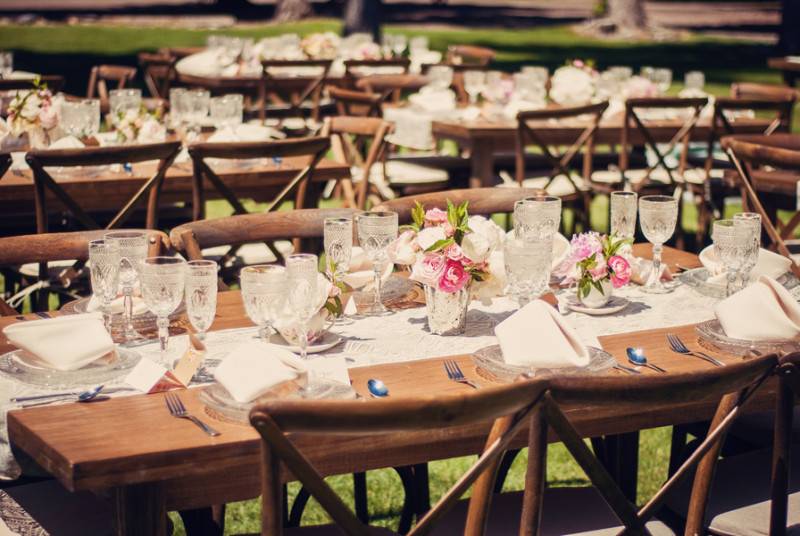 The Wedding Budget:
Our wedding cost $45,000
We Saved Our Money On:
We decided on not having a full bar. Instead we offered our guest a few options of wine, a couple options of beer, champagne, and three signature drinks: Huckleberry Vodka Lemonade (in honor of the state of Montana) Moscow Mule (my favorite refreshing cocktail) and Makers Mark on the rocks (Josh's drink of choice).
The Biggest Expense:
Food, Venue then our videographer.
Number Of Guest Invited:
200 where invited 108 was our final count.
Narrowed The List By:
We didn't narrow our list, but our venue had a limit as to how many guests could attend the celebration so we sent out invitations to our "must invite" list first, mostly made up of family and very close friends. Then we waited for the RSVP's to arrive and when we received RSVPs that regrettably notified us that they couldn't make it we started to send out invites to our "if we could invite everyone" list. In the end we were able to send invites to everyone we wanted. It was a great system and worked very well!
The Songs:
In August of 2013, I attended a Vintage Whites market in Big Fork, Montana and fell in love with the singer/songwriter style musical entertainment, Flannel Graph. There and then I booked them to play and sing at our wedding. They played and sang music as the guests arrived at the ceremony spot. I chose the bridal entourage to walk down the aisle to Landon Austin's song Once in a Lifetime, but gave Flannel Graph the freedom to slow it down and sing it in their style. I walked down the aisle to the song "When the right one comes along" from the Nashville soundtrack. And then they entertained our guests for over two hours after the ceremony as they enjoyed cocktails and served appetizers before dinner.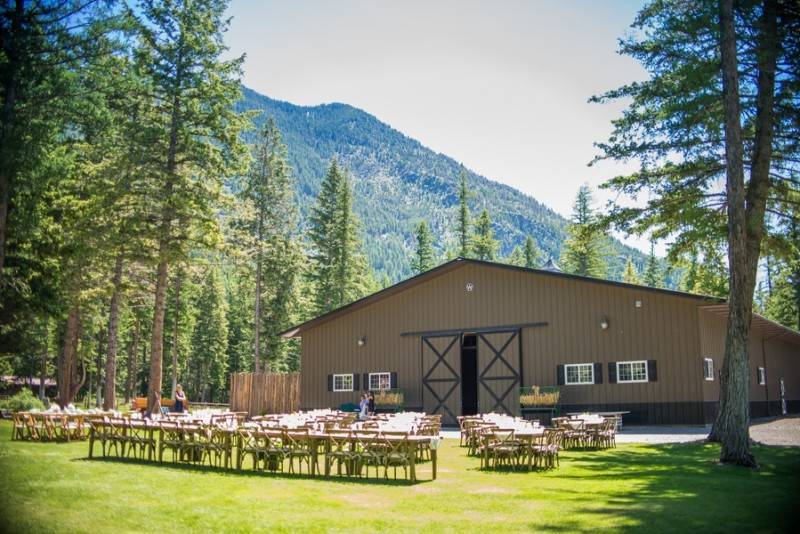 The Honeymoon:
Unfortunately, due to many reasons, we weren't able to go on a honeymoon. We hope that one day we will be able to, but it doesn't seem to be in our near future. What are you most excited about for the future? I am most excited to eventually all be living under the same roof, at this time we are unsure of when that will be.
Advice For The Couples:
Hire day of wedding coordinators!!! Not only will they relieve you and your groom from a lot of set up stress, hiring coordinators will enable both your families and the wedding party to also just enjoy the events of the day. They make sure everything runs as smoothly as possible and are there to take care of anything and everything should something go wrong or a last minute problem or problems come up.
Album Story:
This is how a friend described our day on instagram: "We had the pleasure of attending the most beautiful wedding this weekend in Columbia Falls, Montana. The gorgeous ranch venue, the bride's incredible dress, the vows!, the mountains, the fresh air, the horses adorned with flowers, the wind whispering through the many pines, the white lights, the flowers, the vintage, rustic décor, the food, the sunny, blue sky, EVERYTHING was perfect. I could go on and on. The best part about it was seeing the bride and groom so happy and so full of love for each other."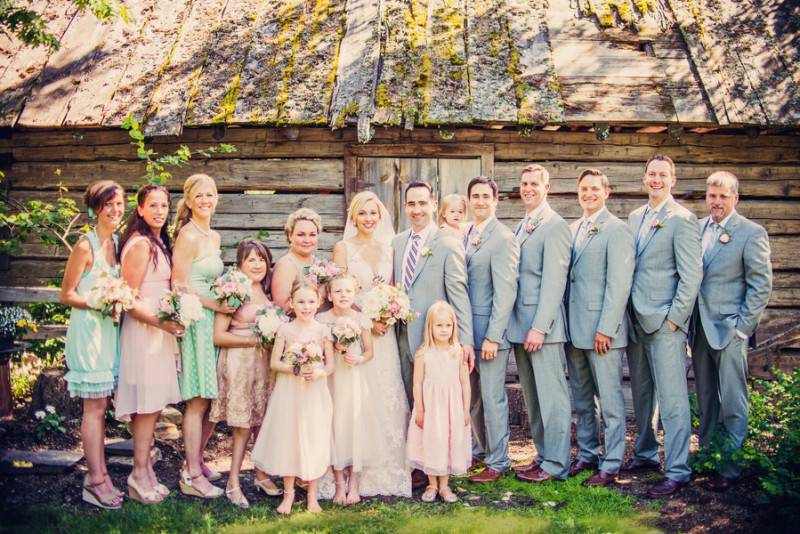 Wedding Outfit Inspirations:
My 5 bridesmaids were all so different that to pick one dress that would suit them all would have been near impossible. So I gave them all the choice of 3 colors, mint, light pink, and a neutral/champagne and asked them to all to pick their own dress. My hope was that the girls would pick a dress that they would potentially wear again and work with each of their budget. It worked out that two of them picked mint, two picked pink and my MOH picked the neutral/champagne, and the dresses all looked great together!! We felt that light grey suits would be best for the groomsmen. Josh mostly drove the decision making when it came to where we would purchase them from and what cut he wanted, my contribution was to pick the shade of grey.
Favorite Part Of The Day:
oh geez there were so many wonderful parts…the whole day was perfect. The ceremony was so unique and the vows we wrote to each other were filled with so much love and emotion. Directly after the ceremony we walked down the aisle together and into a vehicle that drove us to a private spot where I had prearranged to have a table set up for us with a bottle of champagne. It was a surprise for Josh, he had mentioned that we probably wouldn't have a single moment alone together until the wedding was over, so I made that moment, he thought we wouldn't get, happen. THIS is what I would tell brides or grooms to make happen. Right after the ceremony, before you go and take pictures with family and the wedding party, go to a private spot away from all guests and enjoy each other's company in private….because it won't happen again until the wedding is over.
The Highlights From The Ceremony & Reception:
I mention the highlights of the ceremony in one of the questions below. Besides the food, which was amazing, and the wonderful and heart whelming speeches, the highlight was when my younger sister and twin daughters sang "A Life's That Good" from the Nashville soundtrack, it was a wonderful surprise that brought me and I'm sure others to happy tears!
Here is Our Wedding Video:
Memorable Moment:
For me, seeing Josh for the first time and then locking eyes with him as I walked down the aisle towards him is extremely memorable. We wrote our own vows which we read to each other during part of the ceremony, and it was Josh's vows that I'm sure people remember, because it was his vows that brought almost everyone to tears. Also we incorporated a wedding custom from my heritage, a rug handmade by my great-great grandmother was rolled out in front of Josh and I and we proceeded to bow 5 times- once to my parents, once to his, once to the grandparents, then to each other, and finally to the congregation. We bow to show respect to the individual and to acknowledge God who lives within each of us. Many of our guests have never witnessed a wedding custom like that, and I'm sure made our ceremony very memorable. And then of course our first kiss as man and wife is something I'll never forget.
In Addition:
Having eight-year-old twin daughters, we invited quite a few kids to our wedding and wanted to do special things for them. We created a special kids table at the reception just for them. It was covered with craft paper and decorated with flowers made of tissue. And at each child's place setting was a tube of pencil crayons to use to draw on the table if they wished. Along with it was an I SPY wedding items game and a disposable camera each to use to take pictures of all the things they needed to find. The candy table was a HUGE hit with the kids also.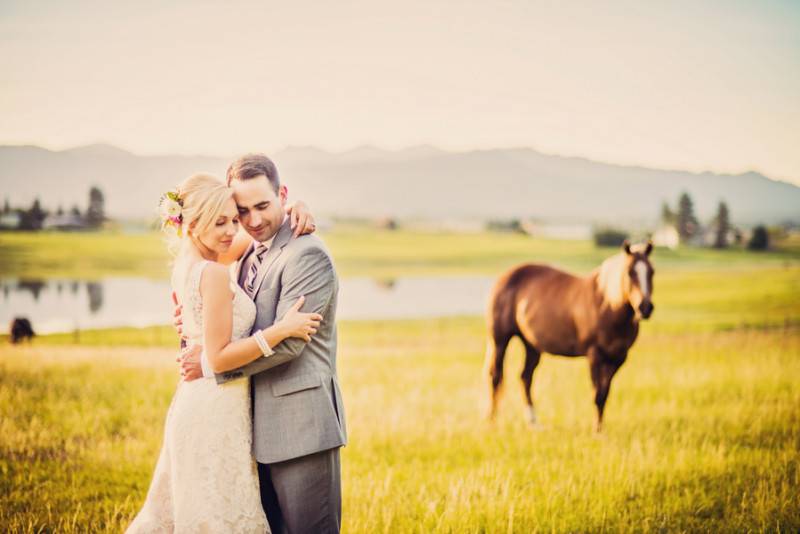 VENDORS
Photographer: Marianne Wiest Photography
Makeup Artist: Abana Skin
Caterer: Cuisine Machine
Musicians: Flannel Graph
Cinema and Video: Forrey Films
Dress Store: J Scott Couture
Ring Designer: Jewelry Design Center
Tuxedo and Mens Attire: JoS. A. Bank
Floral Designer: Mum's Flowers
DJ: Music on the Movie
Hair Stylist: Salon VIP
Cake Designer: Sweet Notions
Event Venue: Weatherwood Homestead LLC