Bent down on one knee with the absolutely perfect engagement band in hand, he asked you to marry him. A moment you'll remember the rest of your life.
But what you didn't see in that brief moment was the months and months of planning and great lengths he went to in searching for the perfect ring. Now, with your wedding day approaching, you're on a search of your own: find that perfect men's wedding band.
For most men, jewelry is a gift. As in a gift for you, not them. We don't think much about the stuff. So when it comes to our ideal wedding band, we might not think in the same terms of the styles, carats and settings that come to ladies' minds. So let's take a close look at the things going through guys' heads when they take a moment to consider their ideal wedding ring.
Functionality
There's a very good reason guys love Swiss army knives. All those tools in one, it's the ultimate in utility and function. Does your man dream of a wedding band that is both a symbol of your love and a bottle opener? We can't  help it. We're hardwired to think of things as multifunctional.
In a man's mind, his wedding band should be the same way. Gold and silver are nice looking but their functionality leaves something to be desired in a man's mind. He'll need something more robust that he can wear everyday without ever having to worry about it. That's an ideal men's wedding band to him. Alternative metals like men's tungsten wedding bands and cobalt chrome rings offer a level of scratch resistance and durability due to their hardness that gold rings simply can't compete with. If he's going to have to wear it all the time, consider getting him something that can keep up with his lifestyle.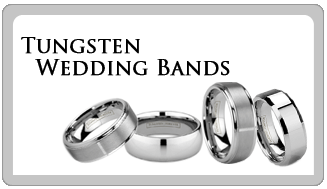 Rugged Good Looks
Don't tell anyone, but we like looking good too. Within reason, of course.
To a guy, good looking is a brushed metal finish on a fixture or an industrial tool. Shiny, shimmery things with diamonds all over them? No, thanks. But maybe one classy, small diamond? Sure. Alternative weddings bands have always been geared towards guys' muted tastes. A brush finish on the raised top of a tungsten ring here or a small solitaire stone in a cobalt ring there or even a sterling silver insert in a titanium wedding band. Subtle stylings that lend a unique character to a wedding band is always better when it comes to a men's ring. That way, he won't be scared to wear it in front of his friends and you still found him something that's not run of the mill while not too avant garde as to be worn down runways.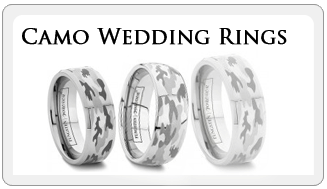 Price
At the end of the day, guys always want to know the bottom line. Money towards your engagement ring is money well spent in your guy's mind. But he'd be happy with a washer or nut as his wedding band, as long as it made you happy.
So when you consider that alternative wedding band styles in tungsten carbide, cobalt, titanium and even ceramic are a fraction of the price of their precious metal counterparts, that's music to his ears. And when you couple that lower price with the increase in durability he is getting with his wedding band – meaning he won't have to take it off when working on the car or playing a pickup game with friends – now you've got yourself the ultimate guys' wedding band. Keep these three things in mind when you looking to purchase his wedding band and you'll make him the happiest man in the world… again.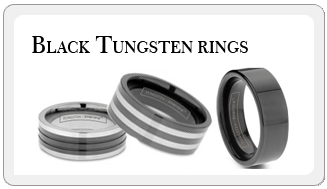 Author Bio:
Vincent LaRosa, Press Officer with TungstenWorld.com:
Boasting an extensive knowledge of wedding band metals and materials, Vincent has been writing about the benefits of durable wedding bands for nearly 5 years with Tungsten World. Matching couples with the tungsten wedding bands or cobalt rings that suit their lifestyle and tastes, while keeping his readers hip to the latest and greatest in new fashions has always been Vincent's goal. If you're looking for an in fashion wedding band, casual ring or jewelry sure to look as good as the day you bought it, rest assured he'll have more than a few suggestions for you.