Hosting a bridal shower is so much fun! It can be a little nerve-racking too, especially if you haven't done it before. Hopefully this post will help get your planning on the right track. No idea where to start? Here are the essentials almost every shower needs!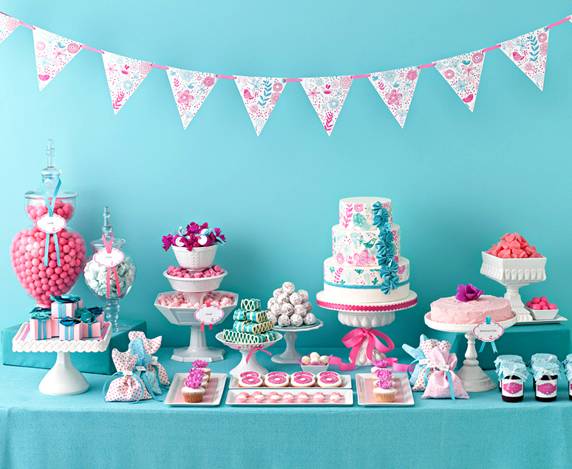 Guest List – You won't have much of a party without guests! Sit down with the guest of honor (the bride) and compose a list with her. Ask her who she'd like to attend – moms, grandmoms, aunts, cousins, school friends, sorority sisters, whomever she asks for! If you already have a venue picked, keep in mind the number of people that will fit into the designated space.
Venue – This can be anywhere – your home, a park or garden, a church gathering room, even the little cafe down the street. If you have the guest list already, make sure the space is large enough to hold everyone and small enough to keep the party an intimate one.
Invitations – All your guests need to know the event specifics! Who, what, when, and where are all tidbits of need-to-know information. There are SO many options online and in stationary shops, like these unique wedding invitations from invitationsbydawn.com. Or, if you're the creative type, create something yourself! Whatever you decide on, make sure they coordinate with the shower's overall theme and/or color scheme.
Food – A shower isn't a shower without food! There is no need to have a full-on meal during a shower (though if that's what you want and can afford, go for it!). An array of finger foods should do the trick – mix up fruits, veggies, finger sandwiches – whatever your guests will enjoy. And don't forget the sweets! Cake, cupcakes, ice cream sundaes, an entire dessert bar – whatever you think the guest of honor would like the most.
Games and Activities – Oooooh yeah. Bridal shower games are the one thing that guests either love or hate. They are notoriously cheesy…but that's what makes them fun. Find a few games that everyone can participate in – get them ready made from sites like FactoryDirectCraft.com or just pick up supplies for activities like the toilet paper gown race – and feel out the crowd to see how many they can handle. Sometimes two or three is more than enough.
Decorations – There are so many fun ideas when it comes to bridal shower decorations! The decor will ultimately boil down to the event's theme or color scheme, but that's the only thing you should keep in mind (well, that and the bride's personal taste). Pick pastels and lacy touches for a lingerie shower, or Parisian flair for the couple honeymooning in Paris. Can't find exactly what you're looking for (or not quite sure what you want yet)? Browse through tons of wedding and event blogs and websites for endless inspiration!
{image source}