For those who are in love, Paris is a natural choice of destination for your honeymoon. The very air of the city seems to be scented with romance and the beauty of the city takes the breath away.
If you wished to do nothing more than to laze and get to know each other you could do that. On a honeymoon, it is understandable that couples will want to spend most of their time just delighting in each other's company. Some couples opt only to come out for fresh air and for a good meal; and the food in France is excellent.
Some want to go to the Eiffel Tower and just enjoy the beautiful view. The tower is a magnificent landmark and it is a great way to get an overview of the city. Many couples have pledged their troth at this historic monument and the feeling seems to linger and be savored by all those who visit. Just check out the amazing view from the Eiffel Tower…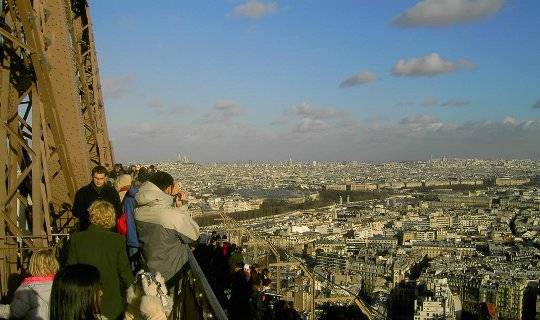 Paris is a city for the senses. There is beauty everywhere. It can be seen, heard, tasted, smelled and touched. Surrounded with so much beauty, how can a couple not fall even deeper in love?
Art lovers can take their time and bask in the beauty of the masterpieces in the Museum d'Louvre. Whether it is to see the Mona Lisa or any of the other paintings and sculptures, a day in the Louvre is not enough. Of course there's also the Museum D'Orsay and Museum Rodin to visit while you're in the city.
The Jardin des Halles are a great place to just relax and enjoy nature. If you want to see more formal landscapes, I'd strongly recommend the Luxembourg Gardens and when it's time for your picnic you could either stay there, or try the Parc de la Villette. The former would always be my first choice (I love that place SO much!), because as you can tell from the photo below it's absolutely stunning…
Then you could take a stroll down the Champs Elysees and stop at one of the cafes. The Champs Elysees is central to much of what happens in the city. If you are in the city during Bastille Day or at the time of the Tour de France, this is the place to be.
Music is a part of most of us. If jazz is what you enjoy then coming to Paris between the months of May to July would be best. In fact, the best time to come would be in June, for the Fete de la Musique. At this time, almost every venue, cafe and street corner will have musicians performing. It is absolutely wonderful!
There are also hundreds of things to do from biking to ferry rides. There is Disneyland Paris and Euro Disney. There is the theatre, opera and ballet for those who are so inclined. There are also night clubs and many, many wonderful restaurants. The cuisine in France is absolutely perfect!
There is nothing like Paris. It is a wonderful city in which to start your married life in. Its beauty and wonders will add richness to your honeymoon that will make it a memory to treasure all your days.
Oh, and don't get me started on the wine 😉