When shooting for your engagement, it really is a good thing to incorporate who you are as individuals and as a couple.  Mel and Scott were glad that they did. They visited two different vineyards to celebrate their love of wine and they also brought their softball gear because that is an important part of their dating story and their engagement story.  Not only did they make a joyful announcement, but the shoot helped them get more accustomed with each other in front of the camera before the big day. Such a wonderful note to take from this awesome couple. A warm congratulations to the future Bride and Groom!
How It All Started
Mel and Scott met playing softball. They were good friends for a long time. And then, all of a sudden, it happened. During a friendly game of Mario Party on the Wii, they both opened up about their feelings for each other.
The Proposal
Fast forward one year later, as they were trying on their Mr. and Mrs. Met baseball costumes for a Halloween party, Scott popped the question! If Mel was going to be Mrs. Met, she would need a ring! The next night, happily engaged, they went to watch the Mets play in the World Series! Not such a bad weekend!
Extra Special Details
The challenge. The morning of the shoot was a washout, but miraculously, the skies cleared and allowed them to have a beautiful afternoon surrounded by many of the couple's favorite things.
The DIY Projects. The couple designed shirts to personalize their engagement session even more. They ordered shirts for their favorite teams with her future last name (Schneider) on the back (Mets for me, Red Sox for him). They used  numbers to display the wedding date of 8/12.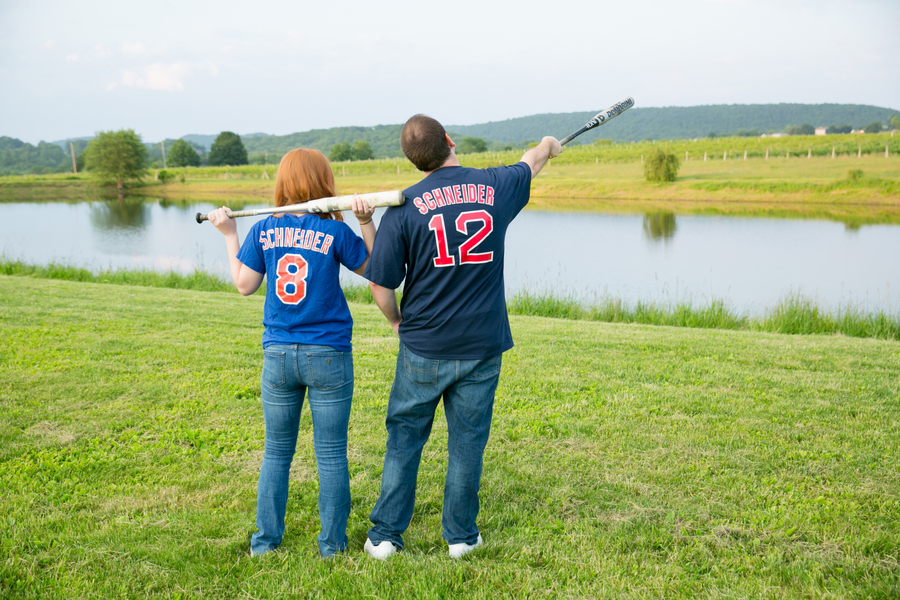 Break time! They made sure to take a few pictures with chocolate covered strawberries as that has been a go-to gift from Scott throughout their relationship that plays a meaningful role in the story. Mel and Scott also actually drank a couple glasses of wine and snacked on the cheese, grapes, and prosciutto during the shoot (yum!).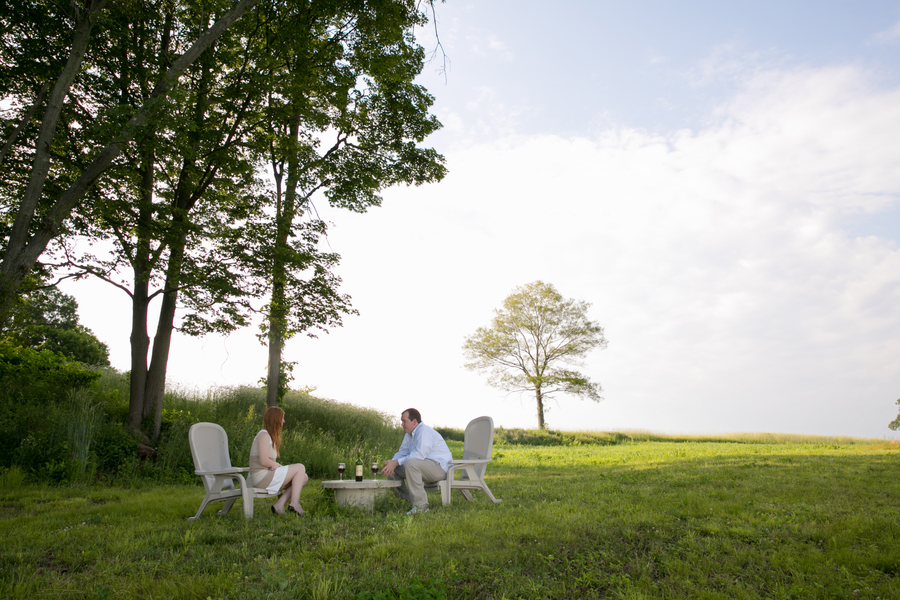 Tips From The Bride
♥ Make sure to be yourselves and plan your wedding to fit you as a unique couple. Take time to understand what aspects of the big day are important to each of you so that you both feel you had a part in making the day special and meaningful.

♥ Try to get as much planning done as early as possible to decrease stress (wedding planning checklists are very helpful). No matter what, planning a wedding is stressful, but I've tried to remind myself throughout the process that this is an exciting time to celebrate and enjoy being engaged!

♥ If you are going back and forth about whether or not to hire a videographer, bring in a photobooth, or buy that extra hour of open bar, my advice is to go for it. It may put you a little over budget, but in 10 years not having the video, pictures and/or extra memories will likely hurt more than the extra $2,000 you spent.
Money Matters
$20,000 – $45,000
VENDORS
Photographer: Moments by Melanie
Design and Decor: More Than A Moment
Other Location: Rosabianca Vineyards