When you both crave and live for an adventure, it is only apt for your wedding to be non-traditional – the outdoors. I love how the nature's lush made to be part in this wedding, the tall trees, and green grass were already a perfect "decor" or backdrop. While looking at Molly and Brandon's wedding all I can think about is how seemingly lovely everything was. They cleverly thought that the perfect motif to go for would be red since it is an excellent contrast to the nature's color. And though the reception was indoors they put wildflowers in vases as centerpieces to still give that outdoorsy vibe.

What is your story as a couple, how did you meet & fall in love?
We met at a party where neither of us knew anyone.
What makes the two of you a perfect match?
We both live life adventurously.
How did he (or you) propose?
At the end of an epic hike in Yosemite.
How long was the planning process? Did you think it was enough time?
About a year. More than enough time.
What was the best advice you received when you were planning your wedding?
To be sure I wasn't responsible for anything the day of the wedding.
What tips & tricks (can we use "hacks"?) can you share future brides that you have learned during and after your wedding?
Don't give yourself too many choices, keep it simple and it will be elegant and full of joy.
What were some challenges you faced while planning your wedding & what did you do to address them?
We don't live where we got married, so we chose a venture that was mostly all inclusive and left it to them to figure out the logistics; they're the experts.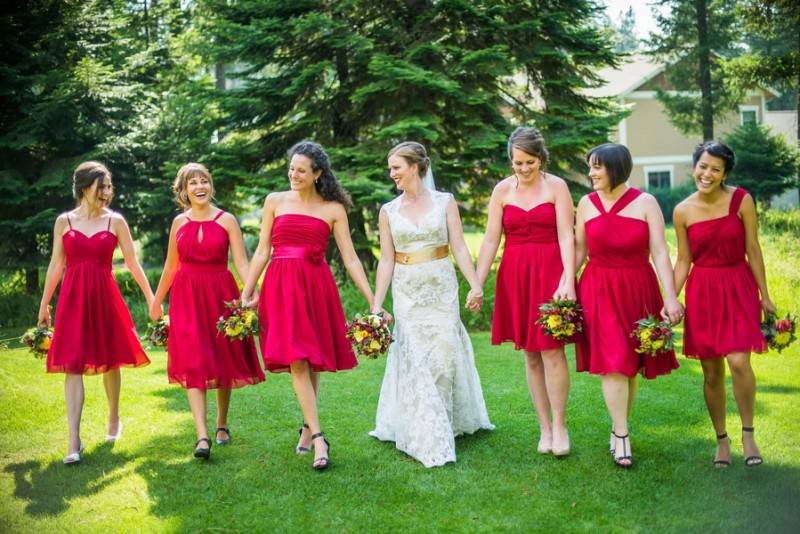 What inspired your wedding décor? Why did you choose the things that you did?
The lush natural setting.
What was the wedding budget?
I was looking for an easy elegance.
Where did you save the most money?
My wedding dress, I got it on Etsy.
What was the biggest expense?
Food and Drink, but everyone enjoyed themselves, and it was worth it.
How many guests were invited at your wedding and what was the final guest count?
250 invited, 150 attended.
Do you have advice for couples still in the planning process?
Keep it simple and you will be able to enjoy yourselves and take it the wedding day more fully.
What is the overall story for this album?
Outdoor elegance.
What inspired the wedding day outfits?
I knew the background would be mostly green, so I chose the red aspects to compliment that.
Was there any Do it Yourself (DIY) projects? If so, can you describe them in detail?
We bought cut flowers and made our vases for the centerpieces out of gold spray painted mason jars.
What were the highlights from the ceremony & reception?
Being with everyone we love.
What part of the ceremonies do you think was the most memorable for you? (& your guests?)
We passed our rings to everyone in the congregation so that they could each bless them. We called it "ring warming" people liked it.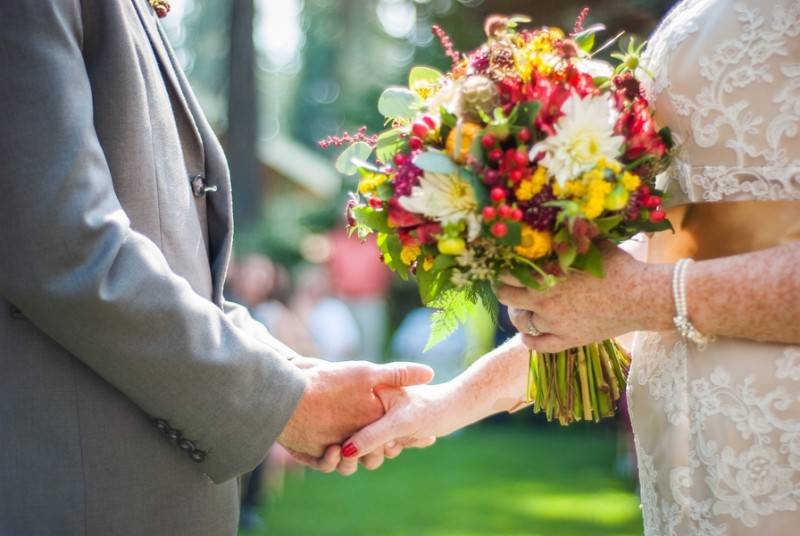 VENDORS
Photographer:  Marianne Wiest Photography
Dress Designer: BridalBlissDesigns
Caterer: BruMar Estate
Reception Venue: BruMar Estate
Ceremony Location: BruMar Estate
Floral Designer: Conrad Floral
Hair Stylist: Soucie & Soucie