Audrey ♥ Mike
Looking back, Audrey met Mike at the perfect time in her life. Not only had she recently lost her father, but shortly after meeting Mike, Audrey experienced health problems that left her in the hospital for long periods of time. Though it was somewhat of a crazy start, Mike stood by Audrey through it all. This truly set the tone for the way they choose to live life and the theme of their wedding: TEAM MATES.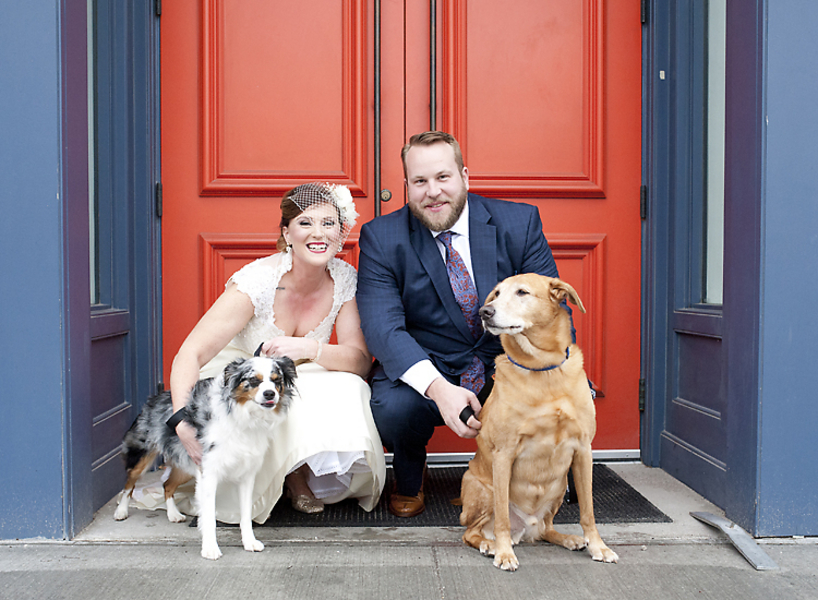 When He Popped The Question…
After a year and a half of dating, Mike proposed to Audrey on a random Wednesday night. He brought over flowers and a card telling her couldn't think of a better teammate to spend the rest of his life with. However, Audrey did not realize what was happening, because she was too busy trying to get Mike to try the almonds she bought him from Trader Joe's earlier that day. After several attempts of trying to get her to stop messing with the almonds and to read the card on the flowers, Audrey finally read the card (still not realizing what was happening), looked up and saw the ring. She said yes! Congratulations, Audrey and Mike! You are awesome together!
Happily Ever After Begins Here…
Extra Special Details
The wedding venue. The wedding took place in Kansas City, MO where Audrey moved after college, and Mike had lived most of his life. For the wedding, family came in from Arizona, Oklahoma, Texas and Florida. 2016 Main was decorated with succulents to represent Mike's family's side in Arizona, and orange accents to represent Audrey's Oklahoma State roots. 2016 Main also showcased local artists' work, which was perfect for Audrey and Mike's love of art and all things local.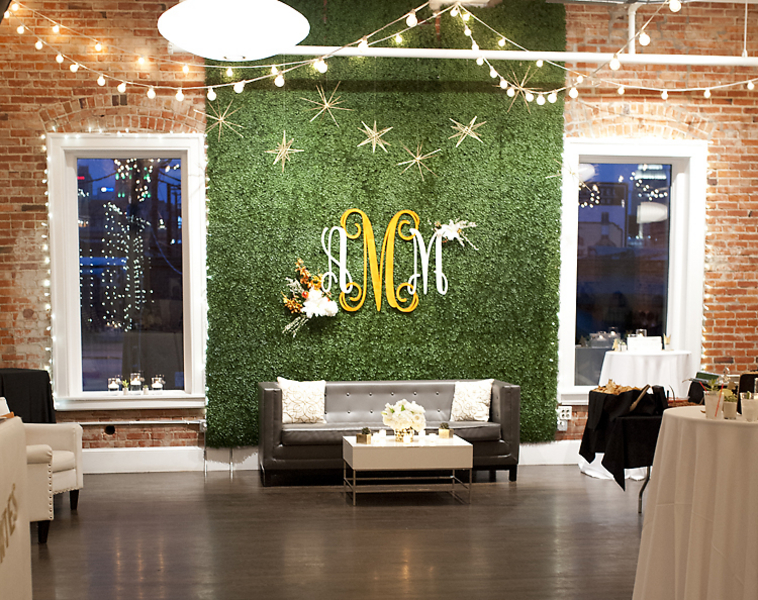 The gifts. The mothers of the bride and groom were presented with necklaces with the couple's initials and wedding date engraved on them. That night, after the rehearsal, family and friends met up at District Pour House in Waldo, Kansas City, MO to celebrate. Mike and Audrey provided heavy appetizers and, of course, Tito's Handmade Vodka (Mike's employer) cocktails.
Some sentimental details. The day of the wedding came, and as we set up the venue, I could tell that every sentimental detail and aspect of Audrey and Mike's wedding encompassed their perfect love story and the people they love – right down to the almonds set at the bar. Audrey wore her mother's wedding dress with very few alterations made. She presented her mom with an embroidered handkerchief from the materials left over to have as a gift and memory from that day. Though her father wasn't there, Mark was remembered and honored throughout the day. First, she had a piece of his blue shirt embroidered into her dress. She also had her bouquet wrapped with the cuff of his shirt and his class ring attached to it. Her brother walked her down the aisle in his place, and she walked back down the aisle with her husband to her father's favorite song, Free Bird. Her brother and grandmother also received pillows and handkerchiefs made out of their father's shirts.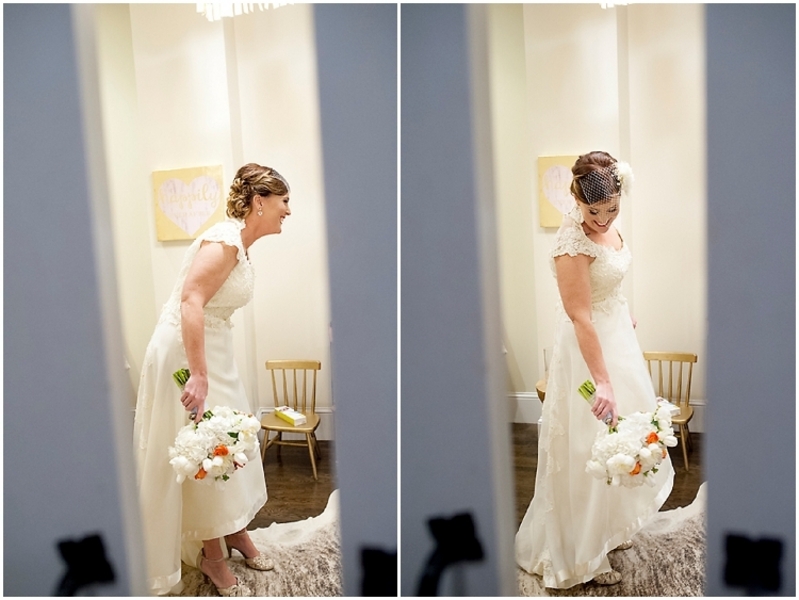 The DIY projects. Audrey's friends played a major role in the making of the wedding. Lindsey of Rish Designs was the hair dresser that day for Audrey and the rest of the ladies in the family. She also made the birdcage that went perfectly with Audrey's dress, among many other duties. Brannon and Aunt Trena made the beautiful and tasty cake. Brannon also embroidered all the pillows and handkerchiefs. A Floral Experience, friends of Audrey's grandmother, did an amazing job with the bouquets and decorating the venue. They even surprised Audrey and Mike with a huge initial display to decorate the huge moss wall in the center of their venue.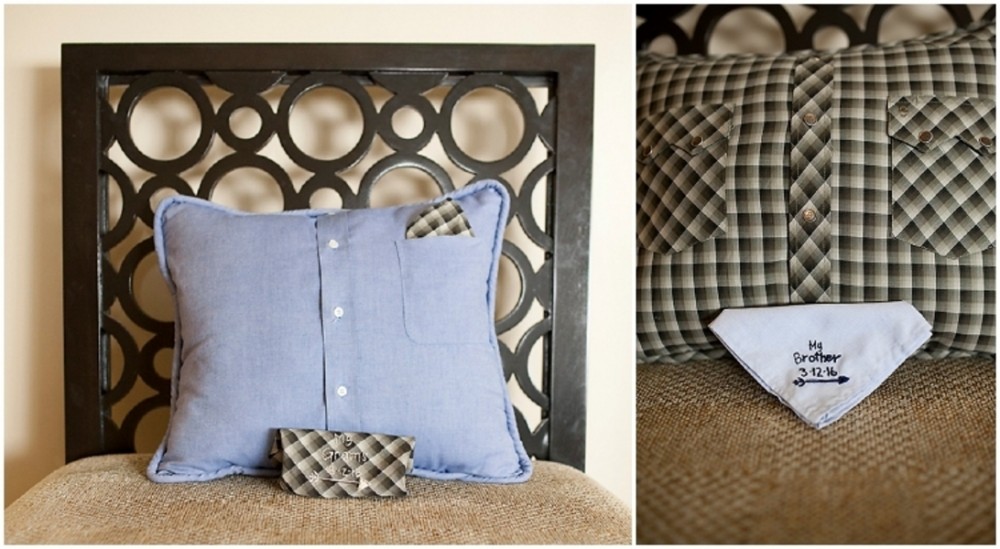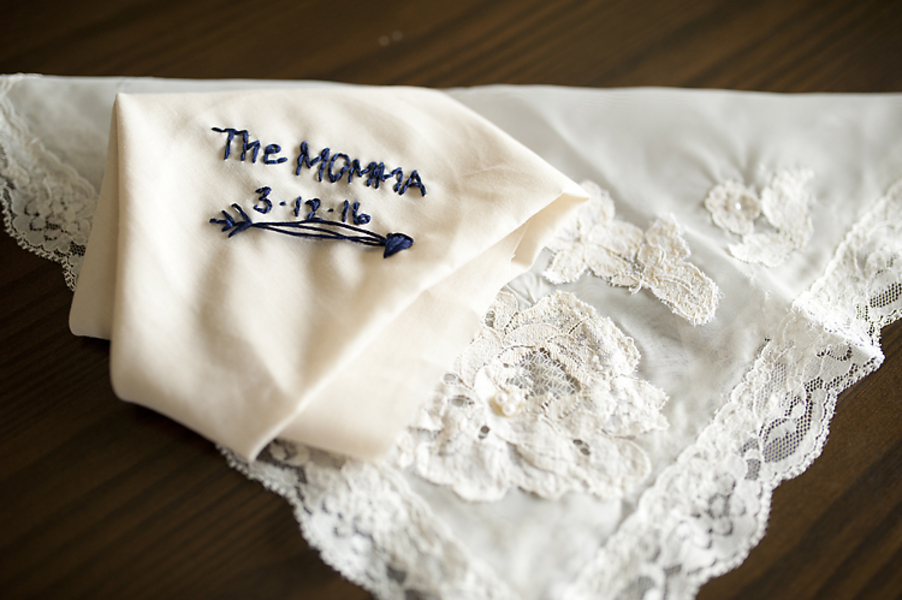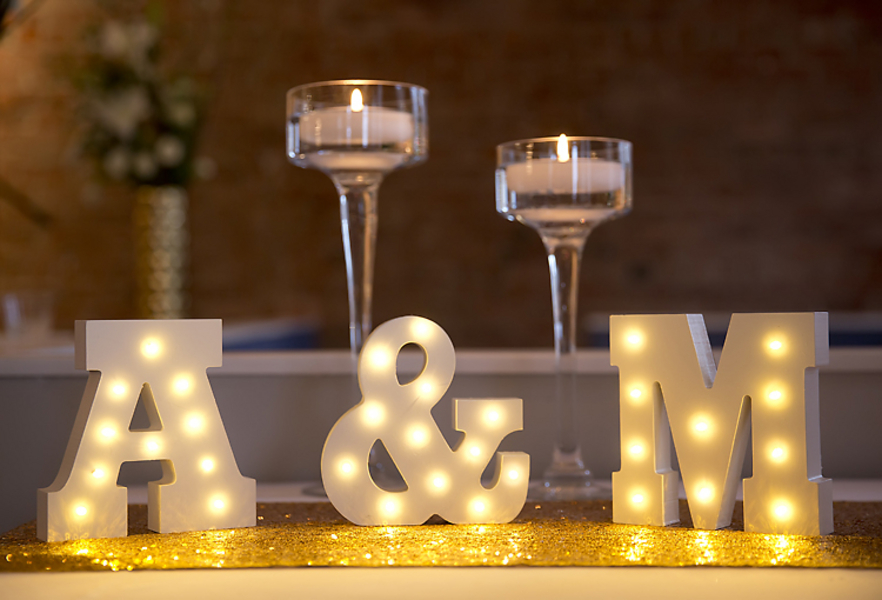 Team Mathis. The bride's uncle, Troy, married them and announced the couple as husband and wife, Team Mathis.The rest of the night was made complete with family and friends eating Ted's Cafe Escondido, drinking the house cocktail appropriate named Teammates, and dancing to Elite Sounds DJ Watts' music.
VENDORS
Photographer: Lauren Weeks Photography
Reception Venue: 2016 Main
Dress Store: Emily Hart Bridal
Makeup Artist: Kay Kramer Makeup
Hair Stylist: Rish Design @Araby Salon
Pre Ceremony Location: The Westin Kansas City At Crown Center