If you're the kind of girl who swoons at floral designs and enchanting set-ups, or simply celebrates the beauty of feminine force, if you're anything like us, then this showcase is definitely something you will surely enjoy! This styled shoot was born out of the rebranding of Renegade's remastered focus on design. Originality, pops of color and lots of attitude is showcased in this purely unapologetic visual representation of the essence of empowered women. Loose Ends Event Design styled a fascinating styled shoot and we are just smitten that Heflin Photography captured every bit of it. We're in love! More of the details below!
We're All About the Details!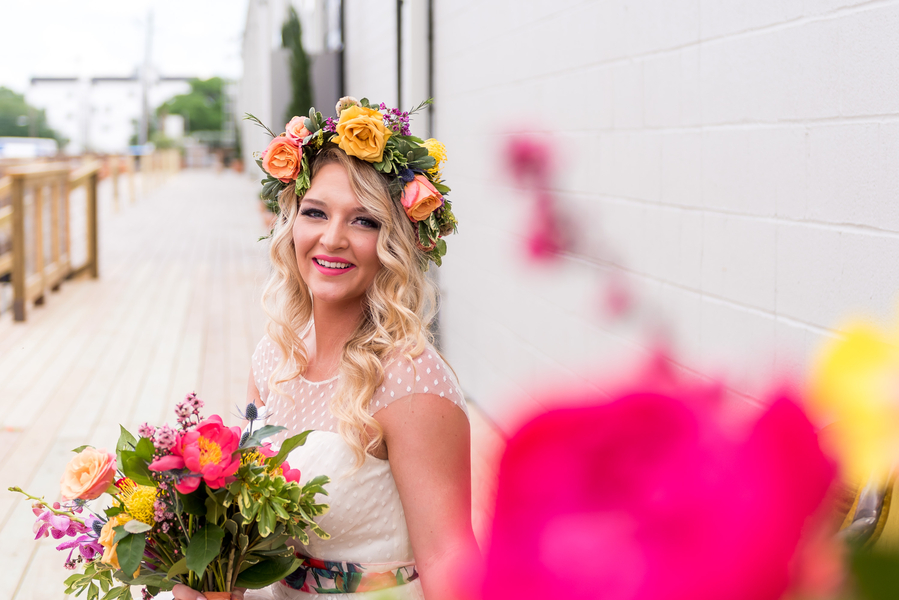 The Two Part Design
They chose to break the design into two gorgeous parts. The girly, floral-y, big bowed side that we all have in us, some buried deeper than others. Then the empowered, leather wearing, use of mixed-media to stand out in the crowd kind of gal. Both are so very valuable and should be seen and expressed in whatever that means to you personally.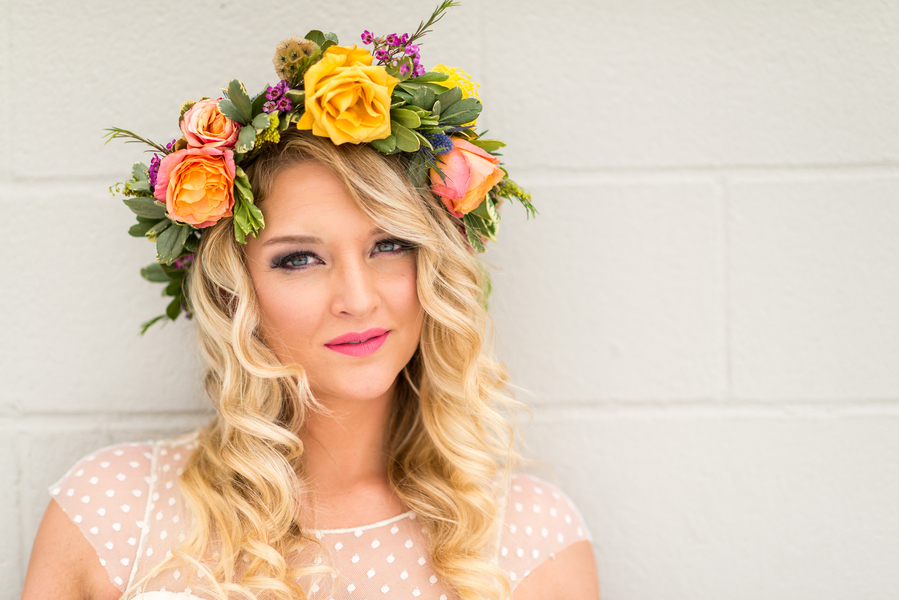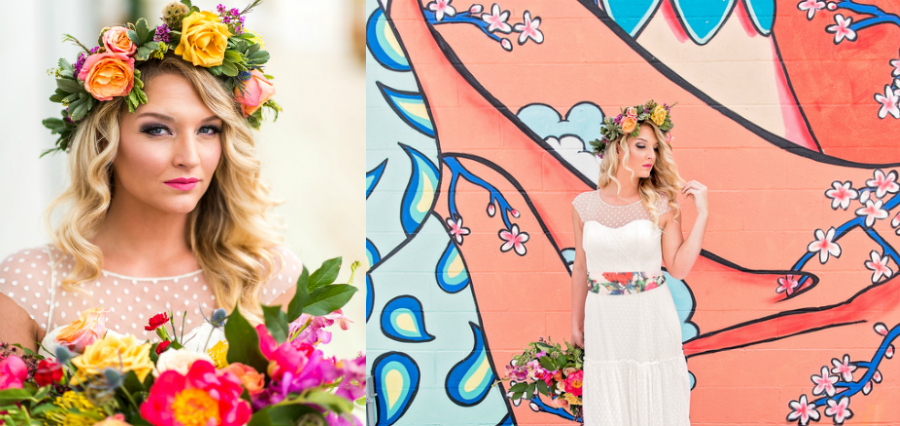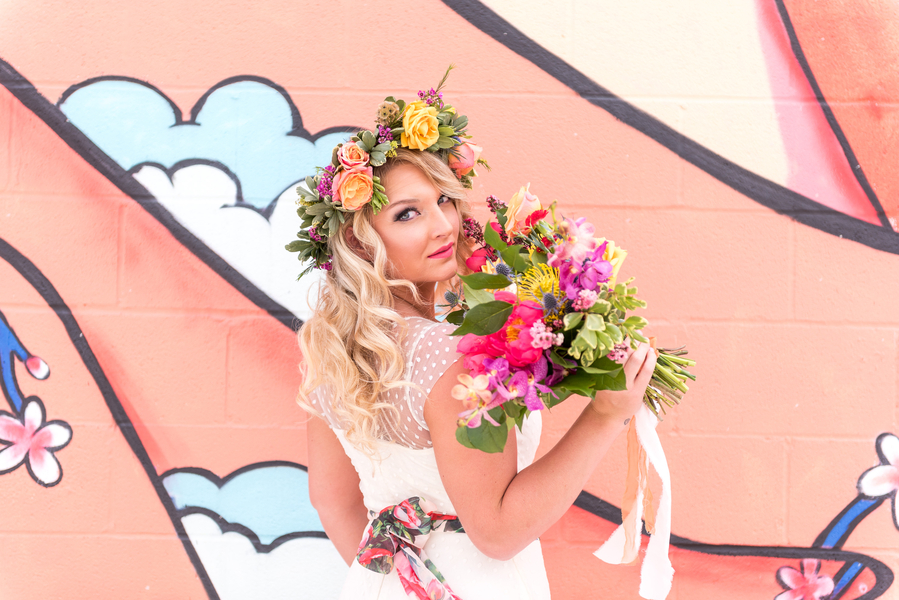 The entire shoot was designed around the ever full of spunk dress, so when she came out in her perfect top bun by Tease HTX and was placed next to the tables we knew we had created something powerful. The second dress, was such a nice contrast to the first design, as this dress stands for all things truly boho.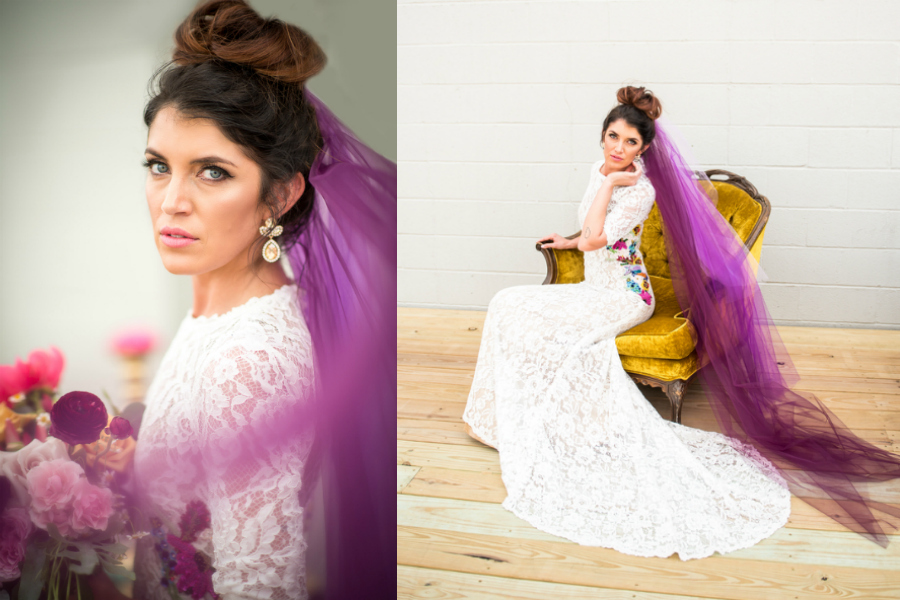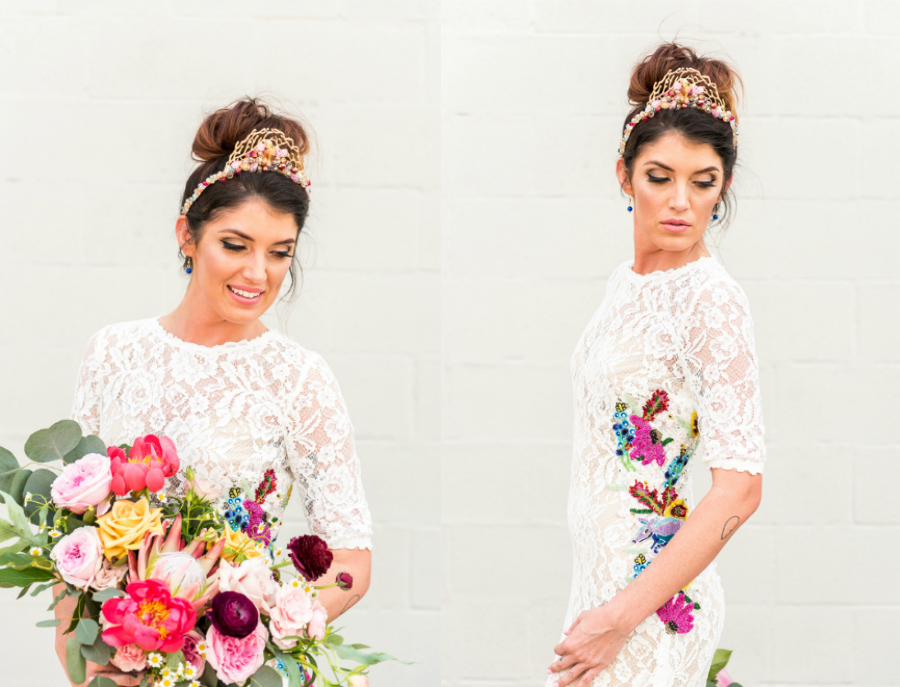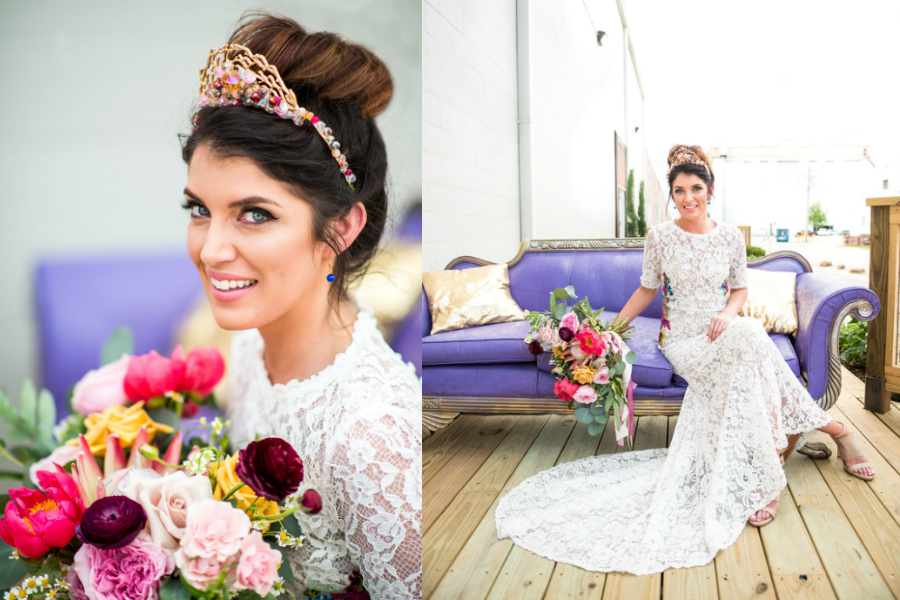 The Renegade Flair
There were two tables set, the floral table was topped with a bubble gum pink tablecloth from LBL and a handmade runner by Renegade. With the help of LBL they decided to do a different style of seating at this particular table. They took a square table and set the place settings at an angle. This gave much more room for floral arrangements on the middle and on the other side of the table as well.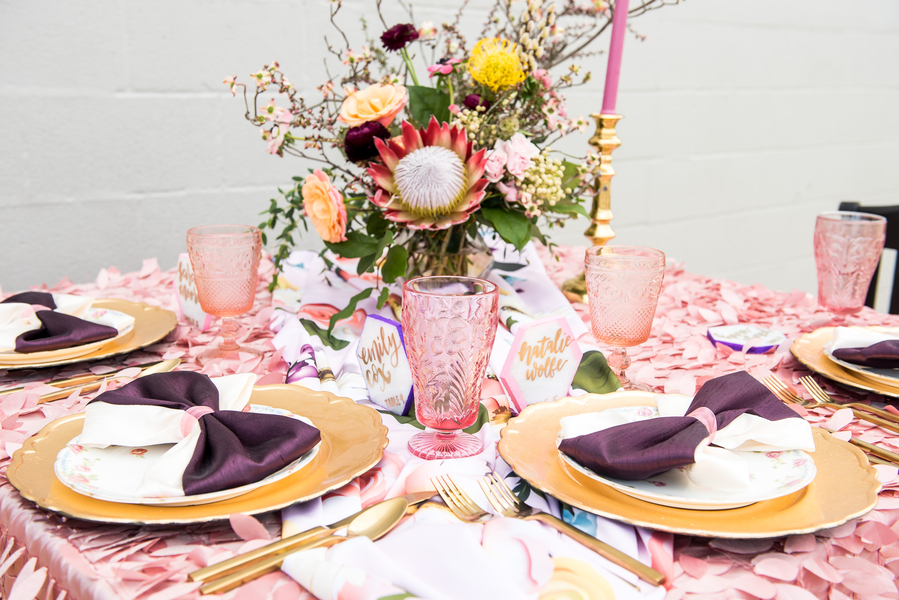 This was a blast to play around with! How often do get to use such fierce pattern mixes and bright colors?! The black with light sequins was the ideal background for this soon to be full of attitude table. The napkins, along with some of the other pieces used in this shoot was handmade and designed by the gown designer from Renegade Custom Made Bridal & Gala as well.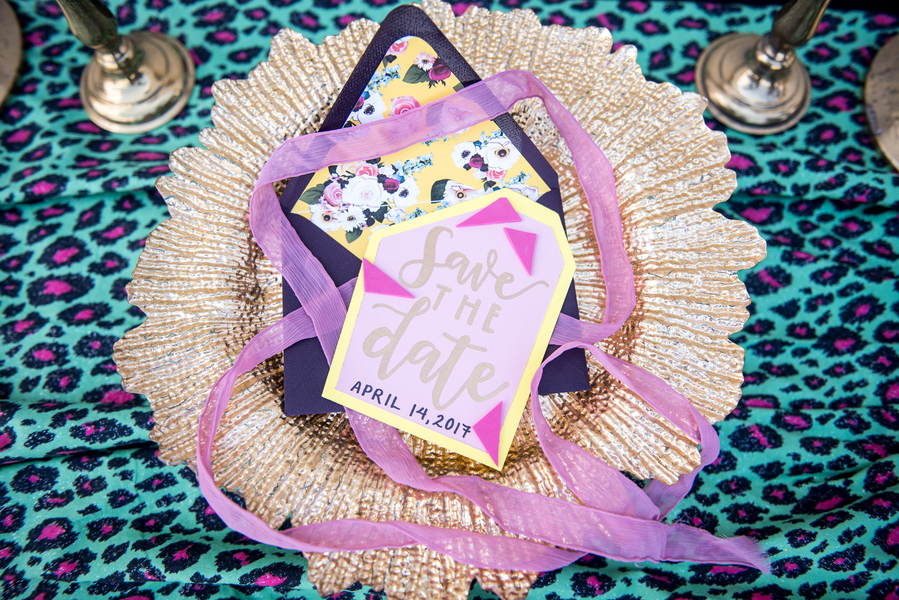 The Pop Art Fabric
This gorgeous pop art like fabric was placed on a simple white plate with gold trim next to the orange glasses. To really add a cherry on top the laser cut name cards, made by Riley Elizabeth Designs, on this table were also the yellow floral fabric from Renegade with a glitter clip for more pizazz.
The Cake
Bursting with colors, this well decorated cake from The Cake Baker simply culminates the overall theme and style.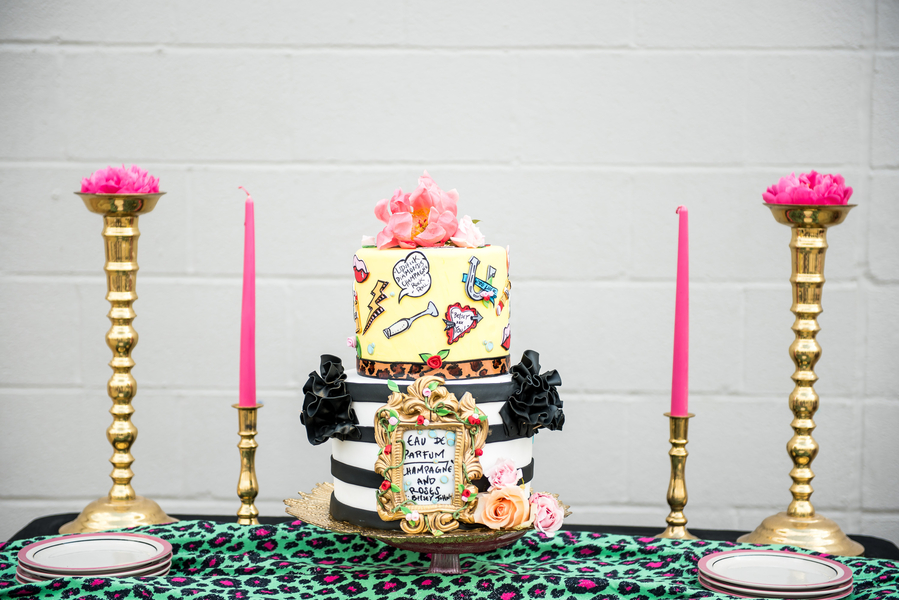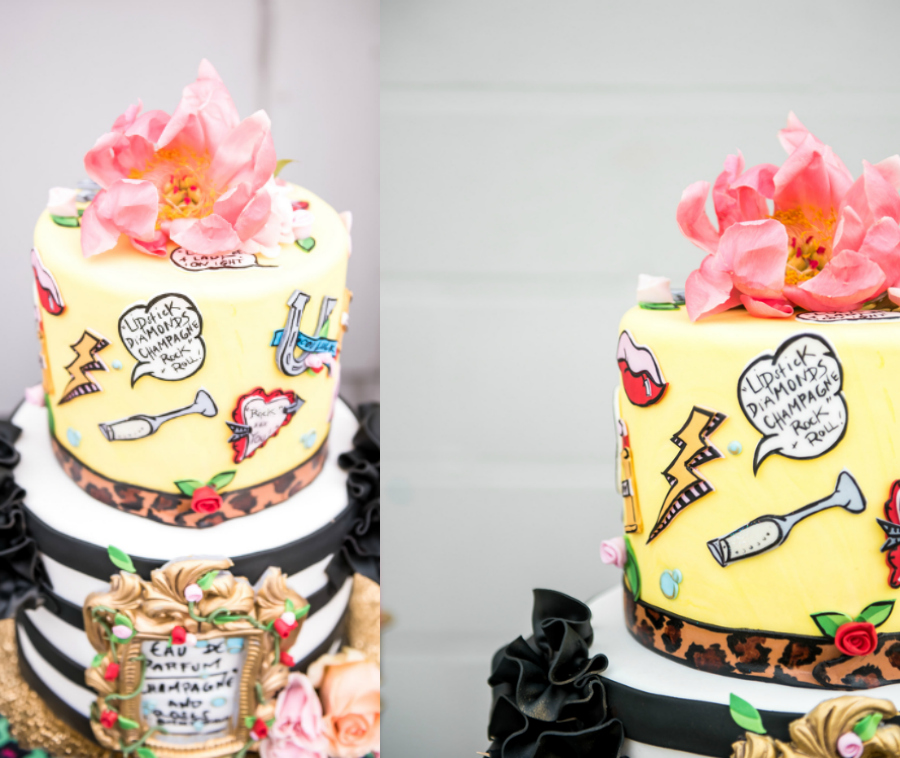 Take this Advice
Make the event customized and tailored to your love story. Don't settle for mediocrity , be original and true to yourself! This will make the wedding memorable for not only you and your partner but all of your guests in attendance. ~Jennifer Heflin/Photographer
About the Photographer
We are an award winning husband and wife photography team specializing in weddings. We are based in Houston, Texas but have been fortunate enough to travel to some incredible destinations capturing peoples most important memories. We absolutely love what we do and are honored with every opportunity we have to share our passion. We have been shooting weddings since 2009 and feel extremely blessed to have met some of the best couples a photographer could ever ask for! We love getting to know our brides and capturing moments that tell the story of your day. Our prices start at $2900 and the average bride spends about $4500 with us. The best way to contact us is by email at [email protected] or by phone at 713.581.4331
Vendors
Photographer: Heflin Photography
Floral Designer: Bramble & Bee
Linens and Coverings: LBL Event Rentals
Event Planner: Loose Ends Event Design
Cinema and Video: Love Captured Productions
Floral Designer: Mococulture
Heirlooms and extras: ReLuvd
Dress Designer: Renegade Custom Made Bridal & Gala
Invitation Designer: riley elizabeth designs
Event Venue: Silver Street Studios
Hair Stylist: Tease HTX
Bakery: The Cake Baker
Veils and headpieces: The White Glove Boutique