Your weekend is off to a very good start because today we bring you Spooky Bridals, a Halloween inspired styled shoot with a punk rock attitude. This bridal shoot is far from the traditional design and takes on a reimagined bad ass, spooky Halloween theme that showcases not only the creative versatility of the vendors but also a debut of the spooky themed bridal designs and concept. This is a perfect theme for bride-to-be's who are fascinated with the Halloween flair and want something fresh and exclusive that goes well with every bride's personality. Furthermore, what's interesting about this style shoot is the debut of something outrageously gorgeous! So don't let me keep you any longer… Scroll away through these snaps by Velvet Sage Photography and have the best weekend yet!
We're All About the Details!
This sugar skull cake and the bouquet simply blew us away! We also really love that they got to use this old chair for something. The designers rescued her, with a broken leg, from the side of the road and her husband has been after her life ever since. She is useful and pretty! The rest of the set is a managerie of DIY painted curb shelves full of thrift shop and Michael's finds!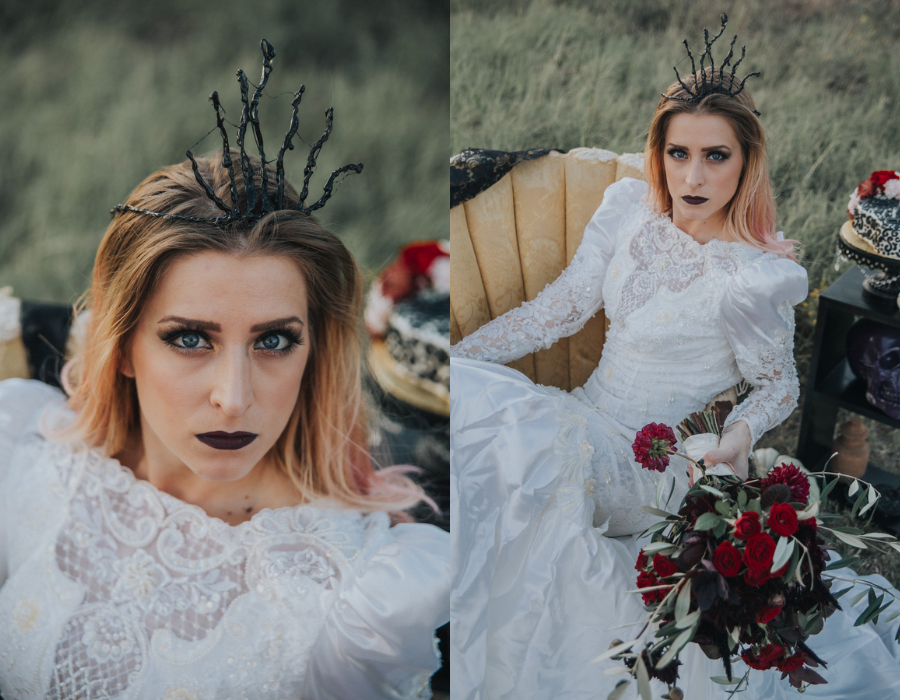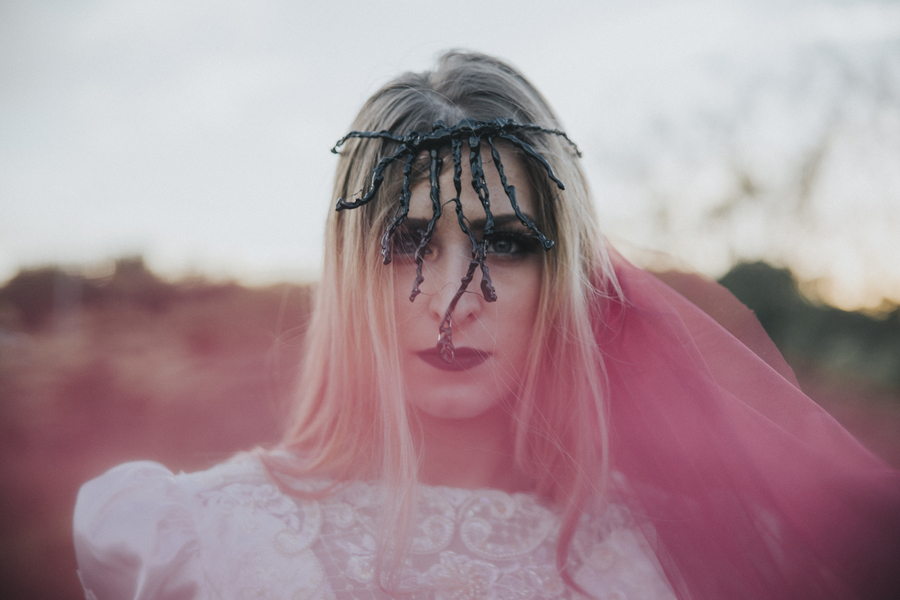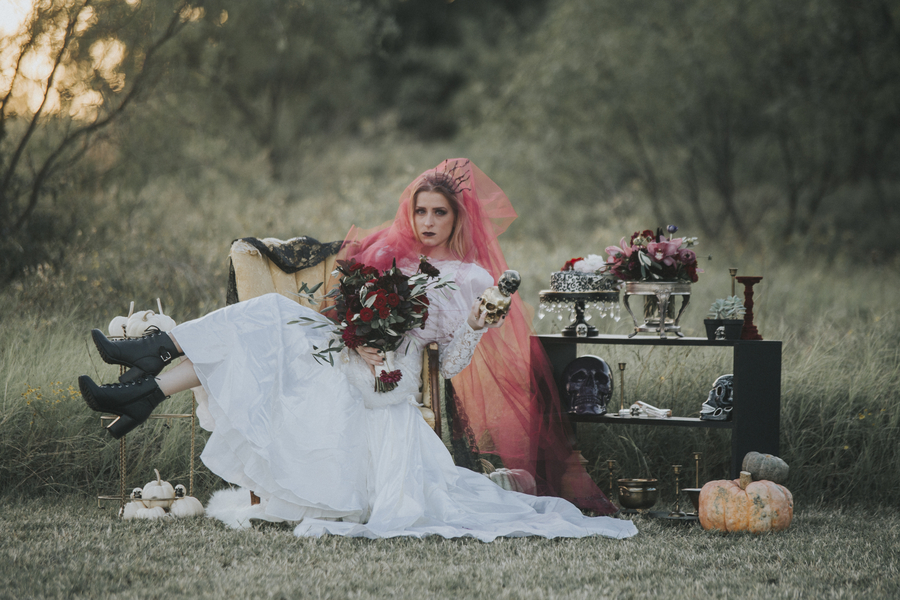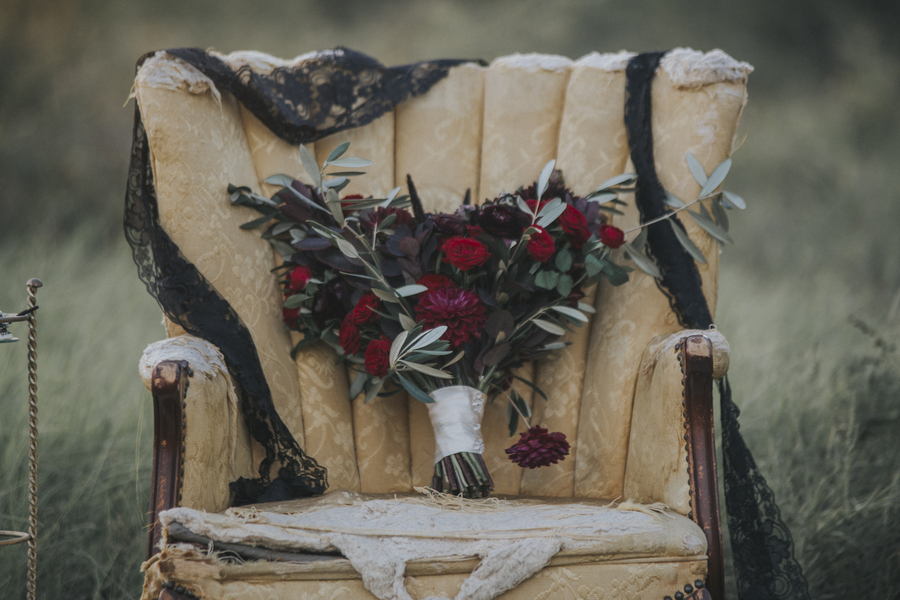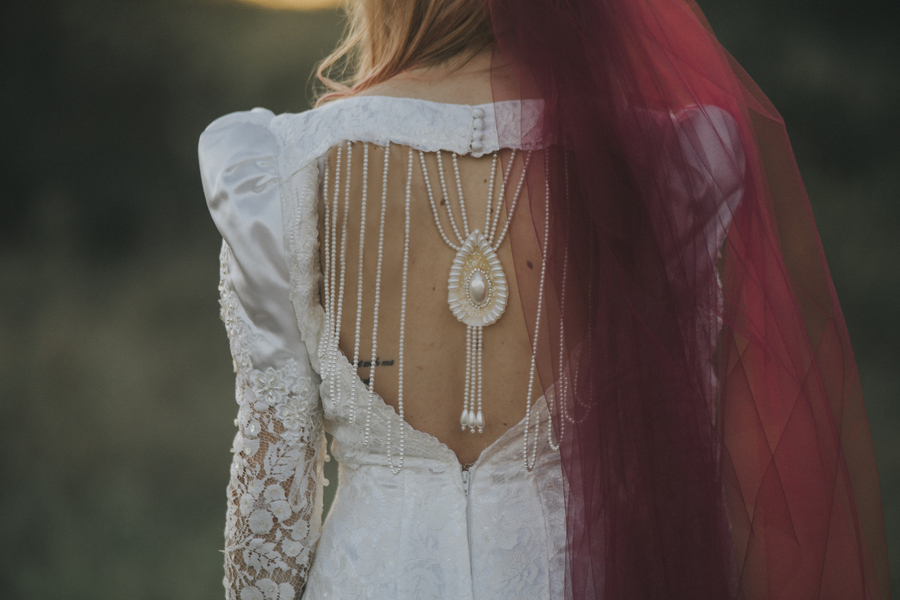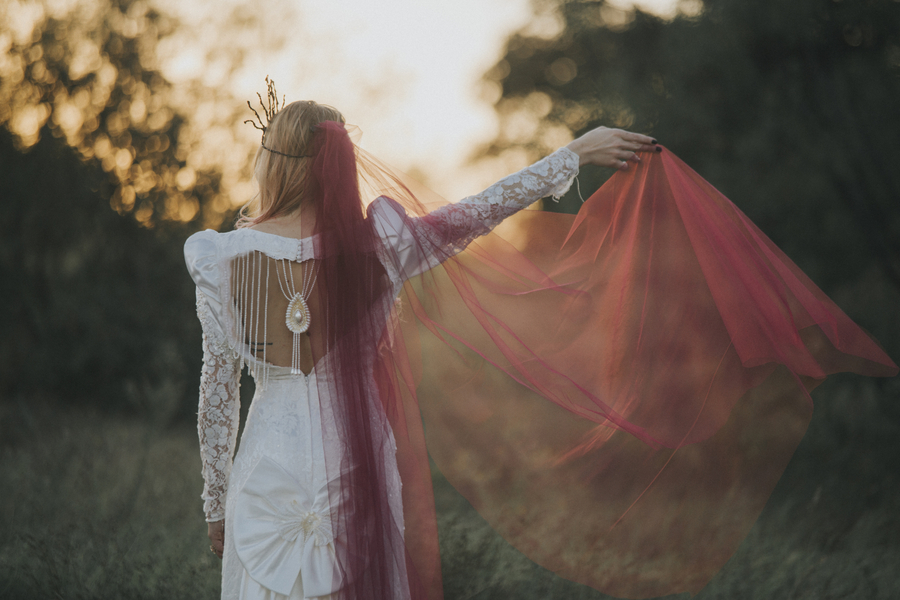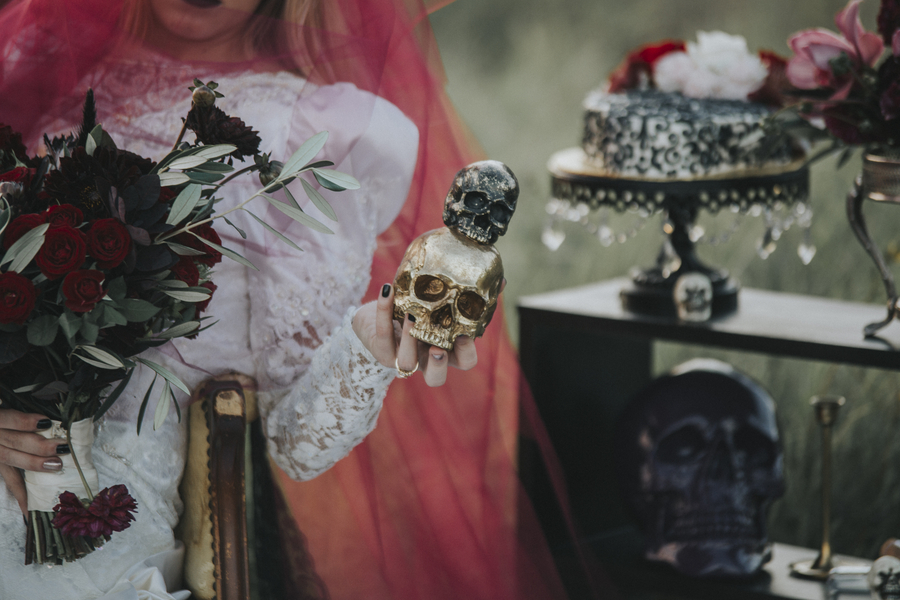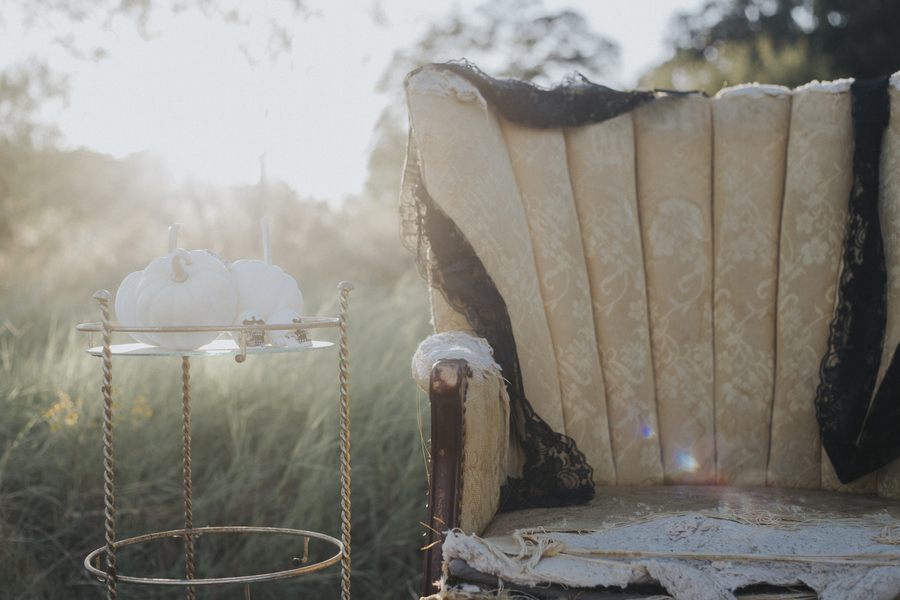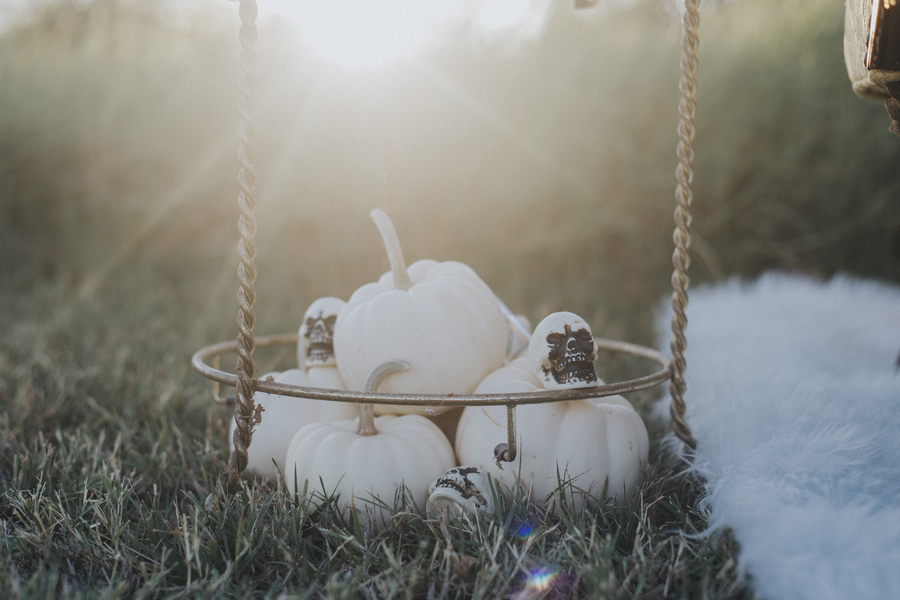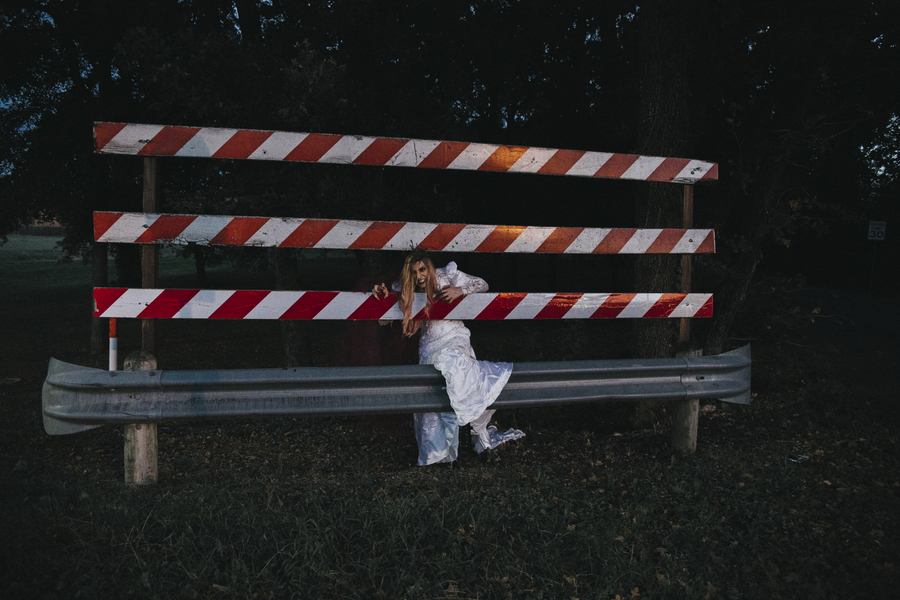 Take this Advice
BREATH! This too shall pass, but while you are in the thick of it, try to enjoy the process. If you aren't enjoying it, hire a planner, if you can't hire a planner make sure the other vendors you hire can pick up the slack for you by showing their professionalism. You should have a team behind you. Also, give up the planning jig occasionally for a wedding free date night! ~Katie Brown/Photographer
About the Photographer
Weddings are my jam! The fast-paced, stressful environments help me shine where I am the strongest. The things I love most, however, is the love so powerful it stops time. Every couple surprises me in their own little way and as our generations grow and change, there is always a fun new trend on the horizon! I feel like such an awesome photographer when I stop to realize that what I do is a dying art. It's called customer service and people just don't seem that interested in providing it or experiencing it anymore. You may not think you want that type of experience but I promise you that entering into a relationship with me is the most incredible decision of your wedding planning career. I shower my clients with love and gifts, I try to shoulder some of their stress, I have been in the business long enough to know my way around it and can provide helpful tricks! My clients are kings and queens and from the first in-person consultation to their products ordering session, they know it! I am currently in Fort Worth, TX and I am about to move my butt to Omaha, NE !!! So being willing to travel is an understatement! Take me with you! Find out more about me on my website; see more of my personality on social media on Instagram and Facebook especially. Then, when you are ready, really get to know me by shooting me an email or giving me a call! I'm a chameleon and like to try my best to get couples the most out of their photography budget. Even if you think it may not work out, jut ask me! You might be surprised!
Vendors
Photographer: Velvet Sage Photography
Cinema and Video: Velvet Sage Photography
Floral Designer: Haute Floral
Bakery: Sweet Things DFW