If you're working to a budget, but don't want to be too obvious about it, you might want to think about having an early morning wedding. You'll be amazed at what a difference the hour of the day you host your wedding at can have on trimming your guest list and costs.
Talk about natural selection. Most people don't want to wake up early. They want to have those extra five minutes, that turns into an hour, and sleep some more. Some will tell you their old bones just need more sleep. Others will say that they simply can't make it. They'll make whatever excuse they think you'll accept, but in the end your list will be neatly trimmed down naturally.
With fewer guests set to arrive your budget will be a bit more comfortable. If you choose your menu wisely it will be even better. Breakfast isn't really that hard to figure out, but like any meal it is best planned well. If you're having your reception at a hotel or restaurant they probably have a breakfast buffet. You can have bacon and eggs, pancakes, hash browns, fresh fruits, bread, cereals, coffee and juice. You can never go wrong with that. You'll have great variety and it will still be filling for your guests. Plus, it will cost a lot less than a lunch or dinner reception would.
At such a beautiful time of day, you may want to go for a simple set up for your wedding as well. Forget the swags and elaborate chandelier. No need for fancy bands and DJs. A breakfast wedding can be held in the beauty of a garden with all of nature surrounding you. Your music doesn't need to be loud to be fun. Make the most of the daylight. It's amazing how natural light brings out the beauty in everything…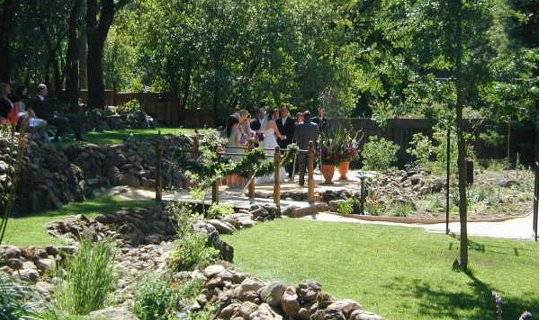 Don't forget to get everything ready the day before. With weddings held early in the day the main problem will be that most shops will be closed. You won't have that option to run out and buy whatever you need if it's too early in the morning. You're also trying to start your day and your marriage off on the right note and right foot. Preparing everything the day before and laying it all out before you sleep will ensure that you won't need to rush in the morning. You'll truly be calm, cool and collected.
Make sure that all the professionals who are working on your wedding are up to speed and ready for your big day too. Like you, they should begin preparing at least the day before. Some will actually begin earlier. Your hair stylist and make-up artist in particular need to be wherever you are usually three hours before the wedding if you're to be ready on time. Make sure that all of you have a light meal ready to jumpstart your day without making you too full to enjoy your reception.
Lastly, don't forget to be ready for your honeymoon. An advantage of this kind of wedding is you have lots of flights to choose from (none of them the red eye) to get you to your chosen destination.
For more cost-cutting ideas and tips (like how to buy a beautiful wedding dress for just 10% of the retail price!), check out Erica Yoon's Amazing Wedding Planning website!