I recently had the chance to interview beach wedding expert Jeff Copeland of Simple Weddings, a St Petersburg, Florida based company specializing in Florida Beach Wedding Packages.
Who gets married on the beach?
Well, just about anybody! We get the full spectrum of clients from young "20-something" childhood sweethearts to older couples for whom this may be a second (or third…or fourth!) marriage.
We do tend to attract a lot of people from the Midwest – Illinois, Michigan, Kansas, Indiana…but I think that is just a typical pattern for tourism in this area. I think it might have something to do with the weather!
How are beach weddings different than your average "traditional" wedding?
Believe it or not, they can actually be very similar to a traditional church wedding (aside from the sand of course)! Or they can be completely different.
Every couple is different and we work with them to plan their wedding exactly the way they want it, rather than trying to force them into some pre-determined package.
We just had a couple this past weekend from Canada who had an awesome playlist for their wedding music – they had the Beatles for their prelude and processional and "Signed, Sealed Delivered, I'm Yours" by Stevie Wonder for their recessional!
My point is, things like their music, their vows, and the type of ceremony they choose say a lot about a couple. Sometimes more so than their wedding venue.We try to help them bring out that personal touch and make their wedding a truly memorable event. The beach just happens to be a nice setting in which to do that.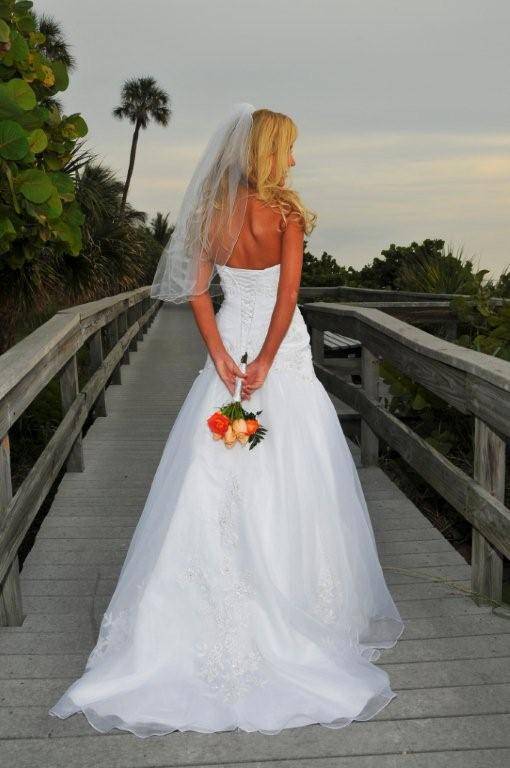 What are some important things couples need to keep in mind when planning and budgeting for a beach wedding?
In a lot of ways, it's not unlike planning any other wedding. You still need a budget, a guest list, a dress…all the usual stuff. But if it's a destination wedding, you might also have to plan for travel and lodging.
On the other hand, many of our clients save a ton of money by not having to rent a wedding venue (which can be one of the single most expensive items in a wedding budget) since the beach is generally free. And destination weddings by their nature tend to have smaller guest lists, which means a much lower catering bill. In fact, any of our clients have groups of 10, 20, or 30 people – and they just go out to dinner afterwards!
So I think ultimately, destination weddings can actually be less expensive – it's just a different set of things you have to plan for.
What are some of the obvious and not-so-obvious perks (or downfalls) to having a beach wedding?
This is one of those cases where the obvious perk can also be the pitfall – the weather.
People want a beach wedding for the weather – they want to stand in the sun with the wind in their hair and the warm sand in their toes and get married on a beautiful, sunny day.
Unfortunately, though we do have some of the best weather for beach weddings anywhere in the country. We do obviously sometimes do get rain. We always work with our couples to arrange for a backup plan in case it rains.
What do guests need to know and be aware of when attending a beach wedding?
This is an easy one – be flexible! As I mentioned, we always have a backup plan in case of bad weather. And we occasionally have to move weddings a few blocks in one direction or the other due to events taking place on the beach.
So beach weddings require a certain degree of flexibility for last minute changes that other types of weddings don't. And this can obviously impact the guests.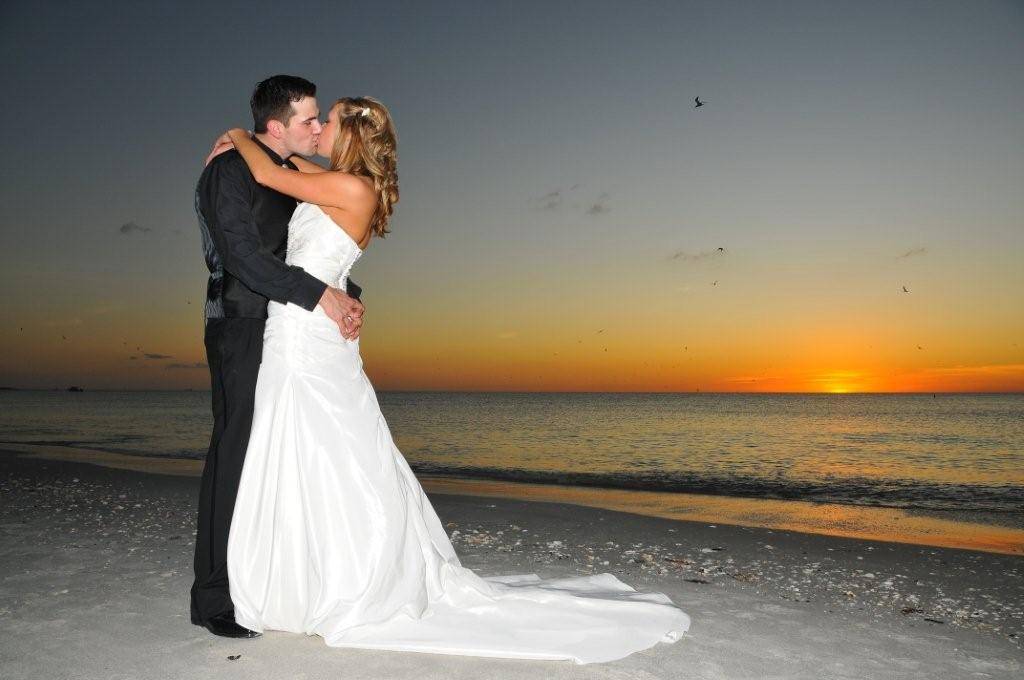 What are three tips or pieces of advice you can offer based on your experience that many couple might not think of when planning a beach wedding?
1) Believe it or not, the beach is noisy. You don't realize it when you're there. But when you're trying to hear something, like say…a wedding ceremony or an acoustic guitar, the white noise from the wind and waves just kind of drowns everything out. We always recommend a professional sound system to our clients for this reason.
2) While many beachfront hotels and resorts offer their own beach wedding packages, we sometimes don't recommend having your wedding behind your hotel. Most beachfront hotels have cabana rentals, watersports rentals, umbrellas, beach chairs, water slides, and all sorts of things going on behind the hotel. You have to consider whether the convenience of not having to leave the hotel is worth having this stuff in the background of your wedding pictures. At the very least, make sure you get someone to go behind the hotel and take a few snapshots to get a feel for what it really looks like – never trust the hotel brochure!
3) Think about which direction the beach faces. If you want a sunset wedding (which is by far the most popular for us), ideally you want the beach to face west. We're very fortunate here on the west coast of Florida from Tampa Bay to Naples, in that we have sugar-white sand and west-facing beaches, making this one of the best places in the country for sunset beach weddings! But if you're an early bird and want a sunrise wedding, the East coast may be a better choice.
Jeff is the owner and marketing director for Simple Weddings. You can learn more about planning a Florida Beach Wedding on his website at www.SimpleWeddingsFlorida.com! Photos Courtesy of Jeff's lovely wife, Claire, of Simple Treasures Photography in St Petersburg, Florida