Happy Voting, everyone! Red, white, and blue (even though I am totally wearing them today) are NOT the focus of today's post … neither is voting (no matter how important it is).
I simply MUST share with you this fabulous luxury hotel in Venice. As I have mentioned a time or two in previous posts, I have a soft spot for venues and event spaces. I have googled over this San Clemente Palace for about two weeks and thought it was time to share!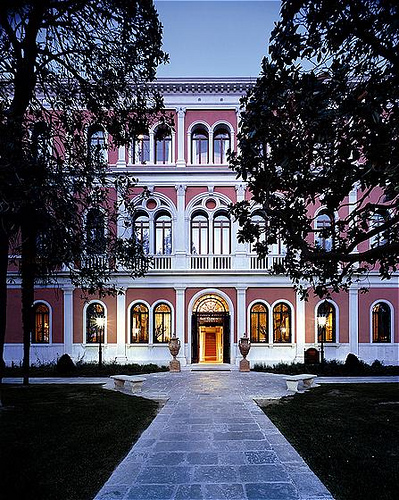 This place is the perfect spot for weddings and banquets in Venice, and if you take a look at the pictures, you'll see why! It is absolutely stunning. Grand, elegant, breathtaking.
Here is a bit of history on San Clemente and the hotel, from their website:
San Clemente Island, where the five-star luxury hotel by the same name stands, located in the south side of Venice, is an oasis of peace and tranquillity that covers a total surface area of 65,000 square meters. It is an exclusive landing place in the Venetian lagoon, between Giudecca and the Lido.

New apparel therefore for an island that is recovering the ancient sense of hospitality that it had from the very start, in 1131, when the Venetian gentleman Pietro Gattilesso built the church, which can be still admired, and made it a place for welcoming soldiers and pilgrims on their way to the Holy Land. A function that it continued to have over the centuries, in various ways, when it was given over to Camaldolese monks for their monastery, shut down in 1810 as a result of the Napoleonic laws.

Only the church has been preserved, flanked by a monumental complex in blocks of different sizes and heights, arranged around closed courtyards, to which a new pavilion was added in the 1900s.
I think the pictures speak for themselves. Let me share a few more with you!
And even if you're getting hitched in the U.S., there is no reason you can't honeymoon in Venice! Check out the website for more information on weddings and honeymoons!