I LOVE shoes. Especially heels. They make you taller and your legs look longer. They come in every style imaginable (I tend to favor 2-3 inchers). But let's be honest – any girl who has ever worn a pair knows the pain they can cause.
Sometimes it's the fit or an awkward shape that your foot doesn't agree with. Maybe you're not used to wearing heels or simply spend too much time in them. Whatever the reason, sometimes (and most of the time if you wear them long enough) heels HURT!
Enter: Stiletto Hardware!

I had the pleasure of trying these babies and I give them two thumbs up! You'll see on the website that they claim to be "little pieces of heaven". THEY ARE. I slipped a pair of ball-of-foot pads into my favorite (yet uncomfortable) high-heeled boots before a night out. While they didn't help my arch issue (I don't know if it's my super-arched feet or shoe choice but my arches almost always hurt after a day of heel wearing), they made my second biggest heel issue, sore balls of my feet, nearly non-existent.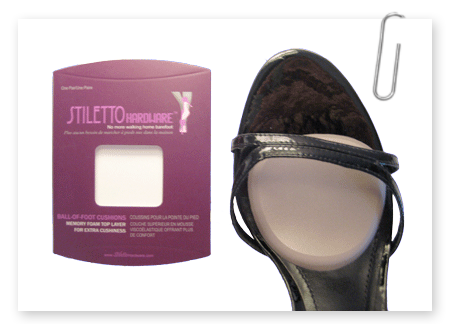 I've worn those boots a number of times since that first evening. I smile every time I slide my feet into 'em!
Stiletto Hardware offers three types of pads: ball-of-foot, ball-of-foot ultra-slender (for super-strappy numbers), and heel. If you're on your feet ALL DAY, I'd recommend throwing ball-of-foot AND heel pads into your shoes (even your flats!) – your feet will thank you.
When it comes to your wedding day shoes, of course you should pick a pair that are comfortable to begin with! But instead of switching to flipflops mid reception, resulting in a too-long dress, make sure you have some Stiletto Hardware before you walk down the aisle and you won't want to take your heels off at all!