You must keep track of the people you invite to your wedding! Otherwise, things could be disastrous. So, here are a few fun things you can do with your response, or R.S.V.P, cards.
Keep it Traditional. Use small, pre-printed cards that ask guests to fill in their names and the number of people attending. Included with this small card is a similarly sized and shaped envelope, already marked with a stamp and addressed to the bride's or her parent's home. Below is a fabulous little number from Wedding Paper Divas.
Wish you were here! Save on postage and paper by sending postcard response cards. Generally the stamps cost less, and not needing envelopes will save you a bunch of money (and trees)! Below is an example (minus the stamp) from Custom Paper.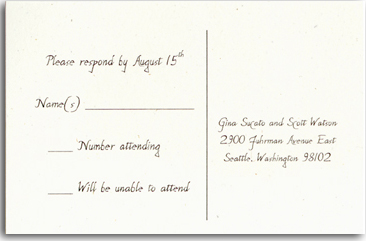 Blank looks. The way response cards are "supposed" to be – blank. Send with your invitations, along with corresponding stamped envelopes, and guests write their own little message to you. You may get something like "0 will attend", or, you may get a nice note explaining why the whole family can't come yet they wish you all the best. The image below is from Eclatante Event Design.
Tech Savvy. Inviting a small number of guests? Absolutely sure all of your guests use computers and could easily find their way to your wedding website? Some sites offer RSVP options that allow your guests to RSVP right on your wedding website. eWedding.com is a site that has this feature (along with many others).
And a few more things to keep in mind:
-It's wise to keep track of guests in a spreadsheet, either in Excel or via Google Documents (I love Google Documents because it's always online and can be updated from any computer that's connected to the internet….and in case there is a crash, you won't lose your stuff!).
-Keep the guest information all in one place; names, phone numbers, addresses, the number attending from each family, what they gave you as a gift and whether or not you've sent a Thank You note.
-Keep the response cards in one place. Either separate the Yes's and No's into separate boxes or separate areas of the same box so if a question ever arises, you don't have to run around the house looking for one or the other.
-Always open the response cards and sort them right away. Don't leave them sitting around or tuck them into you planner so that you can file them away later. They could get lost or forgotten! And that would be sad.