Hurrah! I got my Real Simple Weddings 2010 issue in the mail last week and I'm so excited to share some of the fabulous tidbits that you can find in this issue (below the image of the cover featuring an *amazing* bouquet).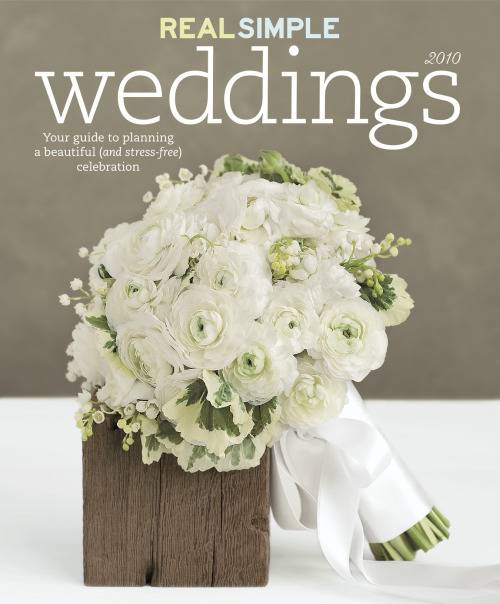 Of course, as with all Real Simple publications, you'll find great advice on how to simplify your life (and in this case, wedding planning). Some great articles you'll find in the 2010 issue – a timeline and year long planning calendar, great questions and answers on budgets, locations, guests, attire, flowers, vows, reportage, food, and the overall ambiance of your big day, choosing your cake and picking out wedding day decorations. You'll even find a pullout guide of checklists and guides and a website index of all the websites listed in the magazine.
My favorite part, however, are the Real Weddings featured throughout the issue. With themes like "Married and Bright", "East Meets South", "Together by Design", and "A Handmade Tale", they simply must be great, right?! I wish I could feature one or two here, but the images belong to the brides and grooms (understandably). You'll just have to pick up a copy for yourself to see them!
Other great features definitely worth checking out? The "Choose Your Color Palette" with three different palettes for each of the green, blue, purple, pink/red/ orange, and yellow base colors, and "Flowers at a Glance" that gives you a nice breakdown of popular flowers, their "in" seasons, colors you can find them in, and a few other good-to-know facts. And I can't leave without mentioning the Silhouette Glossary – cute sketches and great descriptions handy for anyone shopping for a wedding dress!