Jennifer and William wanted one thing clear for their wedding: they wanted to stand out. Because of that, they had a lovely wedding in the colors of a peacock feather – teal, to be exact. It was such a sweet affair, especially with the selection of cupcakes they prepared. Aside from the cupcakes, this couple put in a lot of DIY to make things interesting for the guests. Read all about it below! Also, congratulations to the happy couple, Jennifer and William!
The Theme:
The theme was centered on peacock feathers… I loved the colors teal and purple from the beginning and when I saw the peacock feathers, I knew that was the theme.
Wedding Outfit Inspiration:
The outfits were inspired by the peacock theme and also the need to not "be one in the crowd" and go with the traditional tux. So the guys wore gray suites and they looked fabulous. The ladies all wore teal and the only requirements I gave them while dress shopping was the dress had to be teal and short. Everybody got to pick out a dress that she liked and felt comfortable in.

Our Do-It-Yourself (DIY) Projects:
I liked the idea of chalkboards so there were many different kinds used for various reasons. All were repurposed pictures frames that my mother in law hand painted. She painted the wooden parts and also the glass with chalkboard paint. These were used on the table as table numbers, the seating chart, the cupcake menu, and also little quotes around the reception. There was also one in women's and men's bathrooms that said, "But first let me take a selfie," and with those were disposable cameras that our guest could take bathroom selfies with. There were also goodies baskets in both the men's and women's room that contained essentials like lotion, body spray, Aspirin, teal chocolates, etc.
The favors were another huge DIY project – homemade wine and mead with customized labels for the mini bottles. They were a huge hit! So huge actually that the box we had set aside for tips for the workers of the evening was found and tapped into. 
Favorite Part of the Day:
I asked our photographer what his favorite part if the day was and he said it was when I walked down the aisle.
Highlights From the Ceremony and the Reception:
Most memorable part of the ceremony was our vows..We both wrote ours and his were absolutely beautiful!! We also had a sand ceremony combining two bottles of sand into one bottle, to signify the union of two people.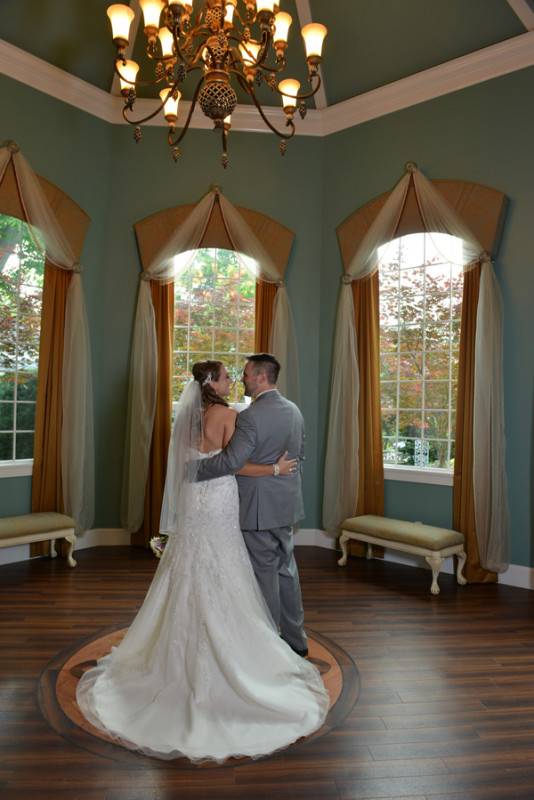 VENDORS
Photographer: BKM Photography
Reception Venue: Klock's Garden Grove