It all  started with a waterfront first look in Harbor East then a quick session in Mt. Vernon before. The exposed brick and large windows highlight a fabulous space of Mt. Washington Mill Dye House were just right for Elan and Caroline's rustic wedding. Scroll down and see what else made this day in Baltimore perfect!
Extra Special Details
Outside, the stone clad buildings make for a great backdrop.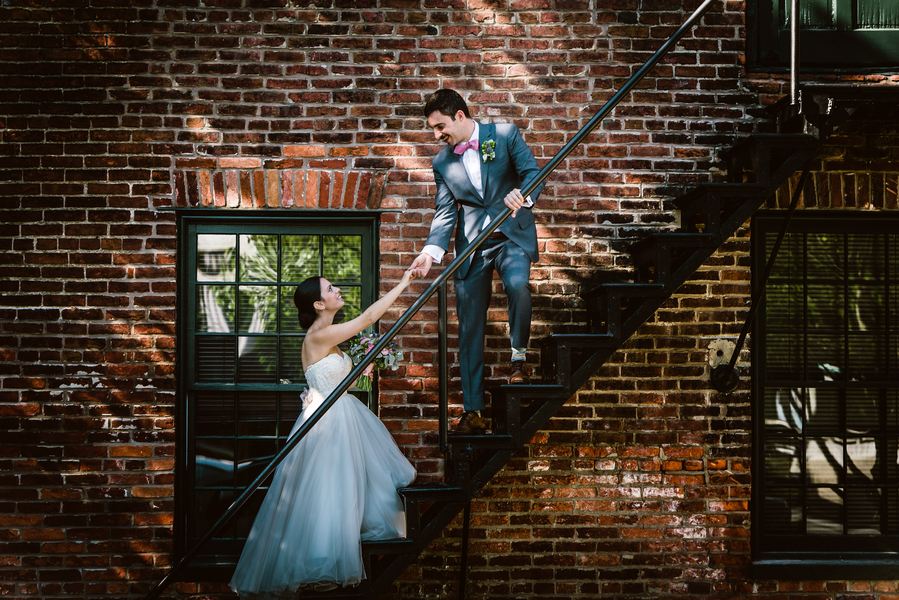 The reception was a fantastic party headlined by the Bachelor Boys band.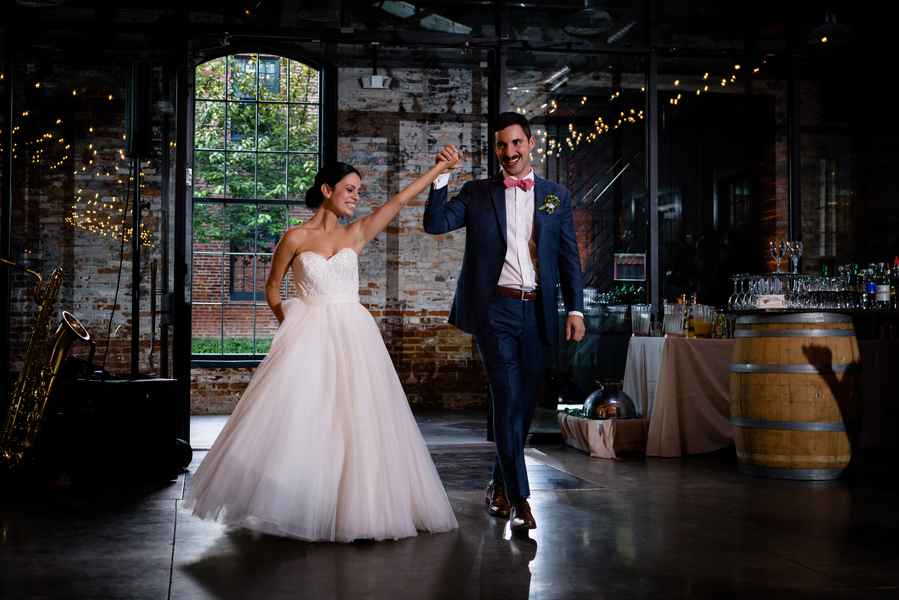 Few Jewish wedding traditions the couple incorporated – getting married under a beautiful chuppah, having the groom break the glass and dancing to the hora which was a big hit on the dance floor.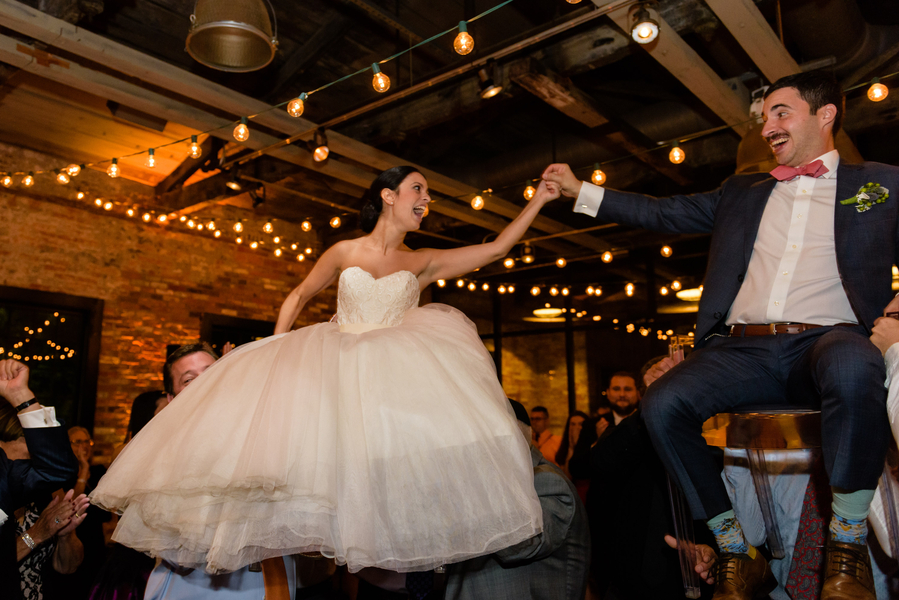 There couldn't be more perfect than this – emotional and personal ceremony that was officiated by the bride's brother.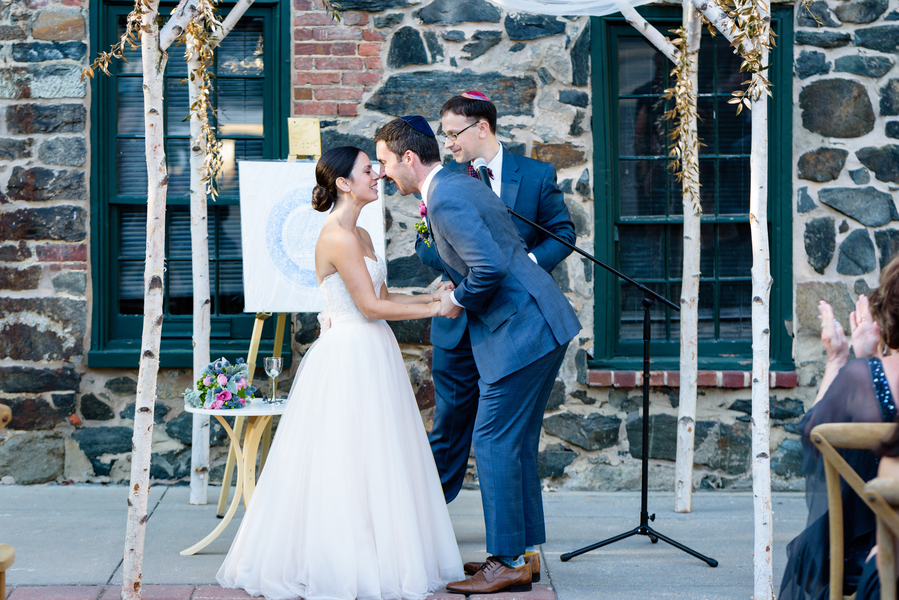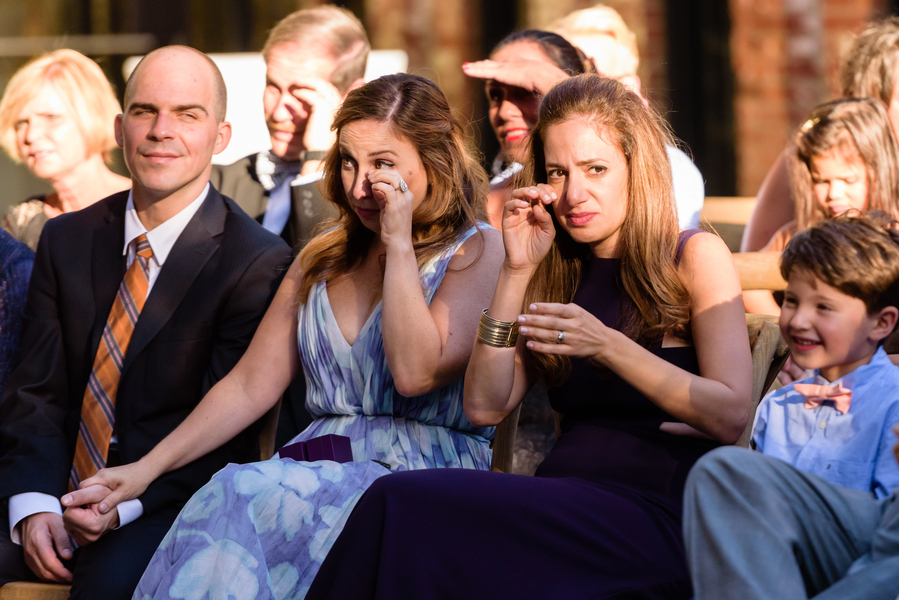 Few Jewish wedding traditions the couple incorporated – getting married under a beautiful chuppah, having the groom break the glass and dancing to the hora which was a big hit on the dance floor.
The Bride's Advice
We would suggest not taking everything so seriously, it's just one day and it's supposed to be fun, that's what makes your wedding day one of the best days of your lives. We were told by many people to just "soak it all in" the day of and we couldn't agree more, the day flies by so take it all in and enjoy yourselves. Spend the day with your partner, don't separate too much, talk with all of your guests together, otherwise you'll each remember a completely different day. Also, we suggest doing a "first look" and formal photographs ahead of the ceremony otherwise, you miss part of the wedding party that you took so much time to plan. — Caroline Helfand Kazam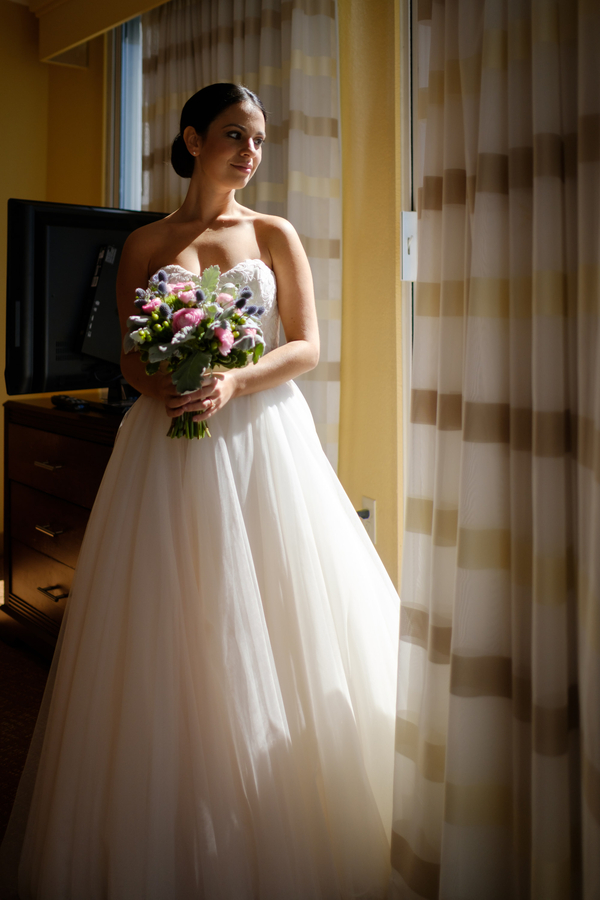 The Photographer's Advice
Figure out what's important to you and prioritize it in your budget. Obviously I am biased, but for me, photography is key. After all is said and done your wedding photos will last a lifetime and one day you will show them to your children and grandchildren. A great photographer will make it easy to forget that you might not have splurged on every last detail.
About The Photographer
Anthony Sekellick is a Baltimore, Maryland based wedding and portrait photographer. We also cover the Washington, DC area, the Eastern Shore, Western Maryland, Northern Virginia, Philadelphia, and beyond. I want to stress that photographing your wedding is never about us. We truly understand that it is your wedding and not our photoshoot and we never forget that. We try to get to know you as best we can in the short time we have together and earn your trust in the hope that trust will lead to the best images possible. I can honestly say that I have enjoyed working with every single one of my clients to date and at the end of a long wedding day it feels like we are saying goodbye to long time friends. Either we have been incredibly lucky, or there is something about our photography that is attracting great people as clients. I believe the latter. Far more important than anything that I could say about myself, is what our clients have said. All wedding packages include all day coverage (up to 12 hours) with 2 photographers and all your finished full resolution images. Collections start at $2950. Please contact us ([email protected]) for full pricing information, we'd love to hear from you!
What you get:
Straightforward professional service. No Hidden costs, tricks, or hard upsells.

All your final images are always included in high resolution. I love our albums and think everyone should have one, but if you don't want one, or want to make your own, that's fine. We make it easy to get exactly what you want and nothing that you don't.

Timely communication. Have a question or concern? I'll get back to you as soon as I possibly can with an answer.

Me! Beware huge studios that employ many photographers. You may not know who your actual photographer is until your wedding day, with no guarantee that any of the photos you love on their website were actually taken by your photographer. If you book me, you'll get me. Everything you see on the site was taken by me or my full-time 2nd photographer, Steve.

Planning a destination wedding? Inquire for special limited time offers.
Vendors
Photographer: Anthony Sekellick Photography
Band: Bachelor Boys Band
Dress Designer: Betsy Robinson's Bridal Collection
Caterer: Celebrations Catering
Lighting: Event Dynamics
Hair Stylist: Haute Blow Dry Bar
Reception Venue: Mt. Washington Mill Dye House
Floral Designer: Rutland Beard Florist of Ruxton