Fabio and Marisa had the most enchanting and luxurious wedding at no other than New York City. The wedding was so big and glamorous with red and gold color scheme. The church was also as glamorous as the reception – The New York Public Library. The centerpieces were a bouquet of roses in tall glass vases. And to get more New York authentic, Marisa rode a taxi to the church as a bridal car (cool!).
Marisa & Fabio got ready at The Bryant Park Hotel in NYC. The Ceremony was at Old St Patricks in SoHo Pictures were in Washington Sq Park & outside the Library. The ceremony was at The NY Public Library.
On the night of Marisa and Fabio's first date, Marisa was a good 40 minutes late. Stuck in traffic trying to get to downtown Manhattan in a cab, Marisa panicked that she had blown any chance of a second date. However, when Marisa arrived at the Spanish restaurant Fabio had chosen, Fabio (though a stickler for timeliness) made Marisa feel very comfortable (because unbeknownst to her, he wanted to go to the seemingly out of the way spot to check on the work being done to his apartment that he just bought). The two had a lot of laughs over drinks, followed by dinner. Then Fabio asked Marisa out for a second date at the end of the evening.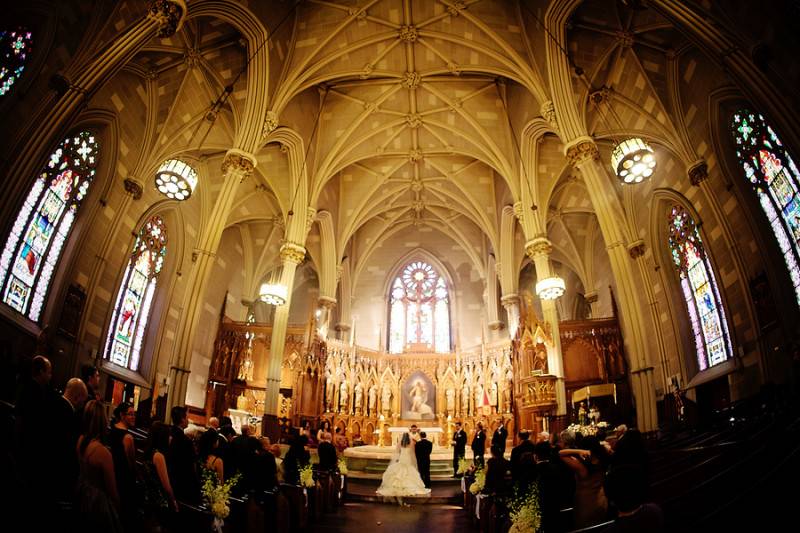 Fabio proposed to Marisa on the night of his birthday. They had recently taken a trip to Paris and Marisa, expecting a romantic fairytale engagement, thought that Fabio would propose there. But Fabio wanted to surprise Marisa, so the night of Fabio's birthday, after their special dinner at Scarpetta Restaurant in NYC the two arrived back at his apartment where he proposed. Fabio took out a card made of construction paper which he said was a card his nieces and nephew made him for his birthday. Inside of the construction paper card was a wedding card for her. As Marisa read it, then he got down on one knee and proposed with a ring in his hand. Marisa (who was in shock) to this day, has not said yes to his request. The rest is history.
What prompted the decision to have the wedding at this particular venue?
Fabio is very interested in NYC history. The venue is also very beautiful and quintessential NY.
What was the 'inspiration' for your wedding style, wedding colors, etc. ?
Marisa loves bold colors, so she chose a red and gold scheme for the wedding.
Did you have any special touches/traditions that you incorporated into your ceremony/reception?
Fabio and Marisa had a traditional Roman Catholic wedding ceremony which was important to both.
Wedding favors?
French Macarons from Bisou Ciao in the West Village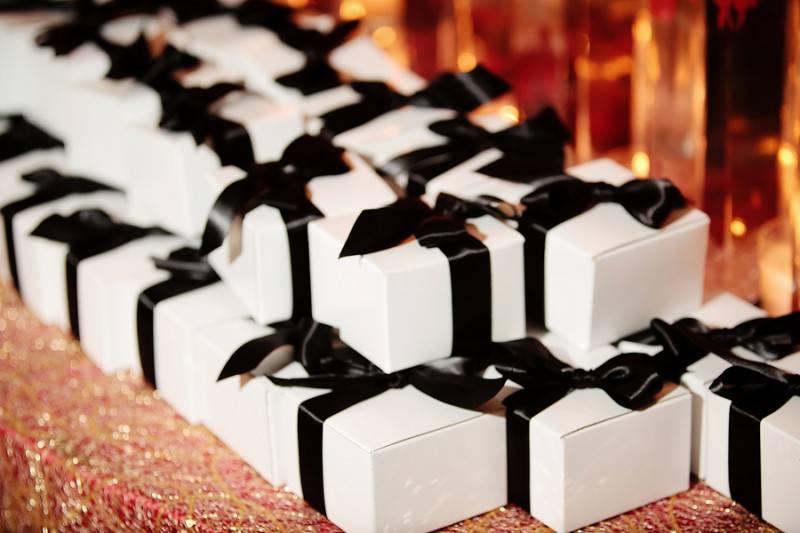 VENDORS
Photographer: 4Eyes Photography
Tuxedo and Men's Attire: Canali
Shoes: Christian Louboutin
Invitation Designer: Crane & Co.
Caterer: Creative Edge
Event Planner: Elegant Occasions
Bridesmaid Dresses: Lela Rose
Dress Designer: Pnina tornai
Floral Designer: Tantawan bloom
Reception Venue: The New York Public Library