Brianna and Greg's photographer captured not only the beautiful structures of Manhattan but also the love between them. The couple had a lot of beautiful structural backgrounds – The Manhattan Library, Brooklyn Bridge, and DUMBO Brooklyn. I also loved the first outfit the couple wore so apt for the beautiful interior The Manhattan Library had, very sophisticated. I could only imagine the fun they had during the session. Congratulations Brianna and Greg!
Here's a story from the photographer Filippo Barbarotto:
A close friend in the industry originally introduced Brianna and Greg to me. I'm very excited to be cooperating on an event together in July of 2014 at the Allegria Hotel in Long Beach. Initially, we were going to use the Brooklyn Promenade to take photos. However, after a few conversations that Greg and I had we planned out our 2 locations that we all agreed on The Manhattan public library on 42nd street and 5th avenue and the Dumbo Brooklyn. This time of the year these areas are prime. Dumbo is less crowded, and the library had some cute Christmas decorations during our visit. Upon meeting Brianna and Greg at the Manhattan Public Library, we immediately reconnected since our first initial meeting at our studio location in Hicksville.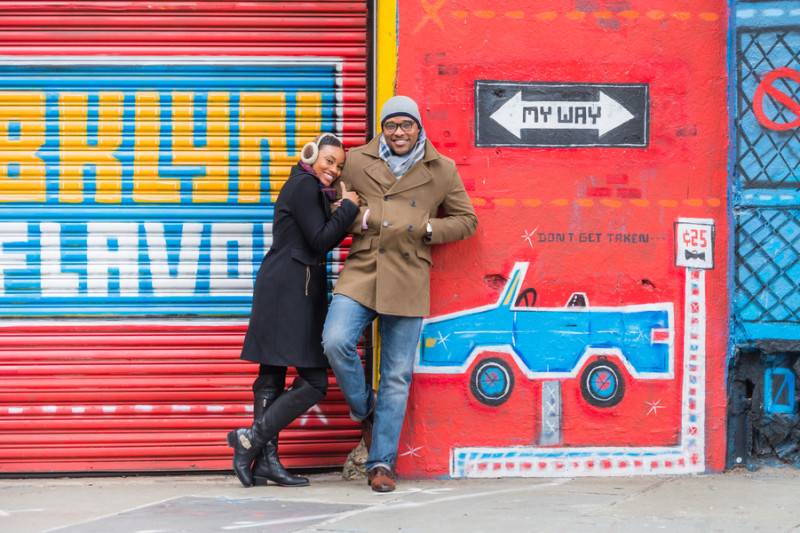 Brianna and Greg had amazing body chemistry. It made the photos look more natural looking. Realistically they didn't need any direction at all because they just had an amazing love that poured out to the camera. The smiles and laughs and Greg's Obsession of his "PINK" socks had us laughing for a long time. When we concluded the first location in Manhattan, we drove over to Dumbo Brooklyn were we utilized and captured the Famous Brooklyn Bridge. We also used a few of Brooklyn fine cobblestone streets. It added character to the photographs and made the photos all the more modern and sophisticated. I found this amazing cool wall where I posed Greg and Brianna next to it where the sign "my way" was on. Greg was happy that I had considered his way as the only way … But did I ???. That's a question that they need to answer themselves. Good laughs and a great time with this couple! Thank you, Brianna and Greg, for making our day special and we look forward to your wedding at the Allegria Hotel in Long Beach NY.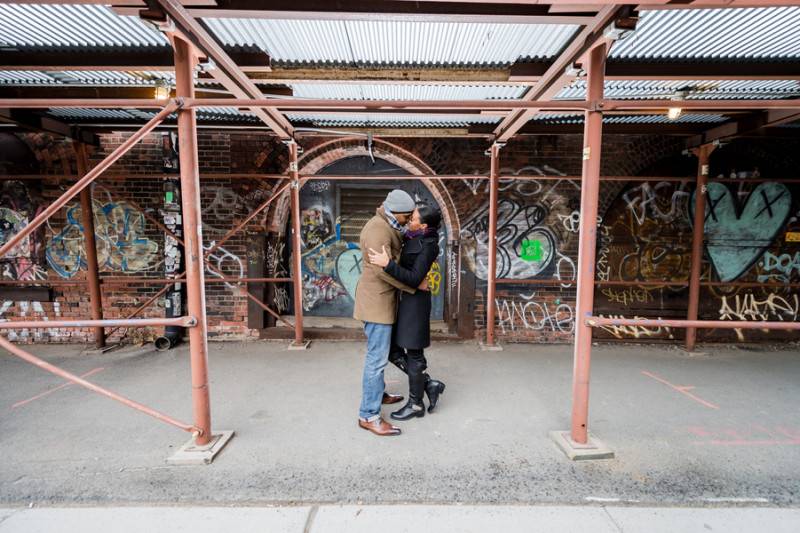 VENDORS
Photographer: Origin photos
Other Location: Brooklyn Bridge Park