Good morning, our dear readers! Like Chuck and Mary's engagement session, you can always treat it as a special trip before the wedding. You might want to do it in another country or just a road trip to somewhere. In their case, they went to an apple orchard, set up a picnic, rode a tractor and were just silly and goofy. They looked at ease at their shoot judging by the result.
Always an excellent reminder when posing for photos – just be yourself. Don't be afraid to let loose and have fun! Their engagement session is also a prelude for fall for some last minute ideas for you. May you find the concept that'll represent you as a couple. Good luck!
Out of the blue one day, Mary emailed me and asked if I did weddings and if I would consider photographing her wedding. I was honored to be asked and after meeting her for coffee, enthusiastically agreed to be her photographer. I am looking forward to their wedding so much more than I imagined. It is going to be amazing!
Chuck and Mary liked the setup from my Winter Mini Series, so we started with the Cozy Campfire scene that I already had set up in my backyard.
Then we drove out to Penrose, CO, to visit Happy Apple Farm.  Tony, the owner, has beautiful grounds. There is an apple orchard, berry patch, hay barn, pumpkin patch, and even a gift shop and a place to grab a bite to eat if you are ever out there with your family. If you haven't been- you should go!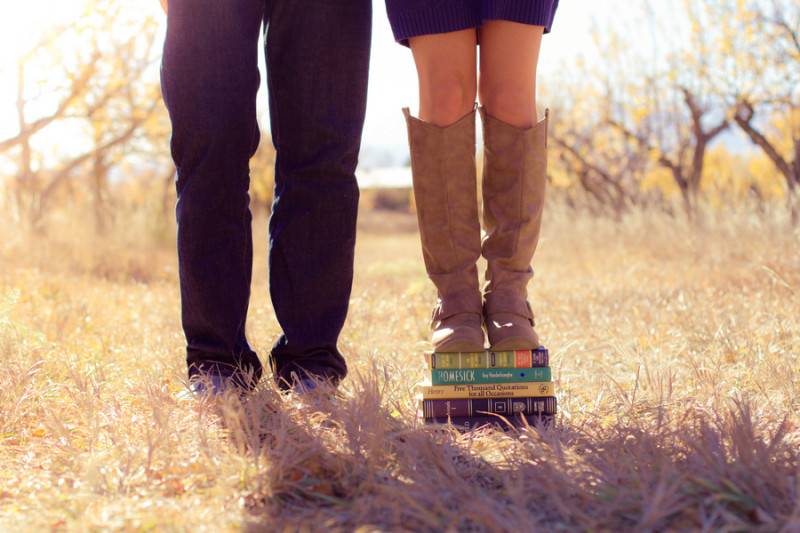 We set up a picnic in the tree lines; it was PERFECT! The sunlight, the romance, everything.
After the orchard, we made our way up to the open hay barn. It was on a hilltop, and the wind was nuts! We did a lot of waiting and laughing and tried creative ways to block the wind. But when the wind paused, for that brief moment – magic!
Last, we toasted! Well, they did, anyway. Beer added a different and fun element to their engagement photo session. I mean, after all of that smiling they needed a break! I love how at the end of the day, our cheeks ached from all of the smiling and laughing. This is why I am so excited for their Wedding.  We had fun together. We became friends.
The Concept:
The intimacy and romance of getting away. The days when it is only the two individuals who want nothing but to be in each other's presence. The feeling of romance where you have to remind yourself to breath because you are so caught up in the knowledge that someone loves YOU.
The Location:
Chuck and Mary seemed pretty flexible on location. I knew of Happy Apple Farm in Penrose, CO and wanted a reason to photograph there. It just seems like a place a couple would go to get away. I wanted so badly to tell a story there.
A Hint For The Wedding Day:
Absolutely! These two are a country at heart, and that reflects with the mason jars and simple daisy bouquet. All delivered in a very classy way – I had never seen a tea-length wedding dress before Mary wore hers. It was perfect!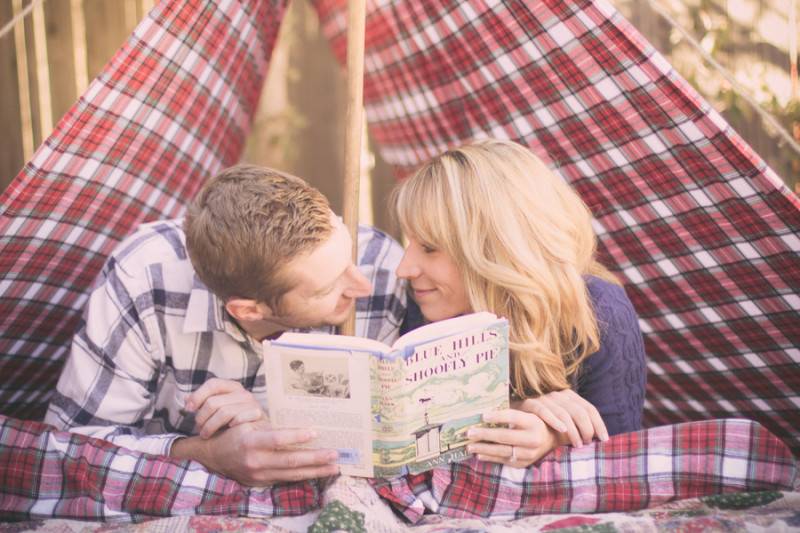 VENDORS
Photographer: Bullfrogs & Butterflies Photography
Other Location: Happy Apple Farm