Distance is nothing when you truly love someone. Brad and Lydia prove that to be true on today's wedding feature. These two may be continents apart, but they manage to stay together (relationship-wise) for two years. It is really exciting to see people of different cultures/continents come together and share quite a lot of similarities. You could call it fate, destiny, or whatever — It is just plain amazing.
After all of the travels they had just to see and spend time with each other, they have finally tied the knot! And it was, without a doubt, a beautiful wedding. I couldn't be happier when I see long distance couples getting married and starting their happily ever after. Wishing you all the best, Brad and Lydia!
Our Story:
We met in 2012 online. I (Lydia) am from Kyiv, Ukraine, and my husband Brad is from Michigan, United States. After a couple of months of Skype dates, we finally met in person in Kyiv in October 2012. I never thought I could fall in love with someone from a different continent! Luckily, Brad is an experienced traveler, and he's been all around the world for both work and pleasure before we met. It made it easier for him to make multiple trips to Ukraine over the year when we were dating. We saw each other at least once a month for a weekend, and I guess this became something that totally won me over. I've never met a guy before who would travel for 14 hours one way (and then 14 hrs. back) and endure the jet-lag (7 hour time difference) just to see me for a two-day weekend… We also traveled together a lot around Europe, were constantly in touch over Skype and phone, and more and more realized that we were meant for each other. A long-distance relationship is never easy, and we started talking about eventually being together all the time.
We Are A Perfect Match:
We look at life in a similar way and have common values. It's incredible how much we have in common despite being born and raised in cultures as different as Ukrainian (Eastern European) and American.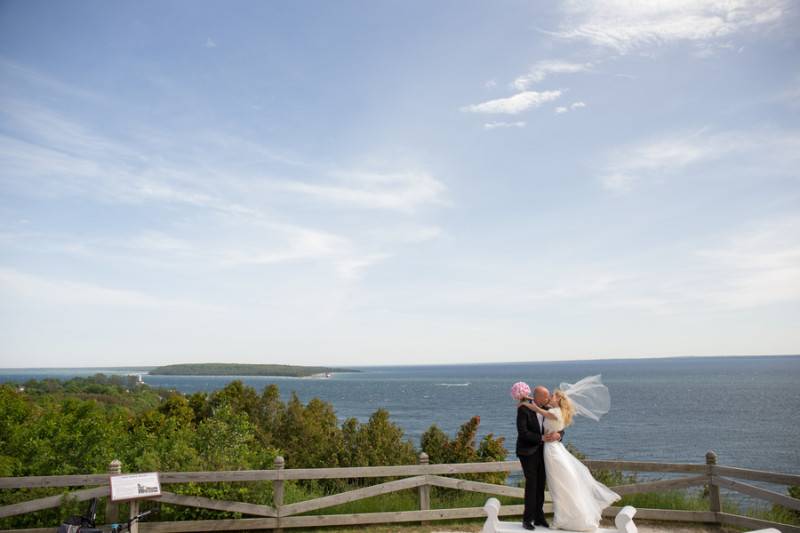 The Proposal:
Following my first trip to the US to meet Brad's family in summer 2013, he asked me to marry him in Kyiv, on the rooftop terrace of the Intercontinental hotel. It was a warm August night, he came to visit me over the weekend, and I had no idea that he was going to propose. I still remember saying "yes" with no hesitation as there was no doubt he is the one for me. He gave me a pair of beautiful diamond earrings for engagement, and we bought my Tiffany engagement ring later during a trip to New York. I'm happy I got to choose my own engagement ring (my dream was to have a classic ring in a "Tiffany setting"). It is absolutely perfect and I love wearing it.
The Planning Process:
Our wedding planning was complicated as I was not physically in the United States and only arrived one month before the wedding. So I had to do all vendors selection and discuss all details remotely. But I'm glad I had almost 10 months to do this. Like other international couples, we got through a lot of visa and immigration red tape while applying for my fiancée visa and then adjusting my status in the United States after getting married. It took a lot of patience and around 6 months to get all required paperwork for us to get married in the US, but we've done it!
The Best Advice We Received:
RELAX and have fun during engagement and wedding 🙂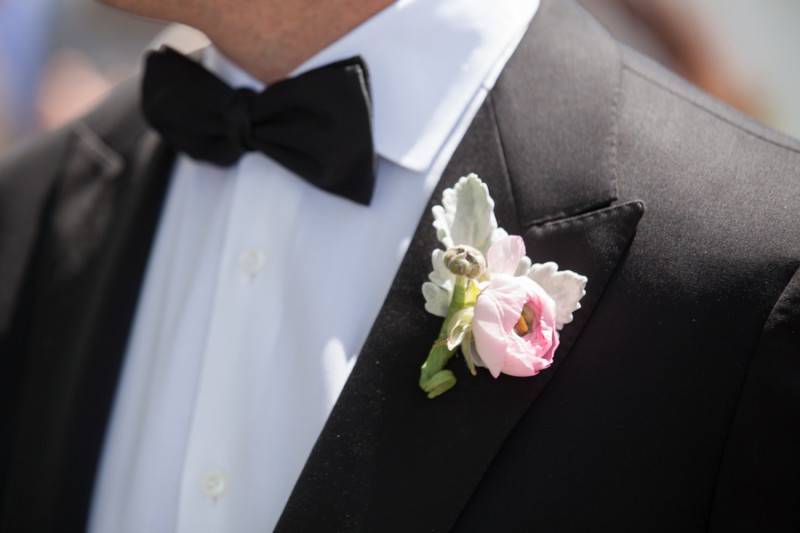 Tips & Tricks For Future Brides:
It's so easy to get caught up in the images of a fairytale wedding of your dreams, become stressed-out and obsessed about all the details. With so much pressure and opinions from friends and family, you want everything to be impeccable and to go smoothly. The most important thing is to know how to get over things when something is not going as planned. Let's say the photographer you wanted is already booked, the flowers are a slightly different color, etc. It's not the end of the world! Relax! Think about this time (when you're getting ready to get married) as one of the happiest and most exciting moments in your life. Do not let yourself forget about the meaning of it all: you will soon be marrying the man of your dreams.
The Challenges We Faced:
As mentioned above, my main challenge was having to plan the whole wedding remotely. Until 1 month before the wedding I was living on a different continent, and my husband-to-be had a really tough work schedule with a lot of travel. That's why we absolutely needed someone to help us arrange everything. After we selected the Grand Hotel as our wedding venue, I got in touch with their wedding coordinator, Marty, who did an excellent job of planning all the details and discussing them with me via email.
Wedding Décor Inspiration:
With the wedding style being classic elegance, we decided on the color scheme with whites, creams and pinks. Our wedding stationery (invitations, table cards) were all creamy beige color with a flowery design on a craft paper, all elegant and slightly old-fashioned. My favorite flower is peony, and I was super-excited to hear they are available in June when our wedding took place.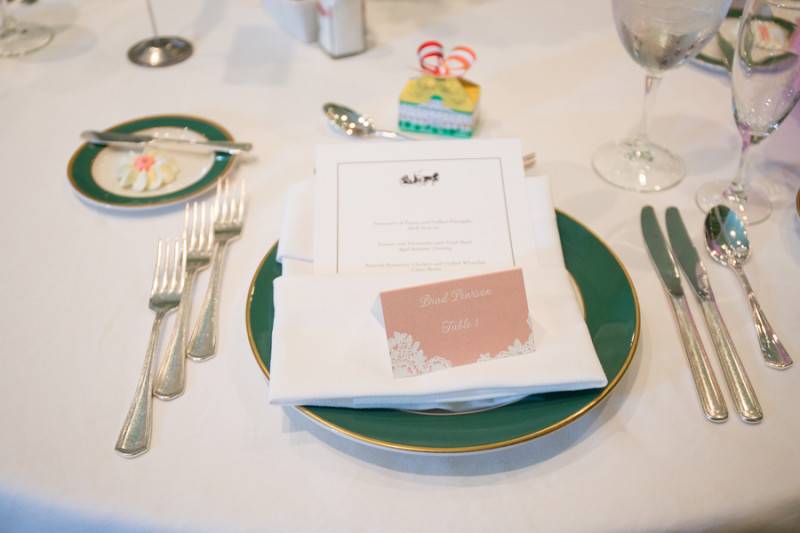 Money Matters:
The wedding budget is approx $10,000. The ceremony and reception sites rental, bride & groom attire, guests transportation took most of the expense.
The Guest Lists:
There were 24 people in total (including kids). Because of the distance and visa issues, my friends from Ukraine were not able to come for our wedding, and we decided not to have bridesmaids/groomsmen at all. Our guests were just the immediate family members and some of Brad's closest friends.
The Songs:
1st processional (plays when flower girls and ring bearer enter): All I Ask of You (from Phantom of the Opera
2nd processional (bride + father enter): Wagner, Bridal March from Lohengrin
Recessional (bride and groom depart): Purcell, Trumpet Tune
Our Honeymoon:
We spent our honeymoon is Hawaii. We chose Four Seasons Resort Maui at Wailea on a beautiful Maui island. To say it was incredible is an understatement. Maui is made for honeymoons and there's everything you may wish for: warm turquoise ocean, great beach, amazing nature and vegetation, picturesque sunsets, some of the best restaurants and shopping.
Excited About:
I'm excited to be with the man I love and share all the beautiful things that are to come. After a long time of being apart and having a long-distance relationship we are finally together, and this by itself is a dream come true!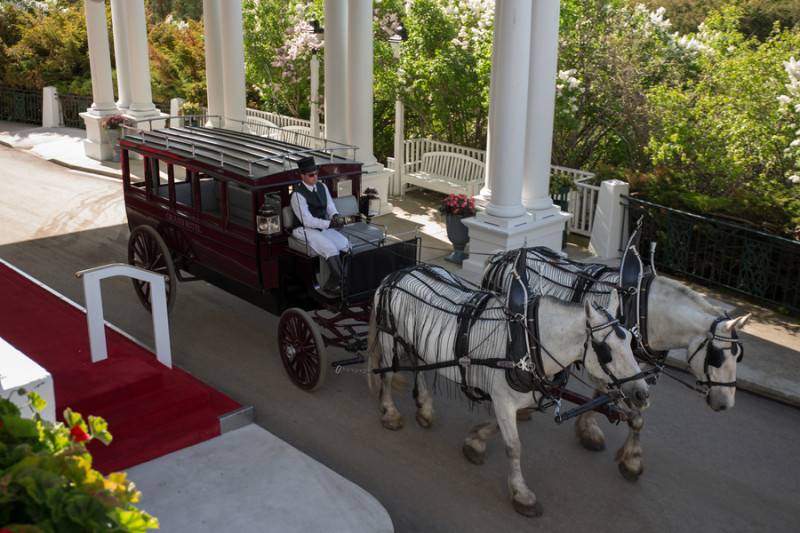 Planning Advice For Couples:
The wedding is just one day out of many wonderful days of your life. I believe that it doesn't really matter what wedding budget you have, how many guests you invite and how much time you spend planning it. What matters is to choose the right person to live your life with and BE a good partner yourself.
Wedding Outfit Inspiration:
Our personal styles helped us choose the wedding outfits. I found my perfect wedding dress in Chicago. We went there for a vacation over the New Year 2013-2014 and I was looking for a dress. After checking out a few stores, I came across BHLDN store with stunning wedding outfits in downtown Chicago. I chose a classic A-line wedding dress with a tulle skirt that gave it an extra "bridal feel" and a classic shoulder-length veil. The dress is made of silk and has a lacey back and embroidery. I had it tailored in Ukraine and it ended up fitting perfectly! I was also wearing Louis Vuitton stiletto heel shoes. One thing that's unpredictable about Mackinac Island is the weather, and it can be pretty chilly even in the summer. To prepare for this, I bought a white feather shrug from BHLDN. It was actually of great help during our horse carriage ride and the outdoor photoshoot. The groom was wearing a classic black tuxedo and a white shirt from Ermenegildo Zegna.
Favorite Part Of The Day:
My favorite part of the day was the ceremony itself. I still remember my heart beating when I was walking down the aisle and then exchanging vows with my husband.
The Highlights From The Ceremony & Reception:
Our wedding ceremony was outdoors, on the famous Grand Hotel porch with its white columns, turquoise ceiling and stunning views of the Mackinac Straits and Mackinac Bridge. We had a traditional wedding ceremony with guests seated in semi-circles, flower girls, ring bearer, followed by the luncheon in one of the Grand Hotel restaurants. Everyone really enjoyed being out there on the porch on a bright sunny (but slightly chilly!) morning and having the champagne toast after the ceremony! During the reception, every guest received a wedding favor – a box of the Grand Hotel signature fudge, which is considered one of the best on the island. After the luncheon, we had a horse carriage ride scheduled in order to take the bride&groom around the island and have some photos taken. June is the time when lilac is in bloom at Mackinac (there is even a lilac festival), and with so many blooming flowers and the nature, the island offers really a perfect scenery for the photo shoots. The Grand Hotel arranged for their signature Victoria carriage with two horses to take us around the island. Our photographer followed us on the bicycle and did a great job of capturing those first hours of us being husband and wife.
The Theme:
With the wedding style being classic elegance, we decided on the color scheme with whites, creams and pinks. Our wedding stationery (invitations, table cards) were all creamy beige color with a flowery design on a craft paper, all elegant and slightly old-fashioned. To add an extra special and solemn feel to our wedding, we decided to have a harpist play during the wedding ceremony. She was one of the musicians recommended by the Grand Hotel, and was playing the classic melodies that me and Brad chose. The music definitely contributed to the atmosphere and style of the wedding. The Grand Hotel florist did a great job of creating the bridal bouquet, the boutonnieres for guests, rose petal baskets for the flower girls, flower arrangements for the ceremony site and table centerpieces for the reception. My favorite flower is peony, and I was super-excited to hear they are available in June when our wedding took place. I had a beautiful bridal bouquet in soft pinks that included peonies and ranunculus, with the stems partially wrapped in soft pink satin ribbon. The groom's boutonniere was made of ranunculus and dusty miller. Other guests had miniature white rose boutonnieres with bear grass loops.
Most Memorable Moment:
Walking with my dad down the aisle was very memorable and touching, especially because we don't have this tradition in Ukraine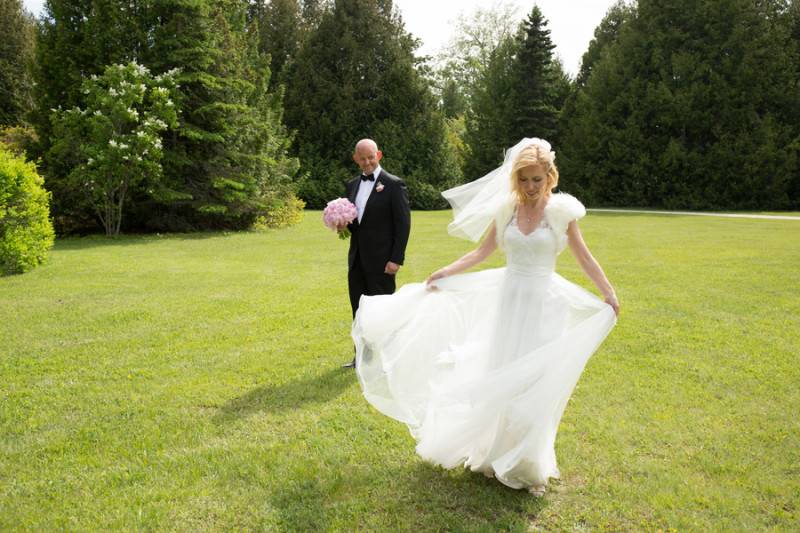 VENDORS
Photographer: Paul Retherford Wedding Photography
Event Venue & Planner: Grand Hotel
Hair Stylist: Grand Hotel Astor's Salon & Spa
Transportation: Grand Hotel Carriages
Ceremony Location: Mackrev
Floral Designer: Margaret's Garden