Hello all! This is our first ever "advertiser appreciation post". As you can see to our right, we have some wonderful people to get some exposure to their own sites through ours. Today, we're featuring the fabulous Shirley Tan. We'll be honest – we think it's pretty awesome that she advertises on our site. But, there is much more to this wedding gift guru!
This awesome woman is an entrepreneur, business owner, wife, mom to three, and wedding goody extraordinaire (and much more). One of her websites and online shops is all about wedding favors and gifts. She's got them all – bridesmaid gifts, groomsmen gifts, and even an array of personalized wedding favors.
Here is one of my favorite – a bridesmaid tote. I'm tote obsessed, so naturally I'd love this one! Love the monograms, too.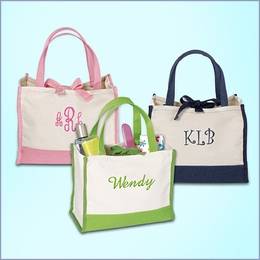 Some wedding websites seem a bit "sketch" and I'll admit, I'd feel a bit uncomfortable ordering from them. But after having worked with Shirley for quite a while, I can say I'd totally trust her and her staff. Let's hear it for Shirley and her American Bridal!