What's the best way to style Mansur Gavriel shoes and bags for a date? We have 4 great options here!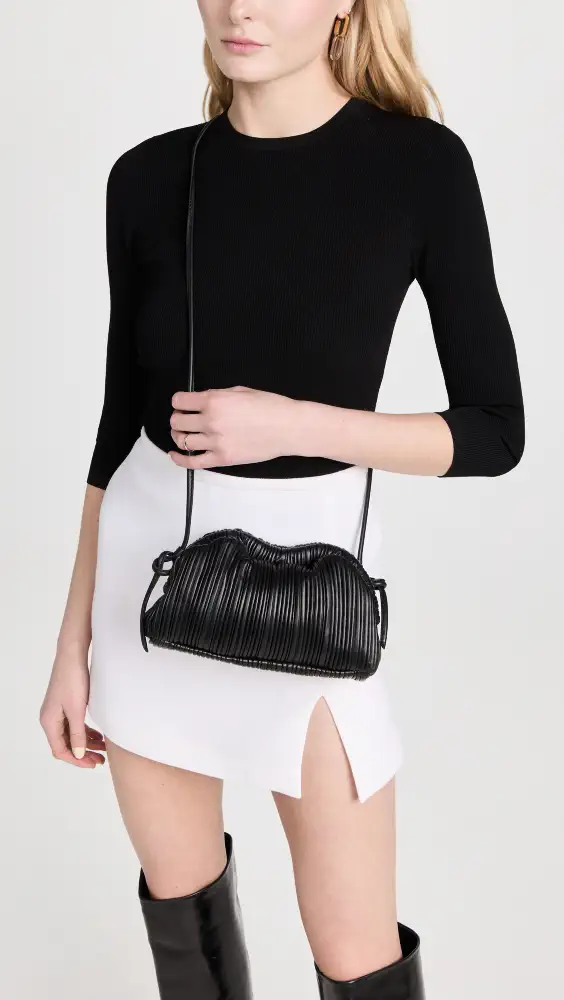 Main image courtesy of Shopbop.
If you're a fan of top notch leather bags and shoes, you've probably heard of the designer brand Mansur Gavriel. If you haven't, it's time to get in the know! This brand is well known in the fashion world as the producer of some of the best (and versatile) handbags around. Their iconic bucket bag was such a trendsetting item, it garnered instant appeal among celebs and regular folks alike—and still continues to fly off the shelves!
If you're looking for leather goods that can go with anything you already have in your closet for your upcoming date, you're in luck because in today's piece, we're delving a little deeper into:
Where to snag Mansur Gavriel shoes and bags
What Mansur Gavriel shoes and bags to wear on your next date!
Where to get Mansur Gavriel shoes and bags
Check out these top places to snag your very own Mansur Gavriel items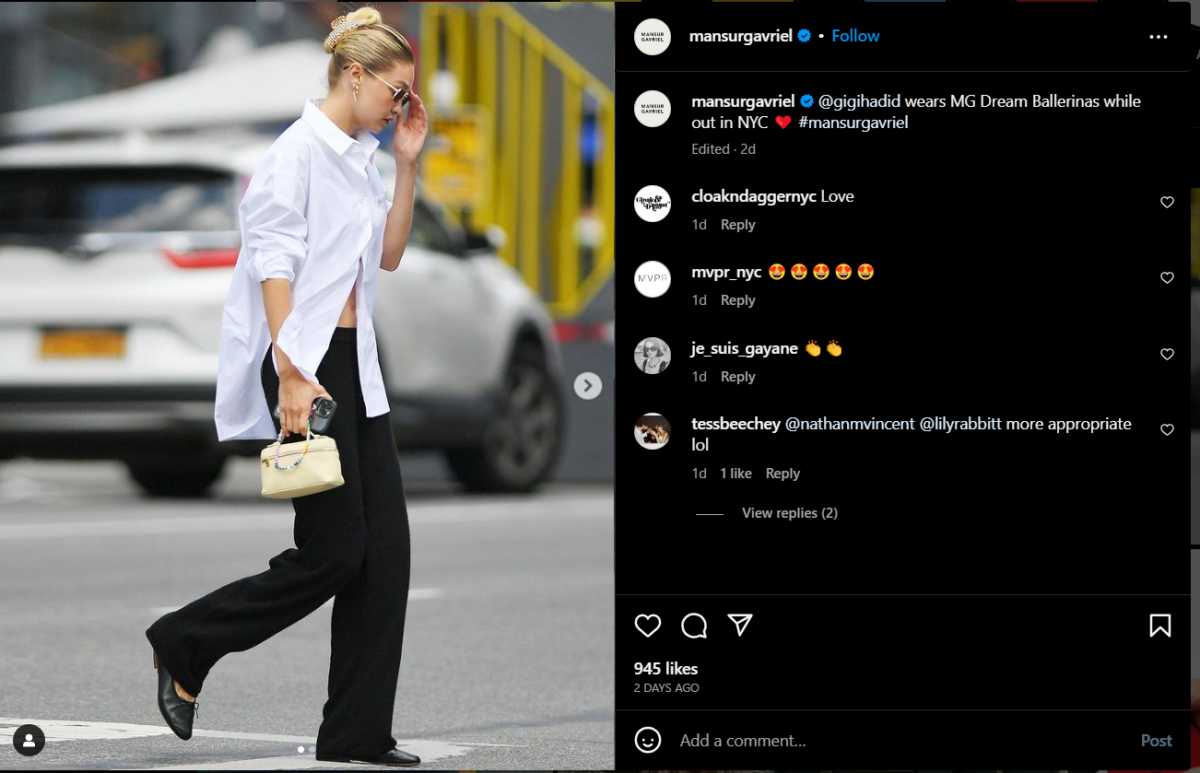 https://www.instagram.com/p/Cv90La5rYWv/?img_index=1
If you're busy gearing up for date night, you want to make sure you have the perfect outfit. No matter if you're going to dinner, a movie, or something more active like mini golf, you want to ensure that you have a bag and shoes that are sure to turn heads—but can also keep all of your personal items safe. If you don't already have a pair of Mansur Gavriel shoes, or one of their popular bags, there are plenty of places you can pick one up!
Head over to their site and explore all the latest collections of both bags and shoes, in season-appropriate colors and styles. Not ready to buy one full price? Then make sure you check out their sale tab for nice discounts on previous season's items and final sale products.
You can always head over to Shopbop for an amazing selection of Mansur Gavriel bags and shoes, including some at great sale prices! They're always updating their inventory, so make sure to check back often.
Additionally, you'll find Mansur Gavriel at a variety of other online shops as well as department stores like Neiman Marcus, Nordstrom, and Bergdorf Goodman. Look here to check out their full list of stockists!
How to wear Mansur Gavriel on a date
Check out our recs for what kind of Mansur Gavriel shoes and bags to wear on your next date!
Whether it's your first date, or one of many, you always want to make sure you look your best, are comfortable, and ready to have some fun. There are all kinds of dates you can go on, which all require different kinds of shoes and bags. Good thing Mansur Gavriel has a variety of versatile bags and shoes that would be perfect for lots of different date scenarios. The hardest part is figuring out which fun date you and your partner should try! We've picked a few popular date activities and included some Mansur Gavriel purse and shoe suggestions we think you should try out ASAP.
Traditional date
Sometimes oldies but goodies are that way for a reason—because people really enjoy them! When we say traditional date, we mean something like dinner and a movie, or dinner at an elevated restaurant. This will vary of course depending on how elegant you want to go, but we picked out items that you might reserve for a special occasion date.
Mansur Gavriel shoes to wear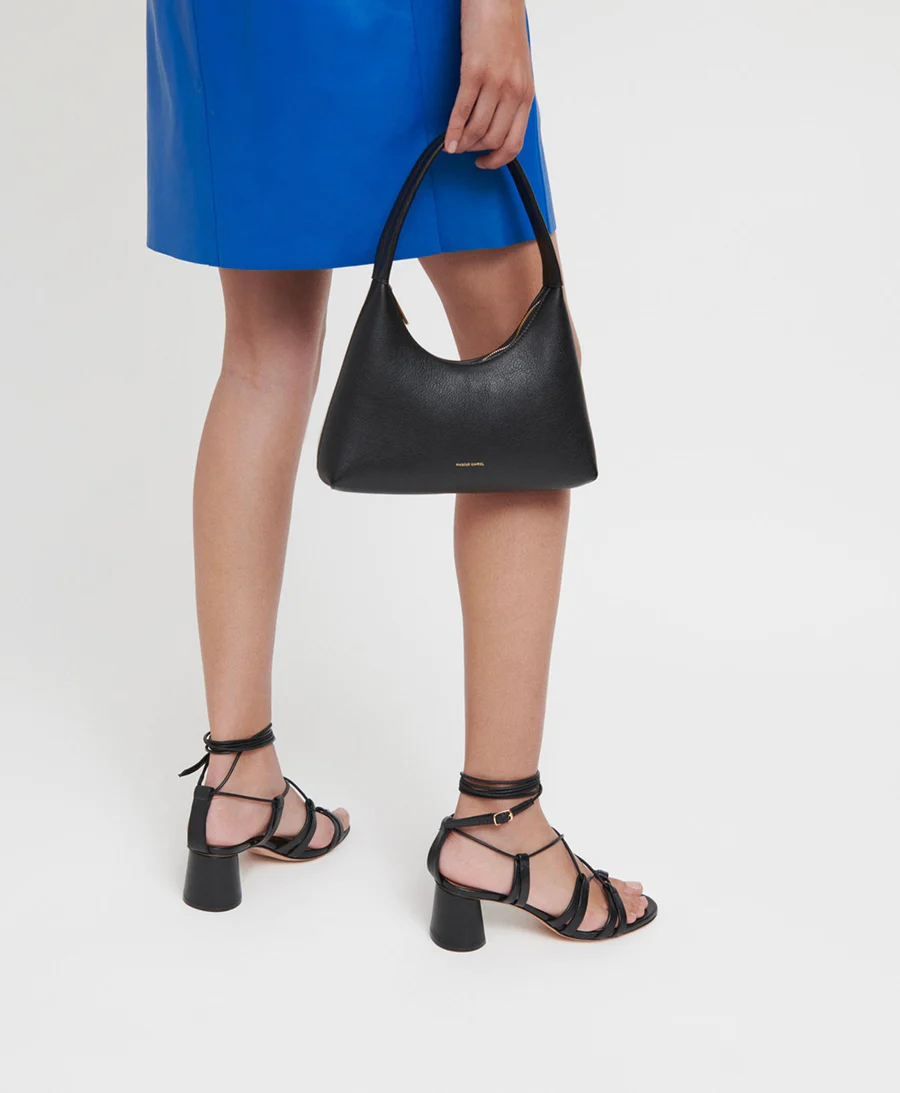 These black heels are sure to be your new go-to for fancier date nights. Image courtesy of Mansur Gavriel.
These Daydream sandals would be the perfect addition to your fancier outfit at a nice restaurant. Made with lambskin leather, they feature a rounded toe, stacked heel, and an ankle strap that elegantly wraps around your ankle. This would look stunning with a LBD in any length, or a skirt and blouse combo.
Mansur Gavriel bag to bring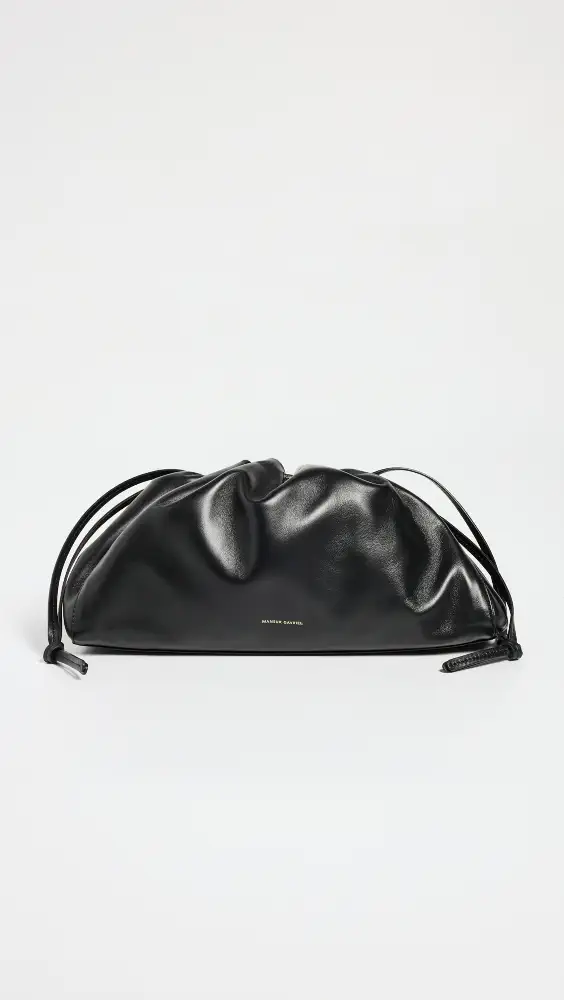 You can't go wrong with a little black bag when you're at dinner, or in the movie theater! Image courtesy of Shopbop.
This beautiful Bloom bag in black/flamma would complement any sophisticated outfit you plan to wear to dinner—and it wouldn't be out of place if your date includes a movie! Made with lambskin, it features gold toned hardware, a drawstring closure, shoulder straps, and a patch interior pocket to keep all of your essentials safe.
Picnic
A picnic is a cute date idea that gets you outside to enjoy a beautiful view, as well as each other's company. You can pack up a whole meal, or just snacks and drinks. The best part about this casual date, you can wear pretty much anything!
Mansur Gavriel shoes to wear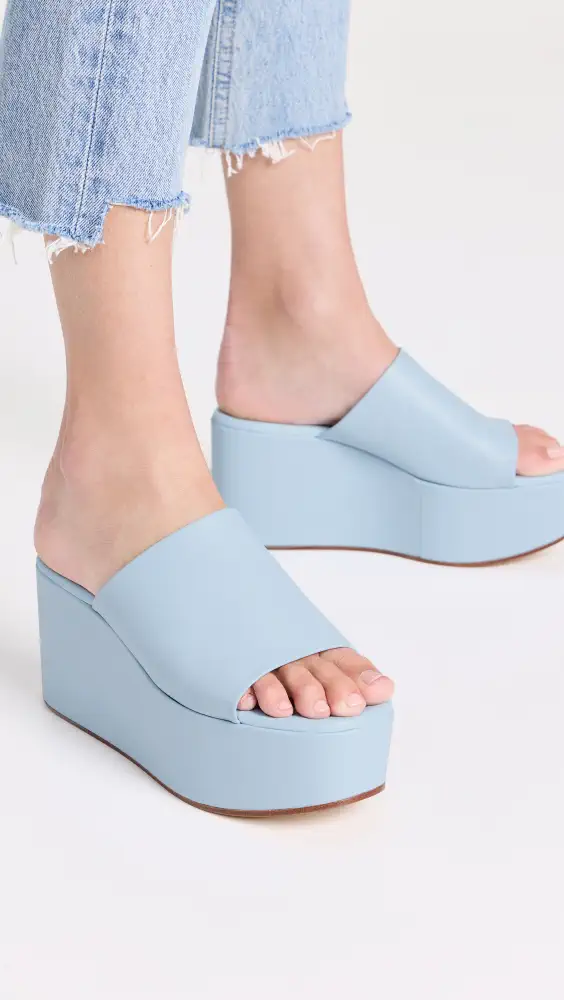 You'll feel like you're walking on clouds when you wear these to your next picnic date. Image courtesy of Shopbop.
Whether you have a cute sundress picked out, or you're going with paper bag shorts and a tank, these baby blue Mansur Gavriel platform mules would look perfect paired with any picnic attire. Made with smooth lambskin, they include a padded footbed and a leather sole with a rubber heel cap. You can walk through grass easily in these shoes, and then either leave them on or go barefoot once you're on your picnic blanket!
Mansur Gavriel bag to bring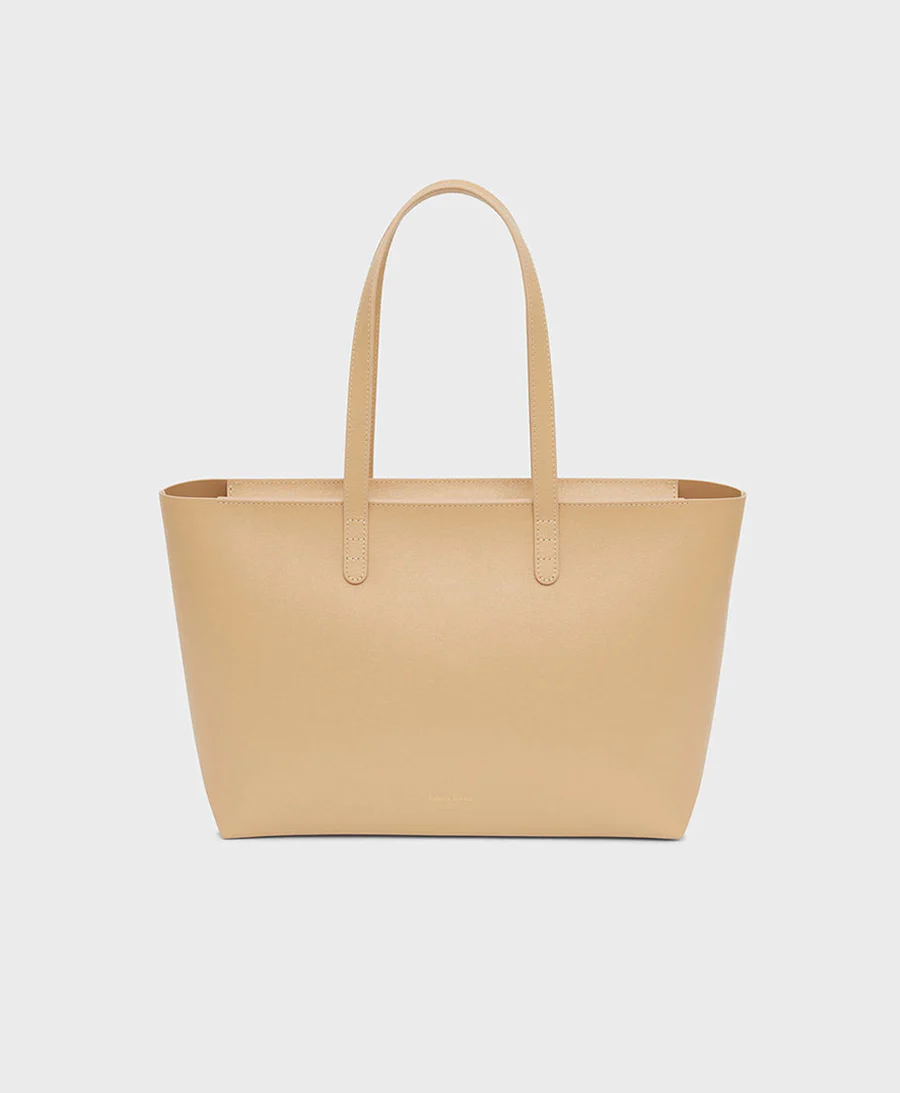 Fit almost everything you need for a picnic in this handy tote bag. Image courtesy of Mansur Gavriel.
You've got to bring a bag that can hold some picnic items, and what better than the small zip tote? This sturdy bag is made of Italian Saffiano leather that comes with a zipper and a secure inside pocket. This bag would be perfect to carry a blanket, books, Bluetooth speaker, and could even fit some snacks or water bottles for your date.
The beach (or pool)
While it's maybe not the first place you think of for a date, it's definitely a fun one! It doesn't matter if you live near the beach, or would rather enjoy a sunny day by the pool, this date is low key and a fun way to enjoy the company of your partner.
Mansur Gavriel shoes to wear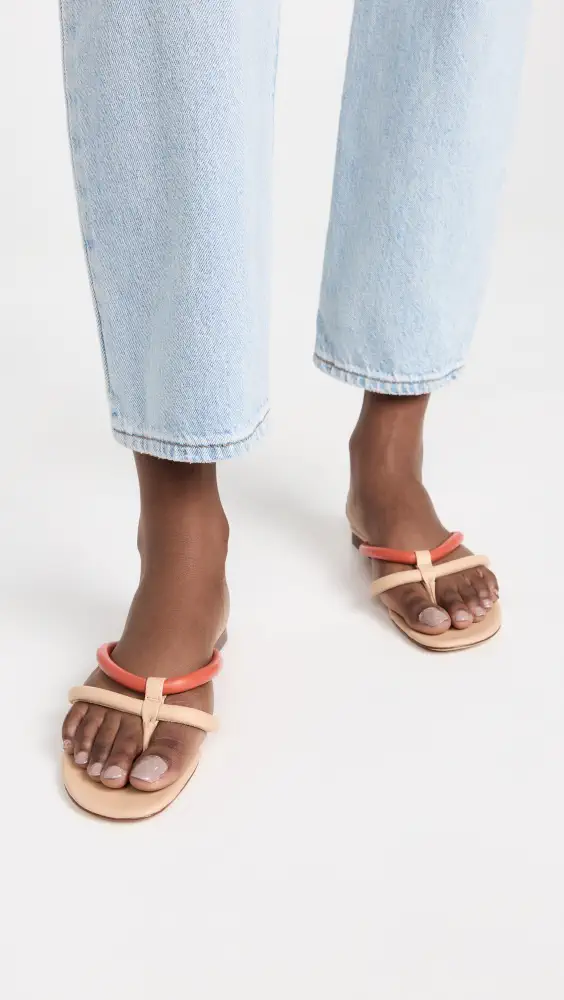 Just add a swimsuit and some shades to complete this look! Image courtesy of Shopbop.
When you're having a date on the beach or near a pool, you definitely want to go with the Filo flip flop. These comfy shoes are made to easily slide on and off, especially when you're ready to dip your toes in the water. Made from lambskin, they feature two toned tubular straps, an open toe, and a leather sole with rubber patch. Their neutral color ensures they'll go with anything!
Mansur Gavriel bag to bring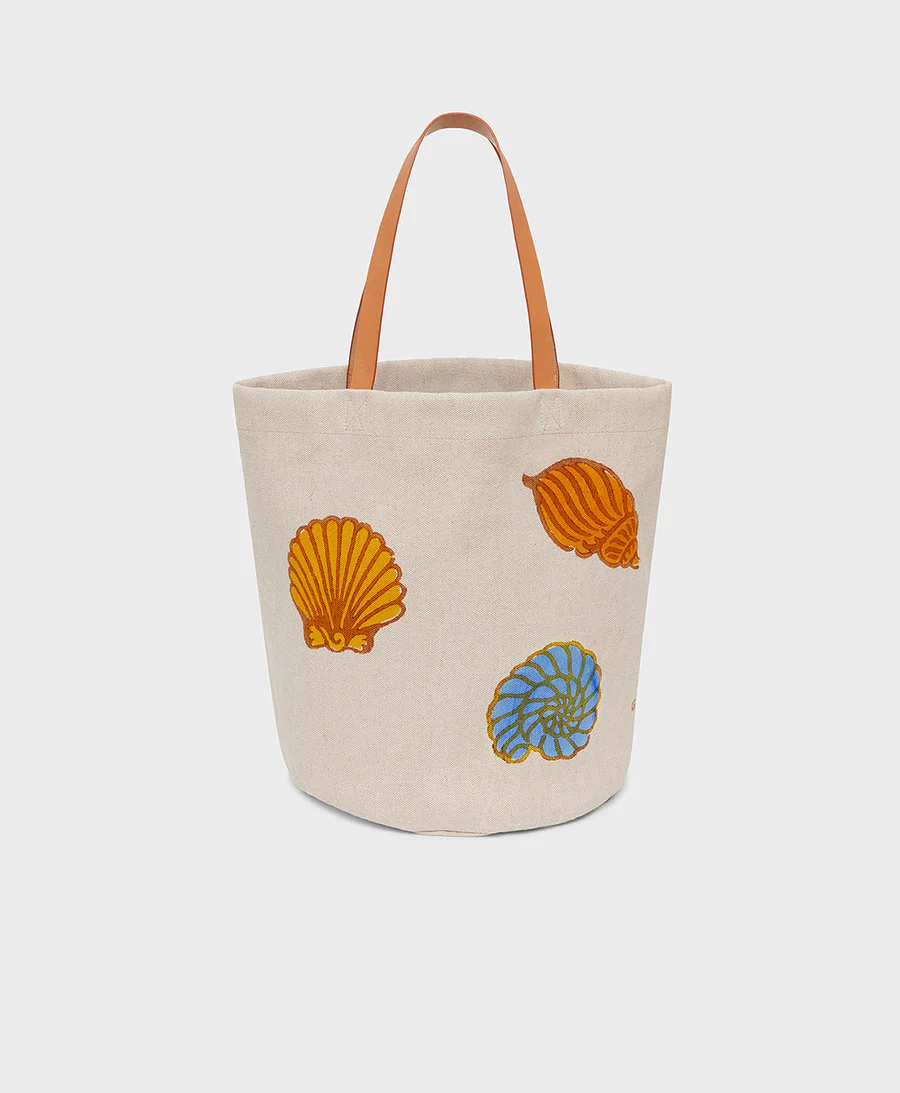 This canvas bag with seashell designs is perfect for all your essentials at the beach or pool. Image courtesy of Mansur Gavriel.
The seashell design of this Pascucci tote bag is perfect to bring to the beach or the pool! It's constructed with fabric canvas and features vegetable tanned leather handles and hand printed seashell designs. This is sure to be your go-to beach/pool bag for many summers to come.
Mini golfing
This is a great date night activity that you can do no matter where you live. It's also no longer strictly relegated to the summer months either, as more and more areas are getting putt-putt places that are indoors and designed for all seasons. Challenge your partner to a little friendly competition with this fun date idea!
Mansur Gavriel shoes to wear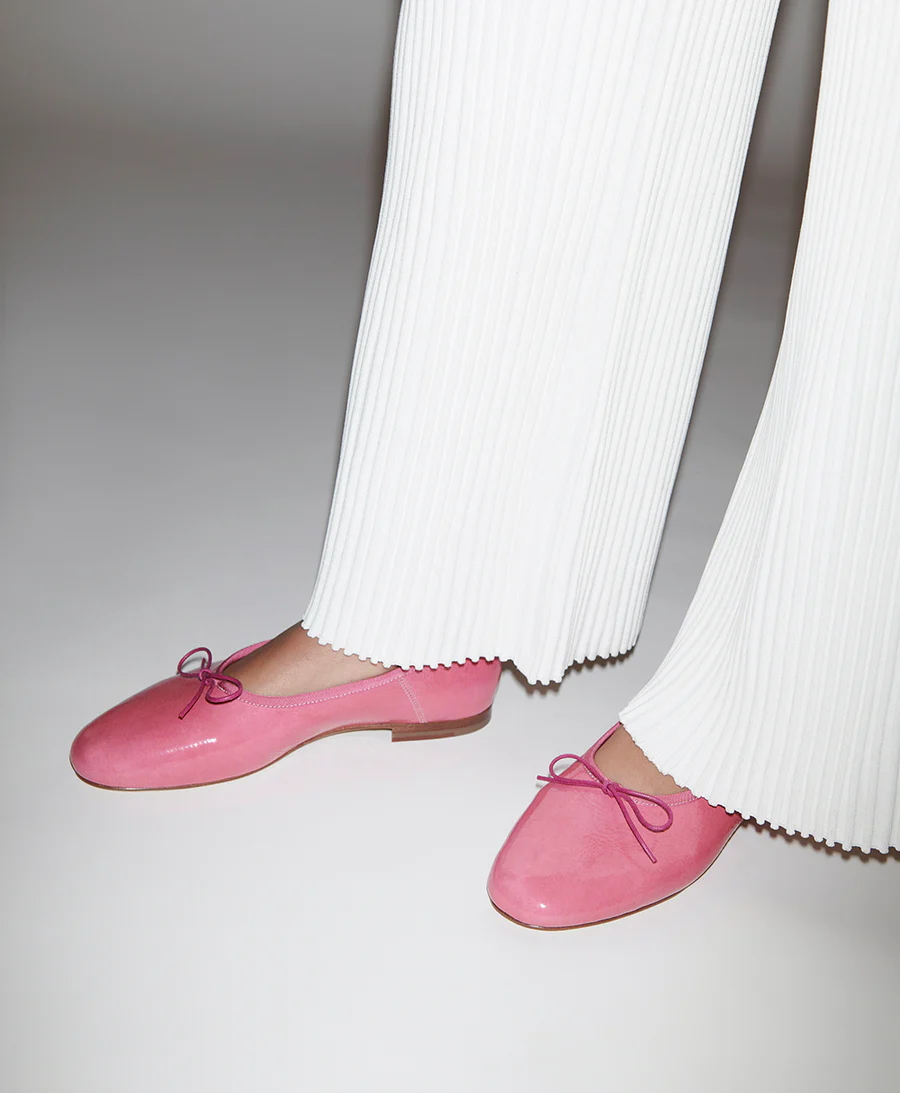 The low stacked heel on these flats make them perfect for a game of mini golf! Image courtesy of Mansur Gavriel.
Mini golfing requires you to stay on your feet until you finish the course, and what better way to be stylish and comfortable than with the Dream Ballerina flat? This flat is made of Naplak leather and has a beautiful glossy finish. The bow tie is a nice addition, and since this comes in a variety of colors, you'll have no problem matching it to any date night outfit.
Mansur Gavriel bag to bring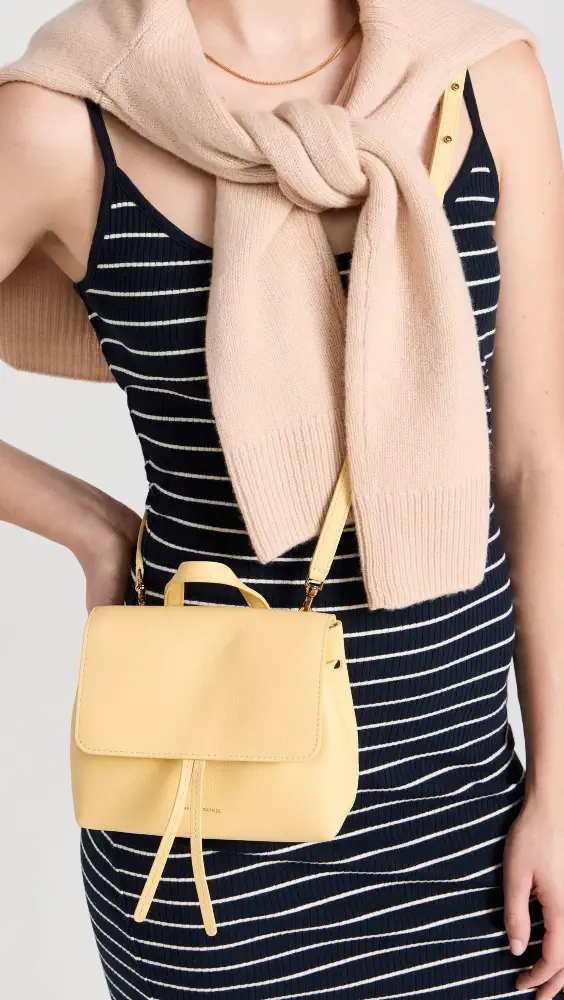 Have a date where you need to have free use of your hands? Then the soft lady crossbody bag is for you. Image courtesy of Shopbop.
You're going to need to make sure you have your hands free as you're putting along the golf course, and what better way to do that than with the mini soft lady bag? This crossbody bag is made from calfskin and has gold toned accents, a fold over closure, and suede lining. Keep your phone, wallet, and other essentials safe and secure as you enjoy your mini golf date!
That wraps up our list of what Mansur Gavriel items to wear on a date!
It doesn't matter where you and your partner decide to go for your date, as long as you have fun…but dressing stylishly in Mansur Gavriel shoes and bags can't hurt at all!