Steve and Sarah's wedding is yet another DIY gold mine. With romantic and modern touches, this gorgeous union made for a fun and bubbly wedding. From their color scheme down to the decors, this wedding is definitely an inspiration to our brides-to-be that would love some DIY on their big day. You can see it in the gallery — kudos to their photographer for capturing the details! Read more to get the details of ever little bits.
Album Story:
I think if I could sum up our wedding pictures in one word it would be "FUN!" We had a blast taking them, and our photographers were so easy to work with. I was so glad we did a "first look" so that we could relax and enjoy the rest of the day with our family and friends. We have a silly group of friends, and our entire wedding party gets along great, so the limo ride and picture taking was like one big party!
Our Story:
Steve and I aren't natives of Nashville. He is from Chicago, and I'm from Southern Illinois and we both moved here in 2010 to find work after graduating college. We met through a mutual friend when they helped my roommate, and I move into our new apartment. We were both in other relationships at the time, but became instant friends and had a great time exploring our new city. A few years and a lot of life changes later, we found ourselves together more than we were spending time apart. We have always been and continue to be the best of friends!
We Are A Perfect Match:
We are the perfect match because we have the beautiful foundation of a solid friendship. When we met, we weren't dating right away, so there was no pressure to pretend to be "perfect" to fit the mold of an ideal girlfriend or boyfriend. We just naturally loved spending time together. When we became more than friends, I felt like we already had so many memories and such an incredible foundation. We have always been able to tell each other everything, and that continues to be the basis for our marriage.
The Proposal:
Steve proposed on a mountaintop while we were hiking on Chattanooga, TN. I was hoping the proposal would be coming soon, but he completely caught me off guard by proposing on a weekend getaway trip that I had planned!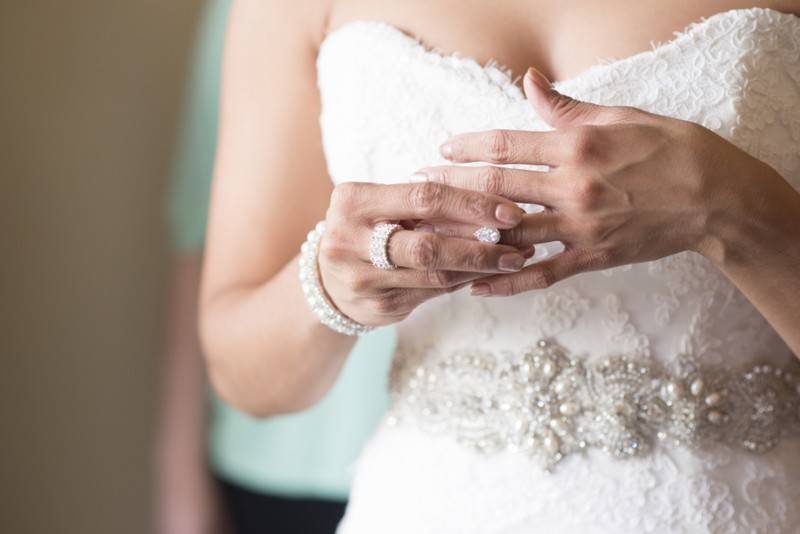 The Theme:
I chose not to have a theme and instead to focus on various elements that I was in love with. We wanted both of our personalities to shine throughout the whole event while giving our guests a taste of the city where we fell in love. Because we had a lot of out-of-town guests, it was important to us to have the wedding downtown, right at the heart of our favorite city. We chose our caterer because it's our favorite local BBQ joint!
The Wedding Décor Inspiration:
Our wedding decor was a mix of romantic and modern. The venue was right in the middle of downtown Nashville, so some of the most rustic decorations that are so trendy right now might not have worked. I tried to let the venue and the surroundings (hello, Nashville skyline!) speak for themselves and didn't want to "over decorate." It worked out well because I didn't blow a lot of my budget on decorations, but everything was still beautiful.
The Do-It-Yourself (DIY) Projects:
When I started the planning process, I wasn't planning on doing many DIY projects. As things progressed, I ended up doing more and more!
Wedding Backdrop – my mom, MOH, and I made the backdrop for the ceremony. I wanted something soft and romantic behind us to block out the arena in the background. It worked out perfectly! We attached the curtains to the metal frame with floral wire and then added the floral accents. We added some boards to the bottom for support and accented them with large candle holders.
Menu Cards – this was time-consuming, but I was super proud of them! I hand lettered cards to sit on the buffet table using supplies from the craft store and the Internet for inspiration.
Fan/Programs – This was my favorite DIY project. I created the programs using design software and had them printed at our local UPS store. My MOH and I then used store craft supplies (Popsicle sticks, cutters to round the edges, and mod podge) to assemble the fans. We got a ton of compliments on these!
Centerpieces – one of the simplest things was cutting some floral garland to go in the candle holders. It dressed up the floating candles and was so easy to do.
Hair Clip – I looked and looked for a hair clip to put in at the reception once I was done wearing my veil. I couldn't find anything that I loved, and some of the pieces for sale were pretty expensive. I ended up making my own with a hot glue gun and some supplies from the craft store.
Planning Advice For Couples:
My advice to couples planning a wedding is just to stay true to yourselves. It is easy to get lost in everyone else's opinions, but try to remember that the day is also about the two of you! It will hopefully be the only wedding day you have, and you have to make the most of it. It's ok to be a little bit selfish!
The Planning Process:
We didn't waste any time once we were engaged! He proposed at the beginning of April, and we were married August 29, 2015 – so about 4 1/2 months start to finish! It was enough time for planning, but spreading it out would have helped financially!
The Best Advice We Received:
The best advice I received was just to be present. It is easy to get swept up in the little details and lose focus on what's important. I tried to keep in mind that despite all the planning and hard work that goes into the wedding, the bigger picture is about the symbolism of marriage and beginning a life together as husband and wife.
Tips & Tricks For Future Brides:
I think the best wedding "hack" for staying as stress-free as possible is to take help when it is offered. You cannot and should not do this all alone! Chances are you know someone who is dying to lend a hand, and you should let them! Another thing to remember is to do your research before booking your vendors. The best reference is a personal one.
The Challenges We Faced:
One of the biggest challenges for us was the guest list. We were so in love with our venue, but it only held 150- 175 people. We had to trim and narrow the guest list several times to stay within the capacity limits. It was hard to leave some people out, but in the end it all worked out ok!
The Outfit Inspiration:
I love soft, romantic colors for weddings, and just fell in love with the color of the girls' dresses. They all have different body shapes, and the style and color of the bridesmaids' dresses flattered them all so well. Picking the outfits for the guys was a bit tougher. It was one of the few details that Steve wanted to have a say in, and at first, I had trouble visualizing the outfits. I initially wasn't sold on the idea of white jackets with the gray pants, but once the guys started texting me pictures of their outfits when they tried them on, I knew Steve made an excellent choice, and I was glad I trusted him!

Money Matters:
We paid for most everything on our own, and were in the middle of buying a new house while planning the wedding, so it was important for us to keep the costs down. Like many couples, we exceeded our initial budget of $10,000, and total wedding costs were closer to $15,000. Although we could have cut more costs to stay closer to budget, I was jubilant with the choices we made and the overall result. Looking back, I wouldn't change anything to cut costs.
We saved the most money by not having a full open bar. It can get very expensive, and we still felt like our guest had a great time!
The biggest expense was the venue… But we were absolutely in love with the idea of a downtown rooftop wedding, and it was worth every penny!
The Guest List:
We invited between 200-225. Our venue capacity was 175, but we were shooting for 150. It was hard to narrow down the guest list because we both have large families and a lot of Nashville friends. In the end, we pretty much nailed the guest count around 160.
The Songs:
Our Honeymoon:
We haven't taken our honeymoon yet! Between paying for the wedding and buying a house, we needed to save up a little more! We are planning to go to Belize in January and could not be more excited. Knowing that we still have one last wedding event to look forward to has been fun!
We Are Excited About:
We are just excited to settle into our new lives as husband and wife in our new home. We have been through a lot of changes as a couple over the past two years (grad school, engagement, home buying, wedding, etc.), and we're excited to have some free time now just to enjoy each other!
Favorite Part of the Day:
I have two! The first look was so special and emotional. It was the only part of the day where we were alone, and it was just Steve and I. Looking back, it is one of the parts of the day that stands out. The other part was when my dad read a special prayer that he wrote asking for protection over Steve and the other police officers that were present. There wasn't a dry eye in the venue!
The Highlights From The Ceremony & Reception:
The biggest highlight from the ceremony was my dad's prayer for the police officers present. He prayed for protection and courage for them and comfort for myself and the other police wives. It was very touching and such a personal part of the ceremony. The highlight of the reception was the sunglasses we bought as party favors. People were wearing them all night long, and they look so good in the pictures!
Most Memorable Moment:
We have not stopped hearing about the venue. I feel like that was the framework and set the tone for the whole day. Our guests have raved about how cool it was to be on the rooftop and the pictures with the Nashville skyline were amazing. Another thing the guests loved had the ceremony and reception in the same place. We had s lot of people thank us for that!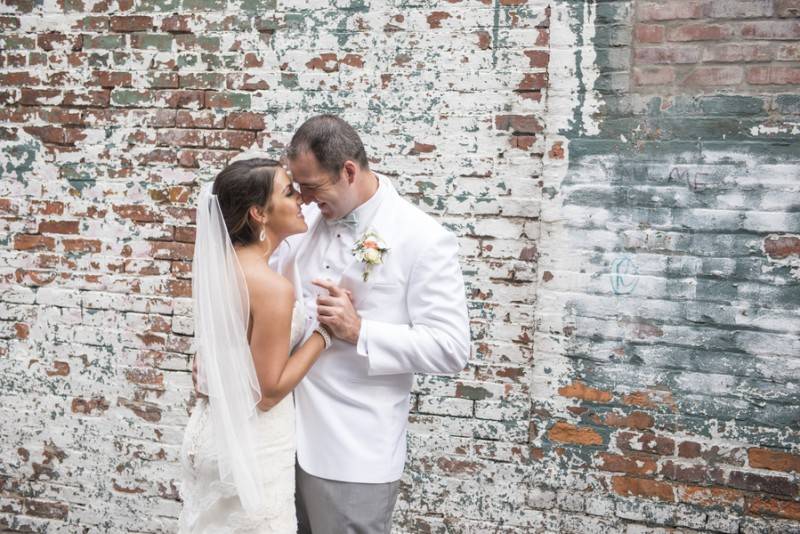 VENDORS
Photographer: Ivory Door Studio
Reception Venue: Aerial Nashville
Ceremony Location: Aerial Nashville
Officiant: Brandon Rich
Caterer: Edley's Barbecue
DJ: Greg Walker
Tuxedo and Mens Attire: Men's Wearhouse
Dress Store: Petals & Lace
Second Shooter: Rebecca Denton Photography
Floral Designer: Rosebuds East
Hair Stylist: Salon Nfuse
Bakery: Sue Martin Cakes
Event Planner: Weddings by Kalyn