One of the great things about having an outdoor wedding is the ability to be creative with the décor,  especially the lighting options, to give your event the look and feel that you truly want. However, if you're planning to have either your wedding or the wedding reception outside, there are some extra considerations to take into account to ensure that the event is memorable for all of your guests. For example, it's important to take into account things like the weather conditions, any exterior noise that could make it difficult for your guests to hear the ceremony, and most importantly, having proper lighting, so that everyone can enjoy the event.
Lighting is often overlooked, but it is especially important to set the feel of the event. Besides that, you'll want the guests to be able to get around without bumping into each other. Here are four different lighting methods that will look great for your wedding.
Paper Lanterns
Paper Lanterns are a simple and elegant lighting option for an outside wedding. They can be used to light individual wedding tents or can be strung up with other types of lights. While this option is incredibly versatile, it is especially equipped to bring innocent charm to a contemporary-styled event. Although paper lanterns come in a variety of shapes, colors and sizes, the most traditional shape is cylindrical. You can find paper lanterns in bulk from all shapes in sizes from places like Oriental Trading.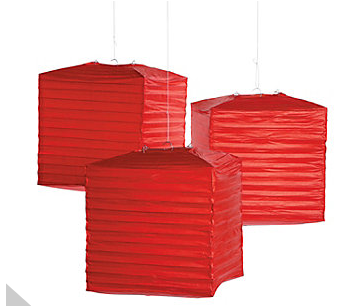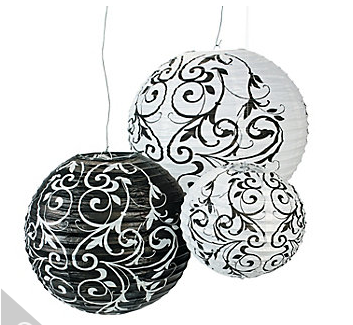 When choosing this type of lighting, ensure that you double check the size dimensions with the vendor, and don't rely on the product image in a catalog. Advertisements can be exaggerated, and the actual lantern may be smaller than it appears in a picture. Remember that these lanterns are made from paper, so if you use them with real candles, there's a risk of fire, especially if someone inadvertently knocks them over.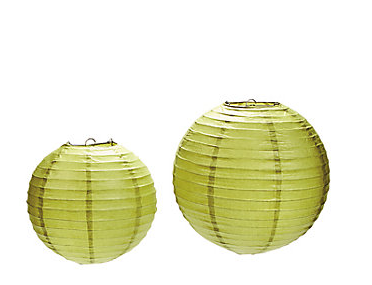 Prices for paper lanterns normally start at $2 per lantern and, depending on your space, you would need quite a few to add sufficient light to your reception area. Keep in mind that a paper lantern will never provide as much lighting as a light bulb, so consider the time of your wedding in your decision, as you would need many more lanterns for an evening ceremony, as opposed to one occurring at dusk.
Fairy Lights
Add more "stars" to the night sky by stringing up some lights (referred to as Fairy Lights) from tree to tree, or within the inside of a canopy or wedding tent. Fairy lights tend to give a more romantic feel to the entire evening, and are a perfect lighting solution to outdoor weddings at backyard venues, as well as parks, where there would be plenty of trees to string rows of lights across the dance floor and dining area.
Fairy lights are also an excellent choice when you want to accentuate a central point at the event, such as a fountain or a sculpture. For added effect you can cover the lights with colored fabrics to create a more radiant glow, and a beautiful backdrop for displaying your first dance together among family and friends. Keep in mind that when using smaller tear drop shaped bulbs, the area will be cast in a glow of glitter, and if you choose to use larger (round shaped) bulbs, your guests will be treated to an ambience similar to dinning at a fine restaurant.
However, there is one big aspect that is often overlooked by couples considering fairy lights for their wedding – a reliable power source. These lights need electricity to function, so make sure to either purchase battery-operated lights, or ensure that there is a reliable power source nearby where you can plug them in. If you are interested in a cordless, ecofriendly alternative, you might want to consider using solar Christmas lights, available at Taylor Gifts.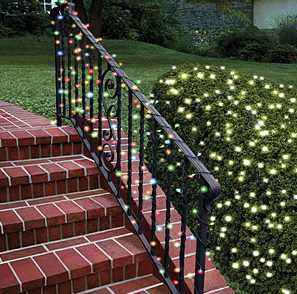 Candlelight
Candle light is the original light bulb, and has long been a symbol of intimacy and romance, which makes it one of the more preferred options to light up your wedding reception space from the perspective of creating the right ambience. However, keep in mind that using real wax candles in an outside setting can be a challenge. For example, you may encounter unpredictable gusts of wind, or guests that may have had too much to drink, and therefore will need to prepare for dealing with the potential dangers of an accidental fire. The good news is that there are decorative see-through and fire resistant bags that will surround candles, to reduce chances of an accidental fire, but they can get quite costly.
Perhaps you want the look and feel that candle light provides, but are still concerned about using real wax candles and a potential fire, then LED (battery operated or solar powered) candles are available and can be a great alternative. You can take it a step further, and mask the LED candles with a frosted glass votive to create the believable illusion of real candlelight.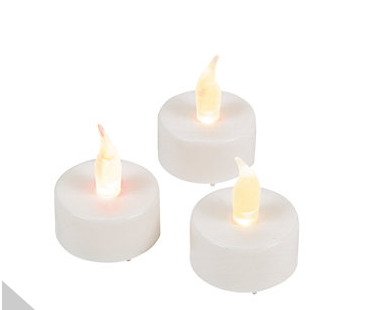 Chandeliers
Outside chandeliers are a good option for bringing the grandeur of an indoor ballroom to an outdoor event. The options are endless, and are limited only by your personal taste and creativity. For example, a traditional crystal chandelier is beautiful and awe inspiring, if it is placed outside, it will create a magical feeling because of the dissonance between the look of the chandelier and the fact that it in an outdoor setting. You also have additional options, because chandeliers can be created from mason jars, candles and even large sea shells.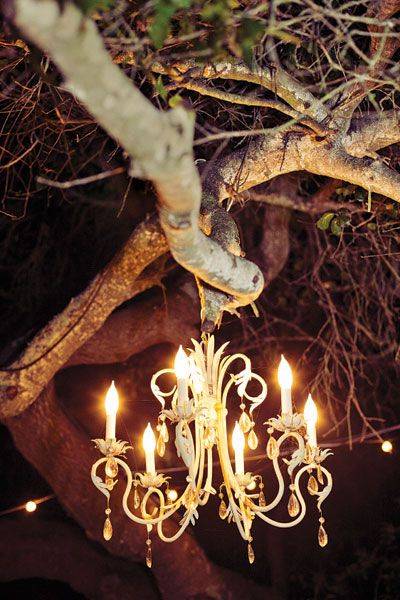 The great thing about chandeliers is they are not limited by the theme of your wedding, as they can be tailored to your specific vision. The downside is that they can be a somewhat difficult to set up, because of their weight and dimensions. Setting up a chandelier is not like setting up a string of lights. Also, with a chandelier, you need to make sure you have a dependable power source, which can sometimes be difficult in an outside setting.
Lighting is an important of any wedding because it doesn't just set the right mood for your special day, but is also important for the safety of your guests. You want to make sure that there is sufficient lighting for them to dance and walk around without bumping into things and potentially getting hurt. At the same time, lighting can be used to make a bold statement and to accentuate certain areas. Therefore, carefully consider all your options depending on the time of day your wedding is taking place and the specific aspects of your venue (whether it has trees, whether it is prone to unpredictable gusts of wind, etc.).