You know I'm a fan of SUGAR! I'm also a fan of entrepreneurs and startups. You'll find the perfect combination of the two with Chocomize!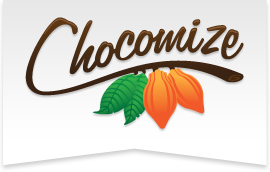 Nick from Chocomize contacted me a while ago and offered me some samples of the AMAZING chocolate bars they make. I had fun picking out the types of chocolate I wanted and all the good things to mix in. They carry selection of nuts and seeds, fruits, herbs and spices, candy, and other decorations. Check out a few below.
Here are a few pictures of the goodies I received! I picked out a white chocolate bar with oreo cookie bits mixed in. Brandon (the beau) opted for milk chocolate with peanut butter chips, chocolate and peanut butter candies, and gold flakes. Yes, gold flakes (how totally awesome is that?!).
The guys over at Chocomize are more than happy to work with brides and grooms to come up with something special for weddings! Couples can customize to their hearts' content and even design the packaging to have pictures, messages, or, well, just about anything they want. Side note: orders of over 50 bars get a nice little discount.
If you're interested in designing your own goodies, click over to Chocomize, or find them on Twitter and Facebook. Also check out their blog – tons of fun things like the History of Chocolate and the Story of Saint Valentine.
If you place an order, type 'Valentine' into the coupon section of the checkout to receive free shipping!