It's funny how from simple crush things could end up with a wedding! Brendan and Nicole's story is one those of we see in the movies. They even had a meet-cute in an elevator, I mean if that's not fate I don't know what is. Follow their journey that led to this wedding feature from the bride herself.
Our Story:
We met in college. I (Nicole) saw a picture of him before college from a friend and I had a crush so I was anxious to meet him. Luckily for me, I moved into my dorm and quickly learned that he lived only 1 floor above me and we had "Intro to Theater" class together. Fate then took its course and we developed a friendship which quickly grew into much more. We have been inseparable ever since!
We Are A Perfect Match:
We are complete opposites! Brendan loves sports and I love to read. He is super tall and I am only 4'11"! We complement each other though, I never need to worry about not being able to reach something because I have him and he never needs to worry about fighting for the TV remote to watch his games because my nose is always in a book!
The Proposal:
It was a midweek surprise after work to catch me off guard (After 5 years a girl starts to get suspicious…). I got home from work and was greeted with a very intimate proposal, of course, I said yes and called out of work the next day to start the planning!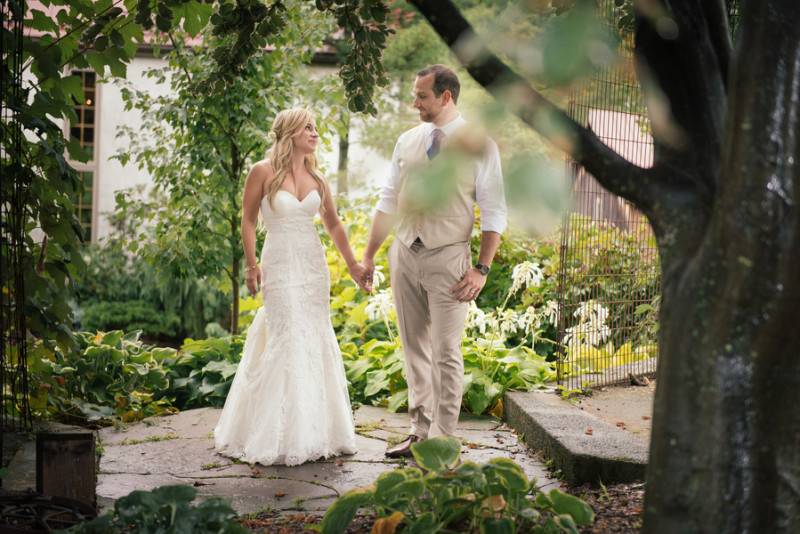 Planning Advice For Couples:
Laugh through the things that don't go as planned… The party will only last 1 day but your marriage is forever.
The Planning Process:
The planning process was about a year and half. We both felt that it was the perfect amount of time to enjoy the planning process and save for all of the expenses without being stressed out.
The Best Advice We Received:
Have a sense of humor throughout it all! You can plan your heart out but not everything will go your way. Try to enjoy every part and laugh through the crazy parts.
Tips & Tricks For Future Brides:
Use Pinterest and don't be afraid to try DIY projects. Remember, Bridesmaids are your helpers! Our photographer, Pete Mackey was just awesome to work with and I would highly recommend meeting your photographer and doing engagement pictures with them so you get to know their style and they know yours. We got to know Pete over the year and a half of planning and he became a friend. It was calming for me to have him there on our wedding day because he knew how to make us laugh and how to make us look good on camera!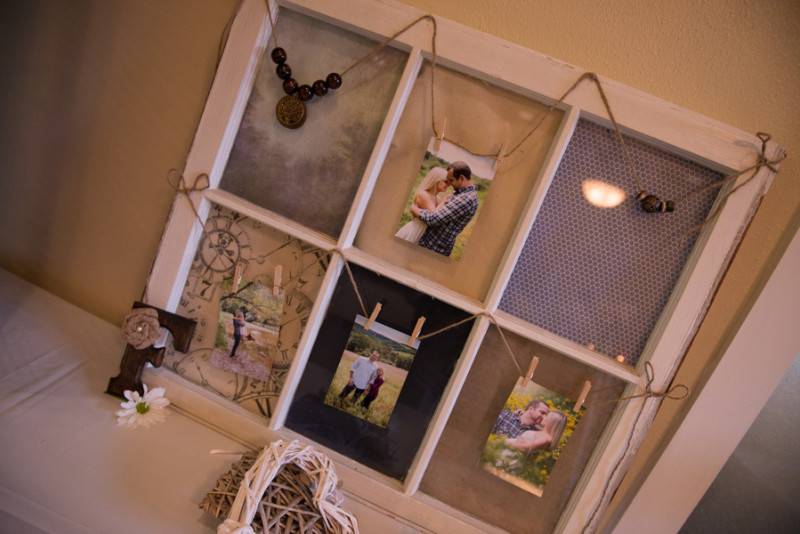 The Challenges We Faced:
I think the biggest challenge is to enjoy your big day and take it all in. On our wedding day it ended up raining like crazy and our reverend didn't show up because he had to have emergency surgery. Don't worry, a backup will show up and the rain never stopped anyone from having a good time! Be prepared for your plan B (indoor ceremony in our case) and remember – the best part is you get to marry the person you love the most in the world.
The Theme:
Rustic
Wedding Day Outfit Inspiration:
It was a rustic venue and we wanted everything to be simple and classic.
Wedding Décor Inspiration:
We got married at a bed and breakfast on a farm. Our decor was rustic and simple and that is what I always wanted. I stuck with white and navy blue and felt everything about it was classic and timeless.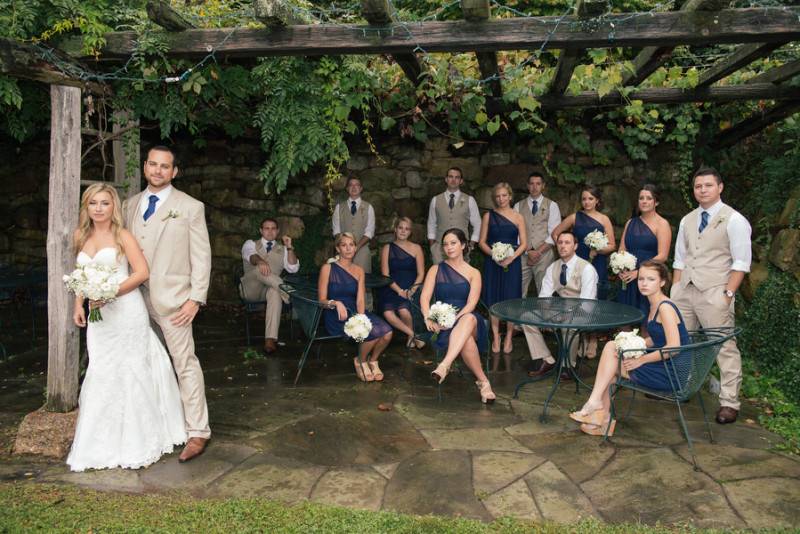 The Do-It-Yourself (DIY) Project:
YES! All of the decorations – wooden wedding signs, the place cards (used old shutters as the holder), and all of our guests had a personal note from us when they sat at their table.
Money Matters:
The wedding budget was 25,000 – it is possible ladies!
I think with decoration we saved- DIY projects really help. Also, we were lucky enough to have family who does videography and baking so we got some good deals. 🙂
The venue, of course, was the biggest expense.
The Guest List:
We invited 150 and ended up with 130 guests.
It was not hard for us, we invited everyone that we wanted to.
The Songs:
Turning Page by Sleeping at Last – Yes, I heard it from the Twilight movie… 🙂
Excited About:
Marriage. Having that one person to do all of the "big" things with. Buying our first home (which we just did!) and filling it with kids!
Favorite Part Of The Day:
The ceremony- many things did not go according to plan on our wedding day but when we met each other at the altar and said our personal vows it could not have been more perfect.
The Highlights From The Ceremony & Reception:
Ceremony – Personal vows- there was a not a dry eye in the audience!
Reception – The photobooth was a big hit and our DJ had everyone on the dance floor the entire night!
Most Memorable Moment:
Personal vows and the "farm to table" food was amazing!
VENDORS
Photographer: Mackey Photo & Video
Hair Stylist: Daneene Jensen & Associates
Reception Venue: Glasbern Inn
Dress Store: Jon's Bridal by Suzanne