Jaclyn ♥ Barry
When he's a nurse and she's a nurse, love can indeed lead to an incurable disease that will require intensive care. That was the case of Jaclyn and Barry and that made their story so exciting. Now, this is what we call love sick!
How It All Began
Jaclyn and Barry met in early 2008 while working at Mountain View Hospital in Las Vegas. Barry was a new grad RN starting his first day on the job, and Jaclyn was new to the day shift. Soon after, they would work together frequently and have the best conversations. They enjoyed each others company, and it made working a 12-hour shift go by quickly. Barry and Jaclyn discovered they shared a lot in common, including their love of all types of foods, a passion for the outdoors, and both wanted to move to California one day.
How He Popped The Question
Fast forward some time, and Jaclyn and Barry had been living in Southern California for four years. One of their favorite spots was a somewhat secluded part of Laguna Beach, called Thousand Steps beach. On a peaceful Sunday, they walked and talked taking in the fresh ocean breeze. The tide wasn't too high at that time of day, so they walked through a little cove. Barry sat Jaclyn down on a rock in the cove and proposed. At first, Jaclyn thought he was joking, but realized he was serious. Then she said "YES"! It was one of the happiest moments of their lives.
Extra Special Details
The wedding venue. Las Vegas was the place of choice to celebrate their wedding. More specifically, the beautiful Saint Joseph Catholic Church and the Las Vegas Country Club.
The wedding outfits. Jaclyn showcased an elegant lace gown, and her bridesmaids wore floor-length blush dresses. The guys also looked super sharp and cool wearing their custom made and matching grey Lakai sneakers. And let's not forget about Luke, their adorable toddler, showcasing a red bow tie and suspenders.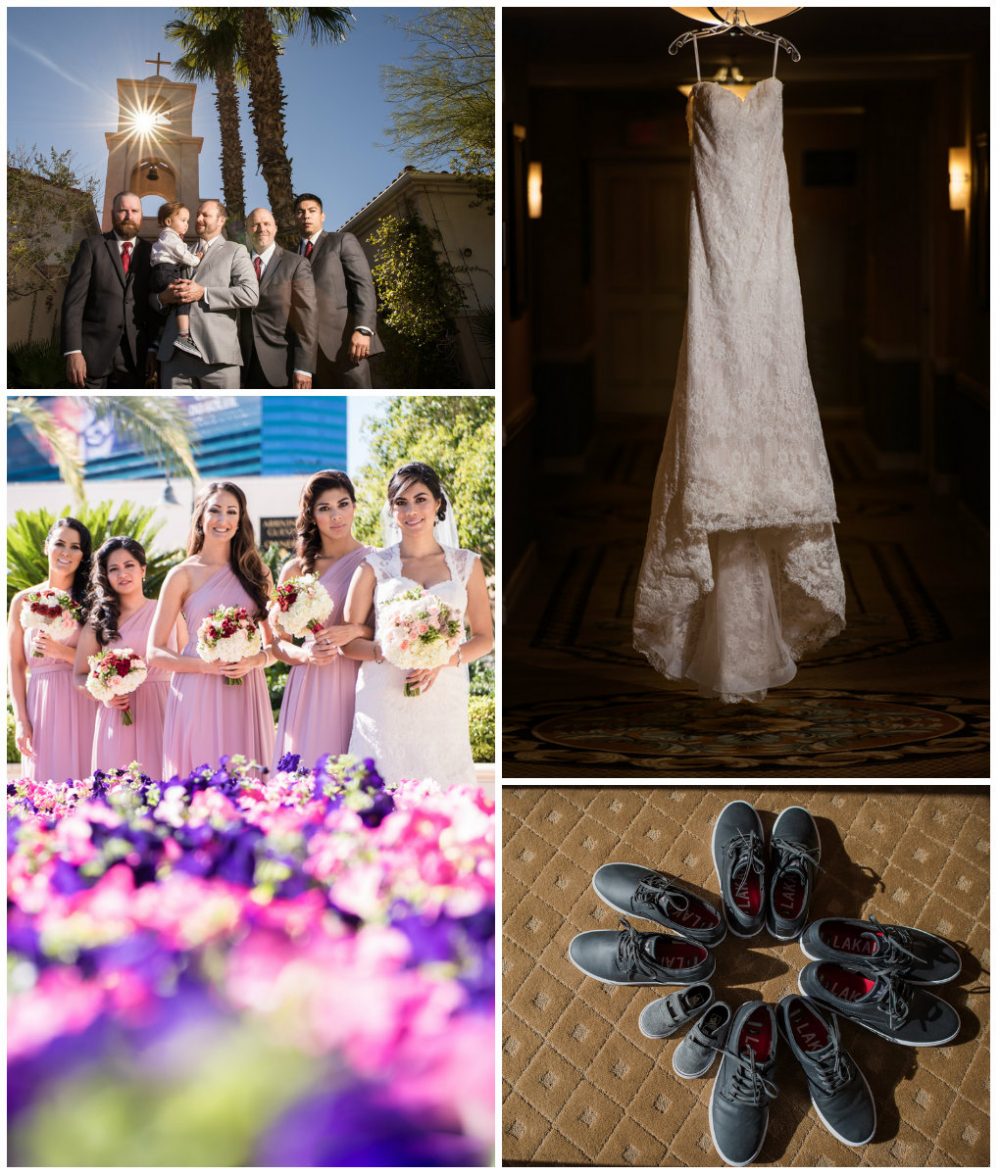 The DIY projects. The sign-in wood palette was very special to the couple as her brother-in-law and sister made it. Using their engagement photos as the table numbers also gave a special touch.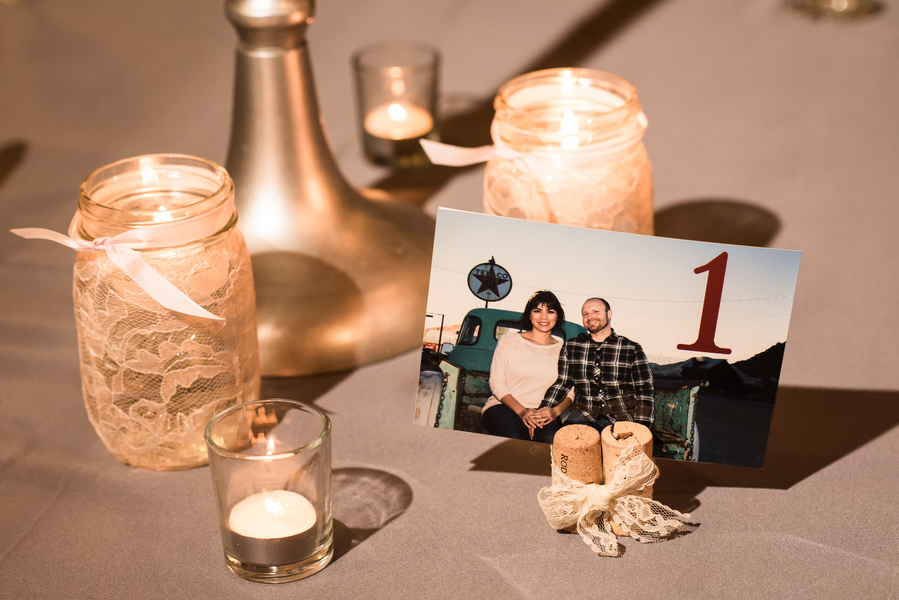 Their son.  Luke was part of the wedding as ring bearer. He also joined everyone on the dance floor later on and had a blast.
The wrap-up. After they both had said I do at Saint Joseph, we stayed for a few photos and headed to the Las Vegas Country Club. The reception was held indoors, and it featured fantastic views of the golf course. The cupcake tiered cake and florals looked gorgeous with the grey and blush palette. The night was filled with great speeches, lots of love, and kids rocking the dance floor along with the guests.
The Bride's Advice
♥ Have a "day of coordinator" to help ease the events of the day and keep track of time.

♥ Stick to the budget.

♥ Make sure as future husband and wife, you are on the same team, after all the big day is about the happy couple. Plan the wedding and the details according to the couple's own wants, needs, and expectations, not those of everyone else, including parents of the bride and groom!

♥ Most importantly, have fun with it! Unforeseen things WILL happen, just go with it and ask for help when feeling overwhelmed!
Money Matters
$20,000 – $45,000
VENDORS
Photographer: Fabio and Adri Photography
Hair Stylist: Steeve Danielle
Floral Designer: ACS Floral & Events
Shoes: Dune
DJ: Knight Sounds Entertainment
Other: St. Joseph Church
Event Venue: The Las Vegas Country Club