One perk of writing a blog? Free stuff! I got to pick out a few cute little items from INKtastic and I just had to show them off!
As a newly engaged person myself, I said "why not" to one of those Future Mrs.s shirts. I think it came out quite well!

AND! Probably the more cute of the two little goodies I got to pick out (and this is for a family member, not us)…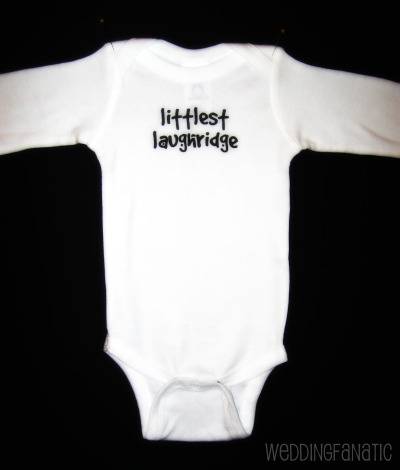 Too cute, isn't it? INKtastic has tons of cute customizable options – something for brides and grooms, bridesmaids, groomsmen, flower girls and ring bearers, parents, whomever! Shirts, tanks, totes, even customizable unmentionables.
Everything was super easy to pick out and customize, and my order arrived in just a few days. The quality is great, too – something I always worry about when ordering online! The site is actually a family owned business and I love the words they sell by – "If we wouldn't buy it, we won't sell it."