We are so happy to present to you this glorious engagement session for today's feature. Held at the home of a wealthy silver heiress and more recently the movie set of films such as The Great Gatsby (1974) and True Lies (1994), Rosecliff  is the Newport mansion where Ashley & Anthony decided to have their engagement session. The place was truly stunning with it's magnificent estate grounds and beautiful landscapes. Although it was chilly, the site looks perfect for a warm and intimate engagement shoot. Consider these photos captured by Hancer Photography as evidence for this wonderful location. Enjoy!
We're All About the Details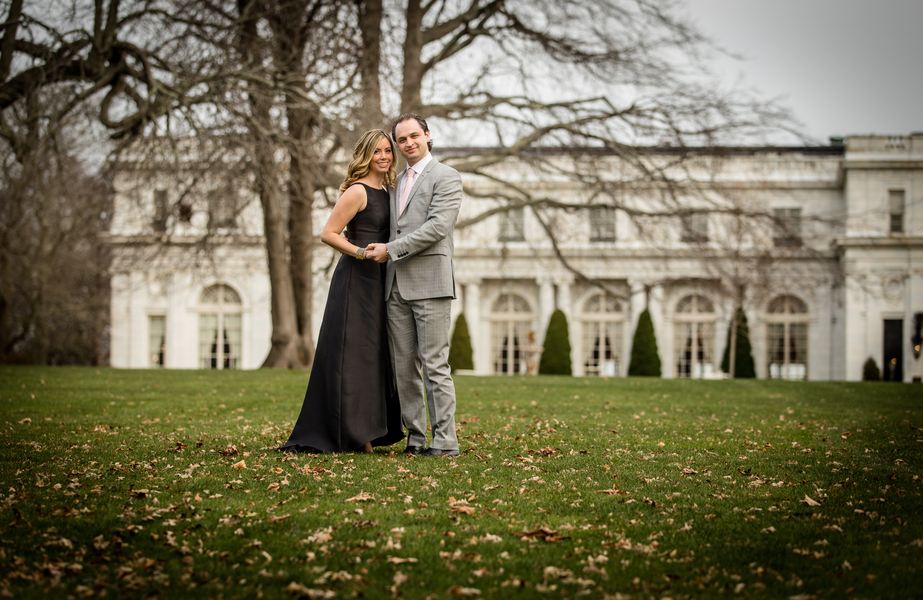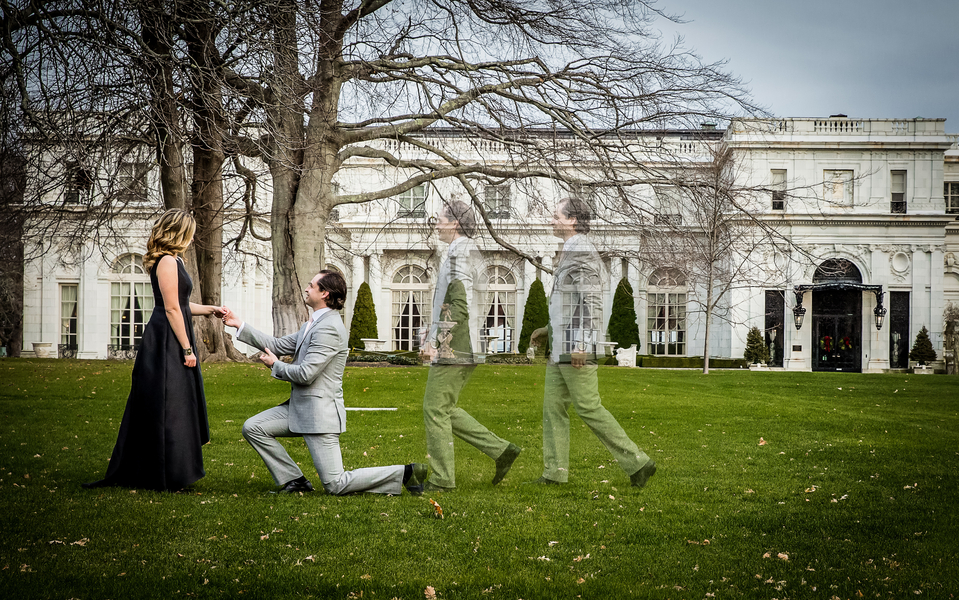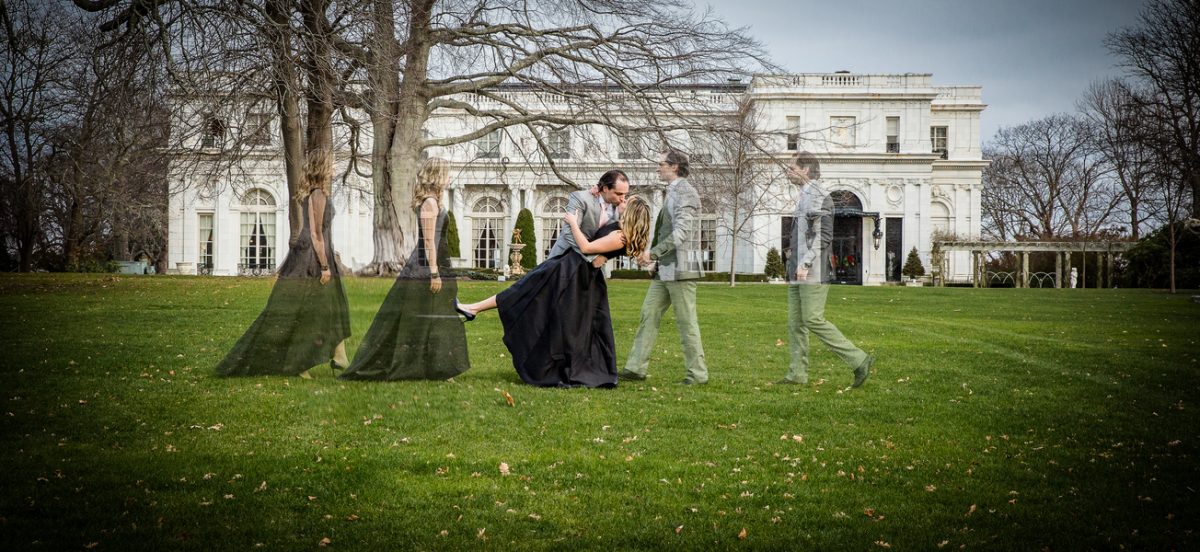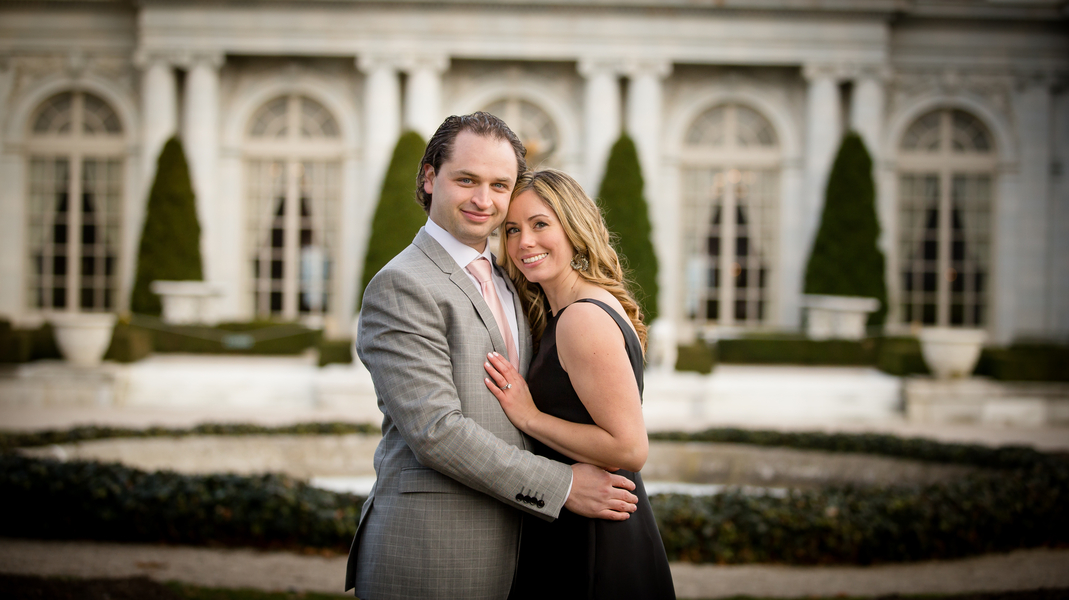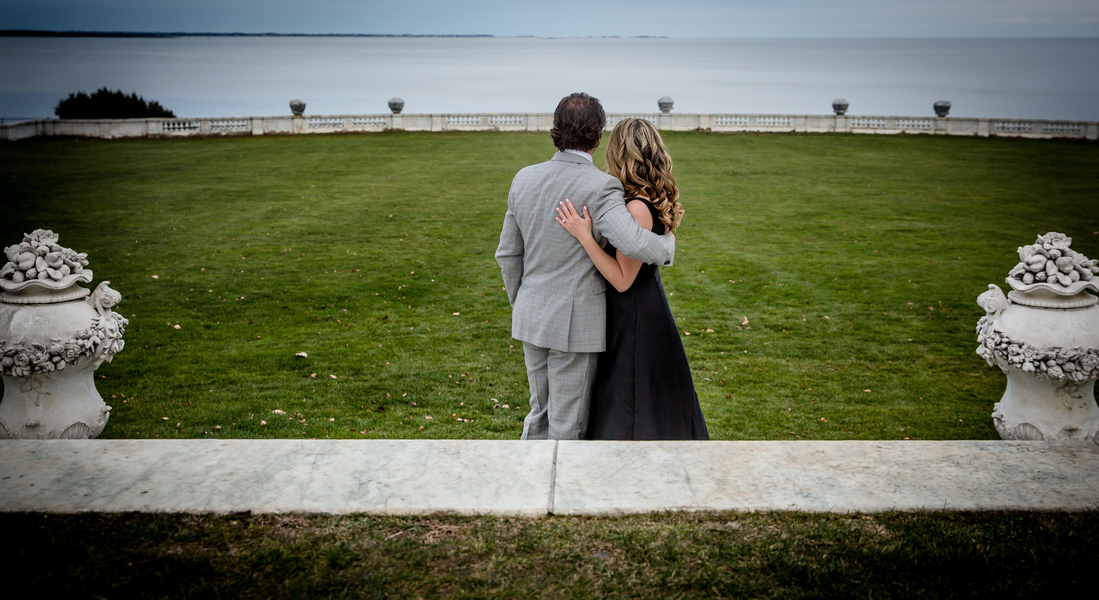 The location was incredibly elegant. Ashley's choice of dress was perfect. The black complemented, yet contrasted so well with the gray tones of the Rosecliff Mansion. The style of her gown also was very much in line with the atmosphere of this historic Newport landmark.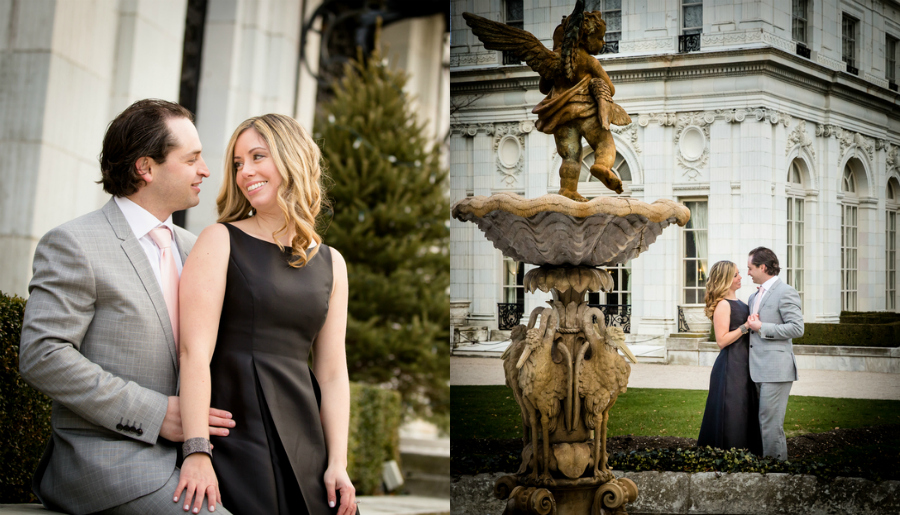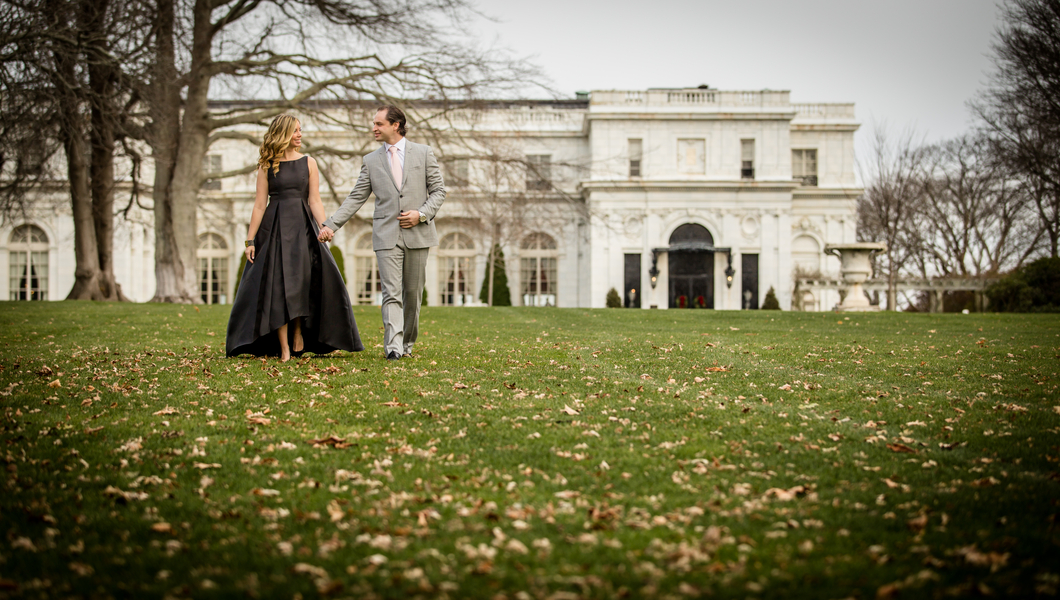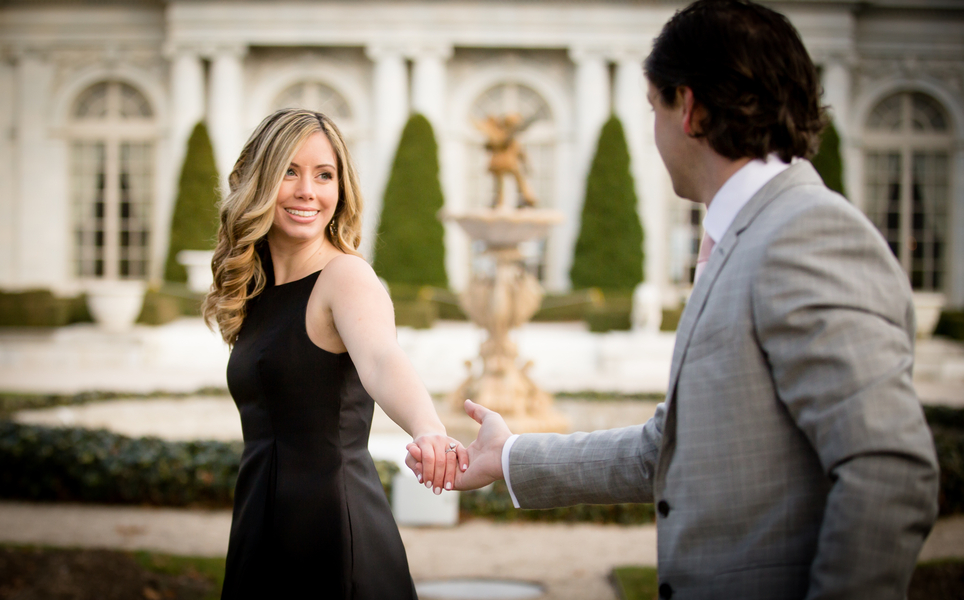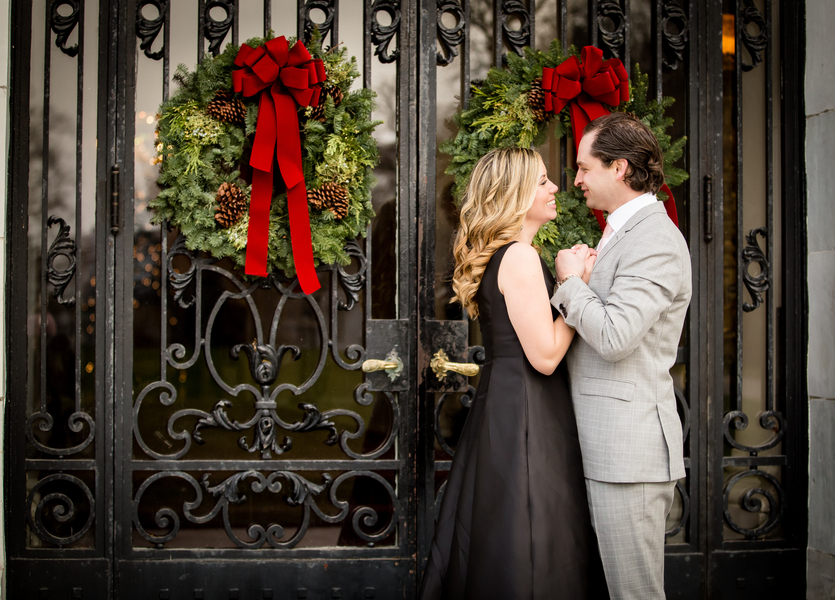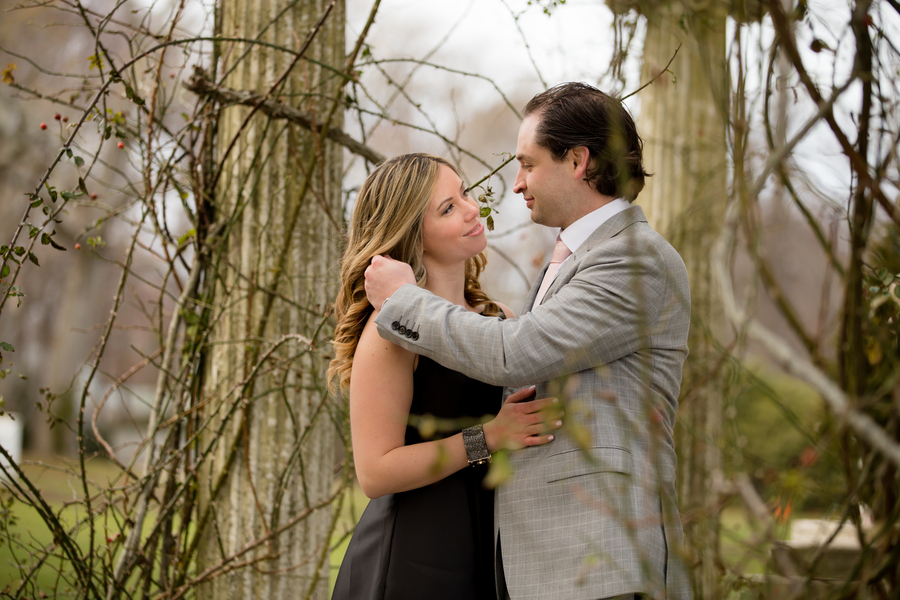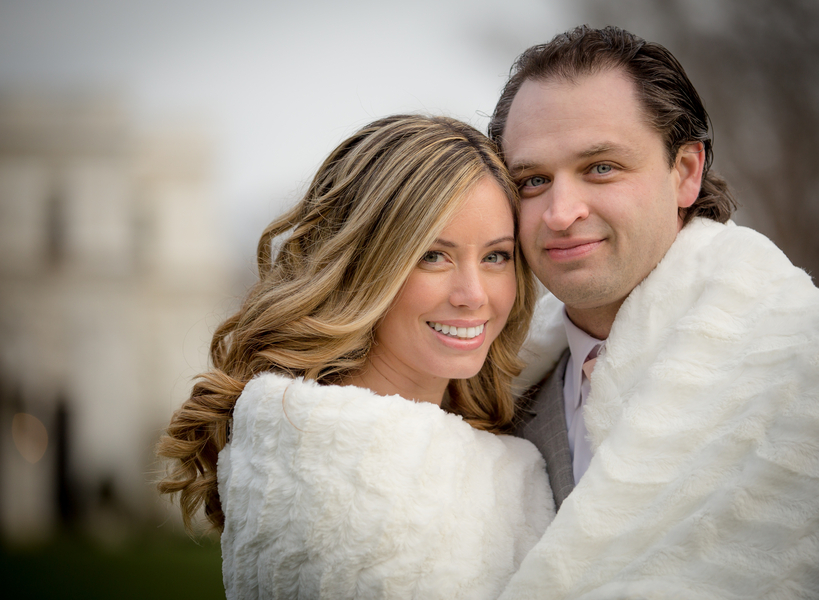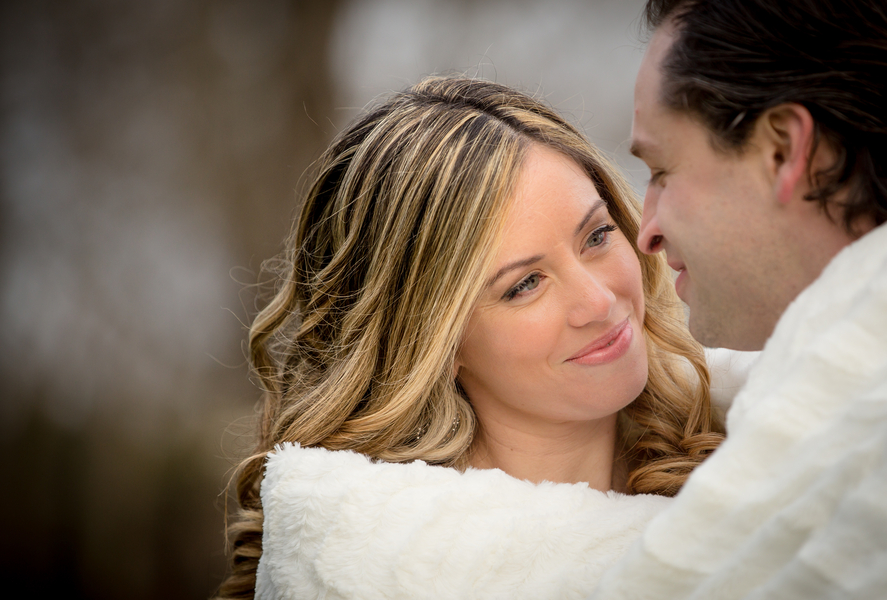 From the Bride
We knew we wanted to do an outdoor shoot that had a dramatic architectural back drop. We spend a lot of time in the summer in Newport so the city itself had meaning. The Rosecliff had plenty of different locations on the grounds for the shoot that tied into the look we were going for. Anthony and I were set up on a blind date by my aunt Michelle and his mom Debbie. Our families had been friendly for years but Anthony and I only knew each other from when we were little. On our first date we hit it off right away. We talked for hours getting to know each other. Our relationship moved pretty quickly after that. We fell in love and moved in together after only a couple of months of dating. It was just so effortless between us. We were comfortable being ourselves around each other immediately. There was never that awkward period of adjusting to being around each other. That's when we knew we were soul mates and meant to spend the rest of our lives together.
About the Photographer
Hey there! Thank you for looking through our photos of Ashley & Anthony's engagement session. It was a fun afternoon! We love making our clients feel comfortable in front of the camera and then surprising them with beautiful photos. At Hancer Photography, we are a husband and wife team that take our job very seriously. We treat our clients the way we wanted to be treated on our own wedding day. If you like what you see, let us know (email: [email protected]). We would love to talk with you about your wedding day plans! All the best, Nancy & Omer.
Heed this Advice
We really spent a lot of time planning out exactly what type of look we wanted for our engagement session. That helped with finding the perfect location and the outfits we would wear. We were also very comfortable with our photographer. I knew that she would execute our vision flawlessly. That level of trust and pre-planning helped make our engagement session a success. ~ Ashley Sgambato/Bride

Money Matters

$5,000 – $10,000
Vendors
Photographer:  Hancer Photography
Reception Venue: Rosecliff Mansion