Tungsten is becoming an increasingly popular material for rings, especially men's wedding rings. Its everlasting shine and durability make it a great choice for people who use their hands in their work because the finish does not wear or scratch off, and the material does not bend.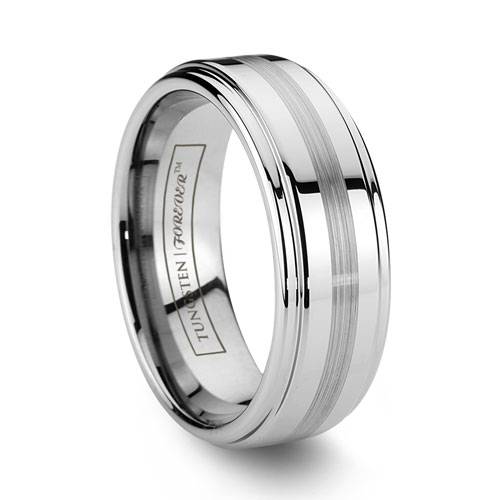 When you think of tungsten, you might think of incandescent light bulbs and the glowing filament that heats up when electricity runs through it, giving off light.  Tungsten was chosen for that purpose because of its very high melting temperature. It is also a very hard material. On the Mohs scale which measures the hardness of a material based on scratch ability, tungsten ranks at 8, just under diamond, which ranks as 10 and the hardest natural material known to man. 18k gold comes in at 2 and titanium at 4. But this hardness also makes tungsten quite brittle so it's bonded with carbon when made into jewelry and called tungsten carbide. Check out the Tungsten vs. Titanium debate here.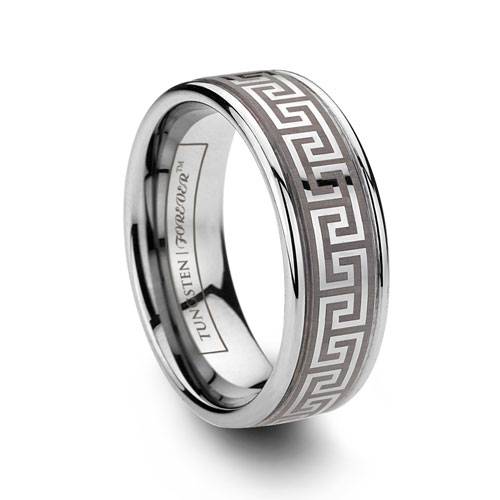 For science lovers, tungsten has the symbol W on the Periodic Table of Elements and an atomic number of 74. It's mostly extracted from the mineral Wolframite which is found all over the world, although today China supplies most of it. Its melting point is over 6100 degrees Fahrenheit. The  Danish words tung sten, meaning heavy stone provide the basis for the name of the metal in English.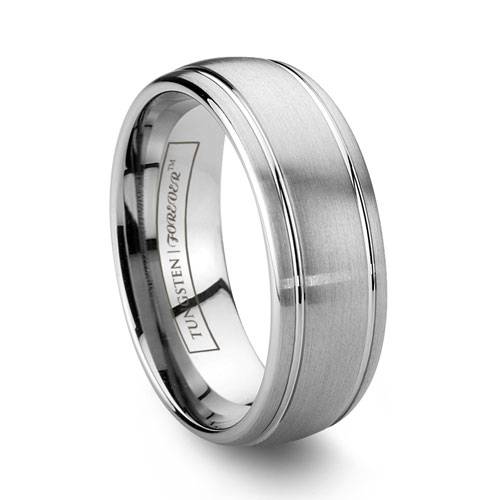 To make rings, tungsten and carbon are ground together then forced into a mold under high pressure. This creates a blank which is then fired under extreme heat of over 6200 degrees to create the metal alloy tungsten carbide. The blank then undergoes the steps to become a finished piece of fine jewelry: smoothing, shining, polishing, engraving, applying inlays and/or gem stones.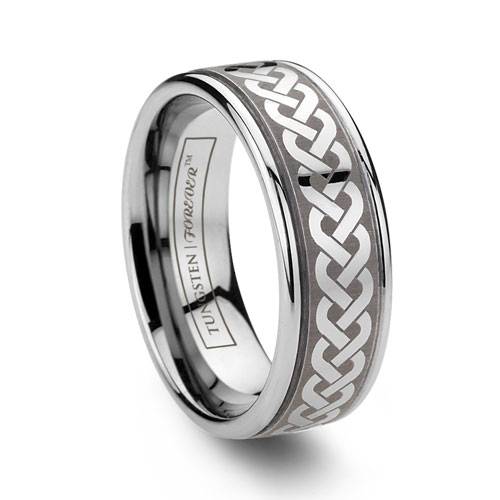 Tungsten carbide rings are not like other metal rings in several ways.
They are often less expensive than traditional precious metal rings but still create a contemporary fashion statement.
They don't become dull with wear or age due to the extreme hardness of the material.
They can't lose their roundness due to pressure on the finger.
They can only be scratched by diamond-hard materials.
They can't be resized. Since the properties that make it hard also make it inflexible—think of it like stone—it can't be bent to add more material or take it away. This is very important to know when choosing a ring size. Jewelers don't recommend using traditional metal ring sizes when purchasing a ring. Some jewelers and manufacturers offer replacements due to changes in finger size. Be sure to ask when buying your ring.
They are extremely hypoallergenic; meaning the vast majority of people will not have an allergic reaction to them. However, if they are made with cobalt instead of or in addition to carbon, this may no longer be true. Cobalt in the ring will cause your skin to turn unnatural colors which may not go away if the ring is worn often. It can also cause an allergic reaction such as extreme swelling and may have to be removed in an emergency room. Usually, rings containing cobalt are less expensive than rings that don't. Get a manufacturer's certificate stating the contents of the ring to be sure.
 They may break when dropped or hit against hard surfaces.
Tungsten rings can't be removed with a regular ring cutter in emergency situations. Emergency rooms have tools to do this.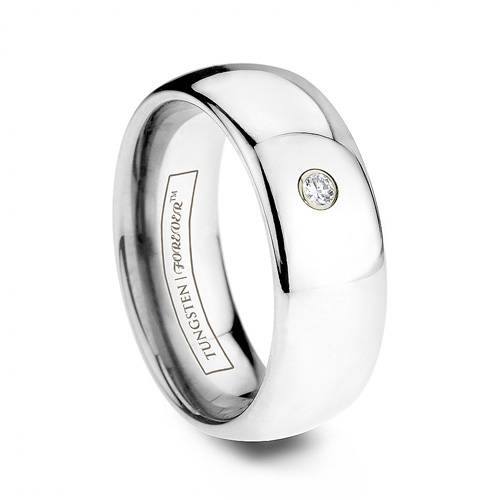 Tungsten rings, whether used to symbolize the eternal bond of love in a marriage to simply accessorize your hand, are durable articles of jewelry that provide a lifetime—and longer—of pleasure and beauty.
Vincent is a freelance writer who keeps current on all wedding trends Vincent LR